All sorts of breakdowns, all sorts of chaos
We already know that Brexit could mean food shortages, a return to Genetically Modified crops and the delicacies of chlorinated chicken. With the London Economic reporting "new figures have revealed that nearly four million adults in the UK have been forced to use food banks as poverty grips Britain" we know now that our food system which is in crisis already, is moving into new dimensions.
As Boris unwittingly lets slip what was obvious to everyone, that Brexit is entering Meltdown, the security of our food supply increasingly looks like a chapter out of the Grapes of Wrath.
This could affect all elements of our food supply and distribution system, starting with seafood and fruit. The crisis was revealed daily this week.
On Tuesday the National reported the impact of Brexit on the Scottish seafood industry from a  report which suggested  a "hard Brexit" could cost £85 million in economic output and 430 full-time equivalent jobs ("Brexit to severely diminish value of Scottish seafood industry"):
"Scotland's most valuable food export will see up to 6% wiped from its value due to Brexit, analysts say. An economic impact report carried out for the Scottish Government points to "significant harm" to Scottish salmon farming and the wider seafood sector."
"As much as 43% of the job losses would be in the nation's fishing sector, with another 44% in processing, devastating coastal communities."
On Wednesday MPs on Westminster's Scottish affairs committee heard a warning from Kristen Hopewell, a senior lecturer in international political economy on trade at Edinburgh University, that Peterhead fish processing could be relocated to Poland after Brexit, as reported by the Press and Journal.
On Thursday the Herald reported that "Fruit farms face chronic shortage of foreign labour" and that farms and producers fear that crops may be left to rot in the ground as UK workers make up just one in 400 pickers.
The government has pledged to address the issue of whether or not to introduce a scheme to give seasonal workers from further afield special permits to work in the UK, similar to the Seasonal Agricultural Workers Scheme (SAWS) that was closed way back in 2013. But so far, no alternative has been proposed.
As usual the Scottish Government's lack of devolved authority in immigration hampers our ability to react to a crisis that is being imposed on us.
To talk of these looming problems is derided by the UK govt as 'Project Fear' (sic).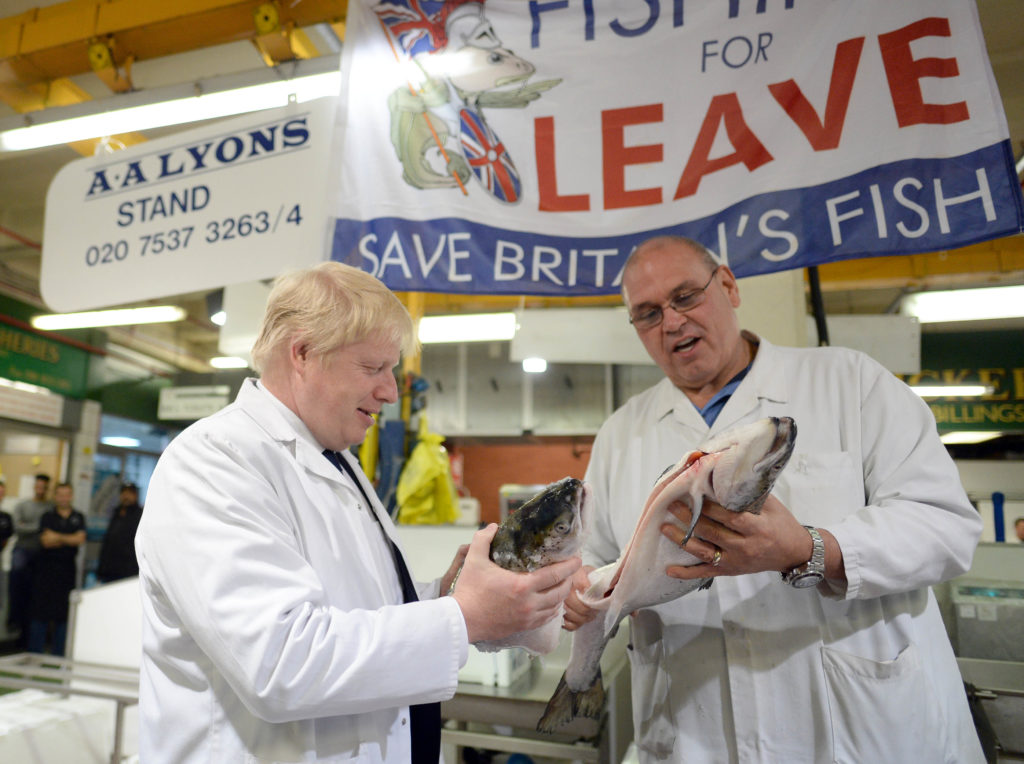 With the Foreign Secretary now lauding Trumpism, it's clear that this unfolding social disaster is part of organised chaos being embraced by the British political elite, operating with a verve of recklessness that has thrown off the pretence of paternalism and embraced a new dogma. Johnson was recorded by BuzzFeed News at a private event at the Institute of Directors hallucinating about Trump running Brexit negotiations saying:
"He'd go in bloody hard … There'd be all sorts of breakdowns, all sorts of chaos. Everyone would think he'd gone mad. But actually you might get somewhere. It's a very, very good thought."
This is unchartered territory in which industries facing economic ruin, and whole communities whose livelihoods are based around food production could be facing collapse, and senior members of the Cabinet are embracing this with glee.
Farming and fishing are industries which are by their nature precarious. They involve moving seasonal and fresh produce, and they are industries which already face tight margins and their own challenges. They also have deep institutional knowledge built into them. So if you lose a farm or a fishing boat, a farmer or a skipper, their knowledge can't be replaced instantly. It is years of accumulated – often family – knowledge.
Brexit means food chaos.
It's deeply ironic, and tragic, that seafood, an area where Scotland has had some success, and fresh fruit, in which Scotland is a European leader are the two areas of produce likely to be hit first by the Brexit meltdown coming our way.