Let Them Eat Cake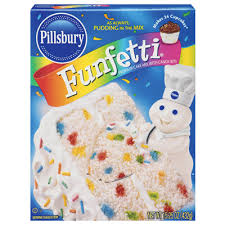 The Sun reports that in a cunning move "Ministers have drawn up secret plans to stockpile processed food in the event of EU divorce talks collapsing – to show Brussels that "no deal" is not a bluff. Theresa May has ordered "no deal" planning "to step up" — with the government poised to start unveiling some of the 300 contingency measures in the coming weeks…" ("Grub Stash Plan").
You've got to love the idea that 'stockpiling' would keep the food industry afloat – but also the idea that this is going to worry the Brexit negotiators: "We're so dumb we'll starve ourselves out" bellowed by Dominic Raab in a splenetic Britannia Unleashed howl is going to have them trembling at our stupidity.
The war-cry "We'll Siege Ourselves!" has a certain ring to it doesn't it?
Last night Downing Street said "no deal preparation work is to be stepped up" and led by the far-right new Brexit Secretary Dominic Raab. Yesterday the Cabinet briefed the new ministers on measures Britain is taking, with No 10 saying: "It's sensible to make preparations for all scenarios and that includes No Deal."
Yer Super-Soaraway Sun reports: "Emergency measures to keep Britain's massive food and drinks industry afloat – including stockpiling ahead of exit day on 29 March next year. More than £22 billion worth of processed food and drinks are imported in to the UK – 97 per cent from the EU – in an industry that keeps 400,000 workers employed in the UK. Similar stockpiles are also being prepared for medical supplies amid fears of chaos at British ports next year."
The scale of food insecurity in Britain – a country in which food supplies has been allowed to be concentrated in a handful of corporations (Tesco, Sainsbury's, Asda and Morrisons account for a combined market share of almost 77 per cent) – is generally unacknowledged. Combine this with a drastic drop-off in seasonal food workers and an agricultural industry with an ageing and highly precarious farming network and you have a recipe for crisis. With a population hooked on processed food and almost entirely incapable of cooking from fresh produce the No Deal Food Plan looks like a disaster waiting to happen.
Still, this is less important than to maintain and crank up the grievance narrative against Europe in the expectation of a contrived huffy walk-out by British negotiators.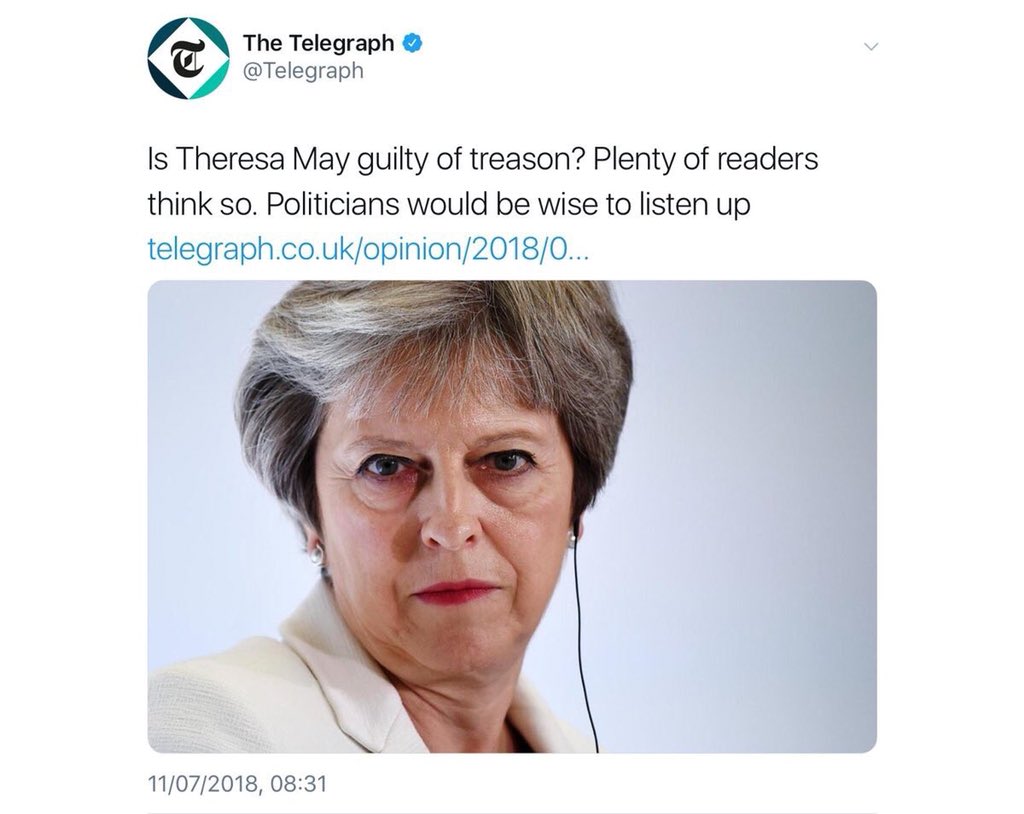 You can only maintain this level of self-delusion and self-harm if you are able to sustain your propaganda across multiple platforms. Today in the Telegraph we are asked to consider if a UK Tory Prime Minister is guilty of "treason".
The propaganda is being cultivated everywhere in the seamless media Leave hysteria. Over at the Spectator Brendan O'Neill barks:
"There has been a Remainer coup. Remainers now inhabit virtually all of the highest offices in the land. Overnight, adherents to this minority political viewpoint seized the final levers of political power. This is the one downside — and what a downside it is — to the belated outbreak of principle among the cabinet's Brexiteers: their walking away has allowed Theresa May to further surround herself with fellow Remainers, and pretty much expel the Brexit outlook from her cabinet."
This is brilliant.
None of this is new. As Ash Sarkar writes: "Boris Johnson was only given a pass on his grotesque racism because of the snivelling class deference of UK political media."
And neither is the looming food crisis the imagination of dreary Remoaners or catastrophists.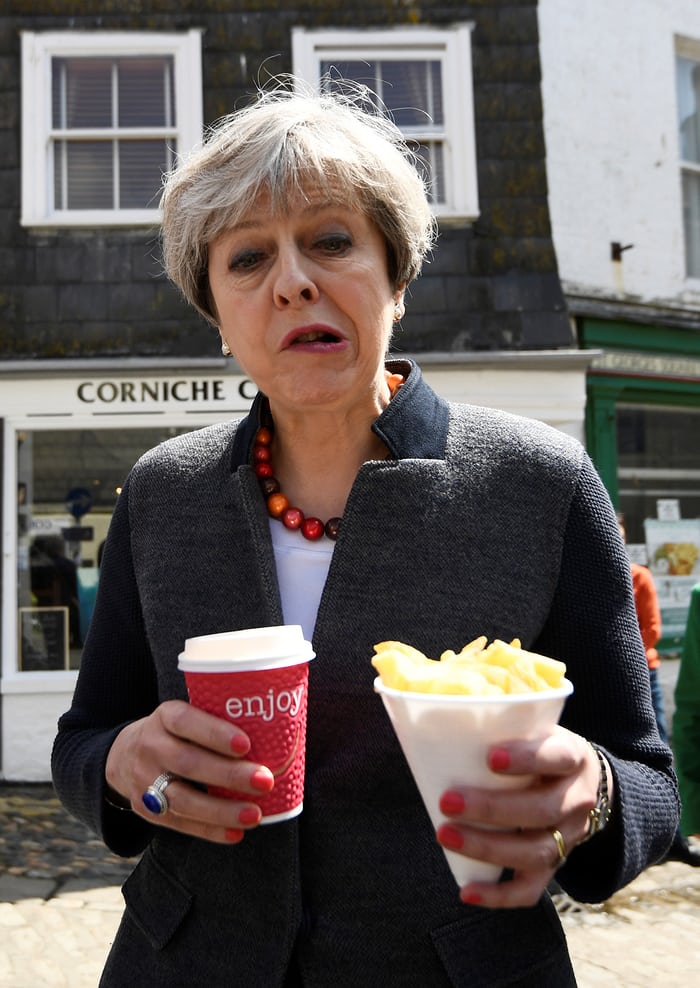 Last year the Science Policy Research Unit published a report which stated that the "UK is unprepared for the most complex ever change to its food system, which will be required before Brexit" (see 'A Food Brexit: time to get real'.)
The report, by leading food policy specialists Professor Erik Millstone (University of Sussex), Professor Tim Lang (City, University of London) and Professor Terry Marsden (Cardiff University), concluded that leaving the European Union poses serious risks to consumer interests, public health, businesses and workers in the food sector.
The report warned that a "Food Brexit" is of unprecedented importance and is happening at a time when the UK food system is already vulnerable, with self-sufficiency also in decline. Among the issues which the paper urged Ministers to address are needs for:
An urgent need for a clear integrated plan for UK food – the UK government currently has no UK food policy
Clarification on food crossing borders, particularly from the Republic of Ireland to Northern Ireland
New legislation to replace 4,000 pieces of EU law relating to food
Scientific and regulatory infrastructure, replacing at least 30 EU-based bodies
Farm viability and subsidies to replace the EU's Common Agricultural Policy (CAP)
Fishing policies that are more than rejecting the 1964 pre-EU London Convention
Food labour – 35 per cent of food manufacturing labour is from the EU; more in parts of catering and horticulture
Some idea of from where UK food will come – as only around 54-61 per cent is currently UK-sourced
Tariffs – retail industry says tariffs could raise imported food prices by 22 per cent post-Brexit
Prices, which are already rising and likely to rise more, will become more volatile, especially harming poor consumers
Quality standards throughout supply chains, which are currently set by the EU, may well decline, and may do so abruptly.
None of these matters have been resolved seriously, instead we are proclaiming the solution to be "stockpiling" food.
Professor Tim Lang said:
"UK food security and sustainability are now at stake. A food system which has an estimated three to five days of stocks cannot just walk away from the EU, which provides us with 31 per cent of our food. Anyone who thinks that this will be simple is ill-informed."
A No Deal Brexit has direct consequences for the Scottish food industry from deregulation to attacks on provenance and branding and the imposition of GM food, but is also has wider and potentially catastrophic consequences for the basic food supply across the UK.