Brexit Britain and Nuclear Decommissioning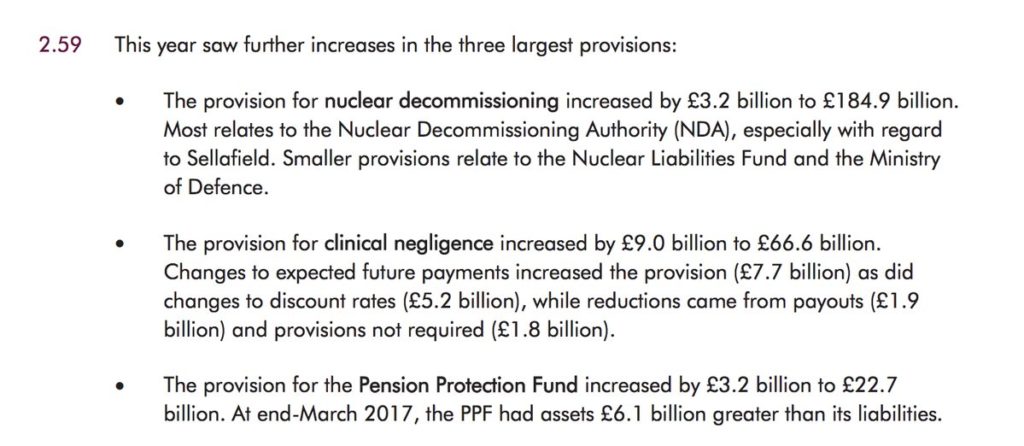 As we head over the cliff to a Disaster Capitalist No Deal – it's good to take stock of the British state we're tied to. What food, energy and key infrastructure points do we have to mitigate against any coming shocks?
The Office for Budget Responsibility July report is just out and makes for some fun reading: "Our 2018 Fiscal sustainability report sets out long-term projections for spending, revenue and financial transactions, and assesses whether they imply a sustainable path for public sector debt."
It's a pretty dense report and unsurprisingly the headlines today are focused on the strange absence of any "Brexit dividend". As the Independent reports: "The Government's official and independent spending watchdog has confirmed that there will be no "brexit dividend" for the UK, despite the claims of ministers. Theresa May said last month that the extra £20bn a year pledged to fund the health service would be partially paid for by UK money no longer being sent to the European Union. That claim was universally slammed by economists as grossly misleading, since the Government's own projections suggest Brexit is already weakening the public finances, rather than strengthening them and that any fiscal gains from zero EU payments will be wiped out by feebler tax revenues." More here. 
Not really a revelation I know, back to the OBR.
Amongst the goodies is the sobering fact that the OBR has quietly increased its forecast for what the UK Government needs to provision for nuclear decommissioning. It's now up to an eye-watering £185 BILLION.
Meanwhile, as pro-nuclear advocates argue that it should be "part of the mix" or that it's essential for a 'low- carbon future" the issues of decommissioning costs and nuclear waste fail to disappear Channel News Asia reports:
TOKYO: "Japan has amassed enough plutonium to make 6,000 atomic bombs as part of a programme to fuel its nuclear plants, but concern is growing that the stockpile is vulnerable to terrorists and natural disasters. Japan has long been the world's only non-nuclear-armed country with a programme to reprocess spent nuclear fuel from its power plants into plutonium.
On Tuesday (Jul 17), a decades-old deal with the United States which allows Japan to reprocess plutonium was renewed, but the pact can be terminated by either side with just six months' notice. Plutonium reprocessing is meant to create a new and emissions-free fuel source for resource-poor Japan, but the size of its stockpile has started to attract criticism, even from allies.
Plutonium can be used to create nuclear weapons. Although Japan has vowed the material would never be used for military purposes, it has now amassed vastly more plutonium than it can use, since many of its nuclear plants are still offline after the 2011 Fukushima disaster. Experts warn the growing stockpile could be dangerous in case of a natural disaster, like the earthquake and tsunami that set off the Fukushima meltdown, and is also an attractive target for terrorists. They also fear the reserve could encourage other regional powers, including China, to press for a similar reprocessing capability, boosting the amount of weaponisable plutonium in Asia.
And some even warn that North Korea could point to the stockpile as an excuse to avoid denuclearising. This month Japan's government vowed for the first time to "tackle a reduction in plutonium stocks" but gave no roadmap."
These issues are not confined to Japan and the geopolitical, military security and infrastructure fallout from a No Deal Brexit are barely being comprehended.
As we lurch towards this calamity it's time to assess in what areas Scotland is vulnerable to Brexit-shock, and in what areas we can innovate or develop mitigating policies and strategies at a national and a local level to protect ourselves from crisis. What level of energy security do we have? What level of military security do we have? What level of food resilience do we have? What's the status of our water and medical supplies?