Let's Have a Festival!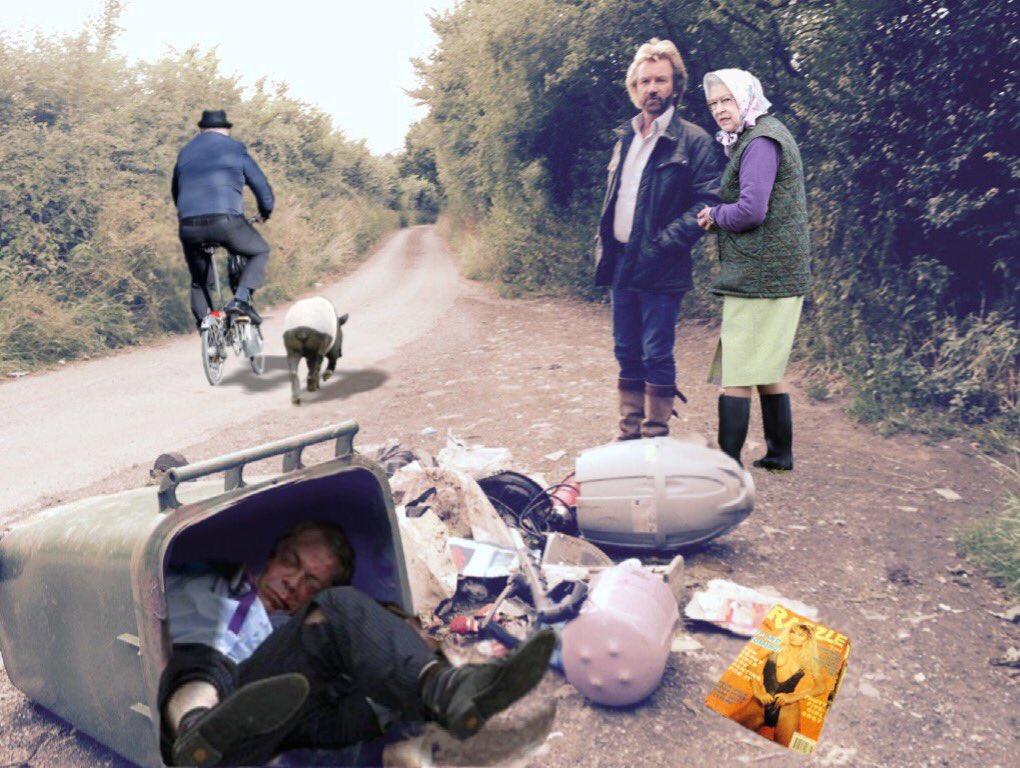 On the 'Jacobite Express' to Mallaig you cross the viaduct now touted as a Harry Potter location (was Charles Edward Stuart in Slytherin?). On the "greatest railway journey in the world" passengers tip their excrement directly onto the tracks, jobbies litter Glenfinnan and Arisaig stations like confetti at a Quidditch cup final.  In Rosyth decommissioned nuclear submarines lurk near the spot where there used to be a ferry to mainland Europe. The infrastructure of Scotland and wider Britain is a joke, and one that gets funnier as Boris Johnson rolls out his proposal to build a bridge between Scotland and Ireland as a sop to elite political failure. There's still no motorway between Derry and Belfast – and travelling by train in Britain is a lottery of filthy privatised incompetence – yet this buffoon is trying to sell us a bridge?
In McFlurry Britain, where the deaths of homeless people have more than doubled in five years, the government has appointed a minister to oversee the protection of food supplies through the Brexit process amid rising concerns about the effect of a no-deal departure from the European Union. As if to confirm our status as a corporate whore the new for Minister is an ex Asda and PepsiCo executive. Expect Horse and Cola drinks to be on the post-Brexit menu along with your chlorinated chicken.
Competing with Johnson's epically stupid bridge proposal is his Prime Minister's new ruse, a festival to celebrate all that is great about Britain. The idea was originally put forward by Jacob Rees-Mogg, who said earlier this year that it would be a "huge celebration". He explained: "In the spirit of friendship of our European neighbours, upon leaving we should drink lots of champagne to say that though we may be leaving the European Union, we don't dislike Europe."
Theresa May's announcement of a Festival of Brexit Britain is confirmation that Britain survives as a ruritarian sideshow festooned with endless flag-waving celebrations and street parties. Having exhausted the Windsor Buffet after a torrent of jubilees, weddings, divorces and engagements in recent years – and in the interregnum before the looming deaths of the key protagonists provides the opportunity for a further spasm of royal patriotism and celebrity feudalism Britannia Unchained has announced a Festival of Britain.
This is an advanced state of 'postcolonial melancholia' now drawing on the spirit of Labour's 1951 Festival of Britain in a bizarre fit of historical capture and misdirection. Brexit reinvented as post-war Britain, steely in its acceptance of rationing and slowly re-building after the devastation of war, is perhaps a brilliant reconstruction. Will anyone notice as Kirsty Allsopp replaces Nye Bevan? Will anyone notice that the devastation wrought in British cities we was inflicted not by an external enemy but by austerity and Tory ideology? In the monumental stupidity of contemporary Britain, nothing is certain.
But where does this Festivalisation come  from?
As Michael Gardiner has written: "We also have to appreciate the tremendous size of the gap at the heart of English national life. The two-centuries-long interchangeability of 'England' and 'Britain' was never really a slip of the tongue; it was never a 'whoops, I forgot to be multicultural' moment – it was a creation firstly and most obviously of empire, which is where that combination comes from, as English culture had its shotgun wedding with Scotto-British technocracy, and then, since the 1950s, to the many institutions which relied on the 'un-place-ability' of England."
This is a point picked up by Anthony Barnett in The Lure of Greatness, where he writes:
"Different forces, tangible and intangible, were at work. These included immigration, the refugee emergency, the effects of austerity, the outrageous rip-off of the financial crash, the loosening of loyalties thanks to the internet, the undemocratic nature of the EU, the implosion of social democracy. The popular response to these forces in Scotland and Northern Ireland was to seek closer relations with the EU, with more and better continental solidarity. A similar response came from London, the global city. But across the more numerous England-without-London, an overwhelming majority was for Leave and carried the day."
"It was undeniably England's Brexit. To understand why this was so, is to understand why it happened. The heart of the answer is the unique, hybrid nature of Anglo-British self-consciousness. This goes unchallenged by what can be called England's 'defining classes' (its media and cultural intelligentsia) who adamantly refused to be English. Or 'merely English' as many put it."
"It is not just that Brexit has been self-described as 'liberation day' or that many English voters see Brexit in relation to and often in competition with the 'iniquity of devolution', nor is it just that we are witnessing a constitutional power-grab as we speak, but that so many commentators fail to even acknowledge or comprehend this phenomenon."
Brexit is in Barnett's words: "as the people living in the debris of their land, watching on their screens the new skyscrapers of London rise and shine. The debris is not poverty or lack of money but something intangible and inescapable: the end of Great Britain."
Let's have a festival.
It sounds like a cheap one. What does £120 million get you this day? I think we can expect Tom Kerridge to re-work Coronation Chicken, and a Windrush Celebration of the Commonwealth sponsored by the G4S group, before drinking lots of champagne  and laughing at that time when Boris suggested building a bridge to Ireland. Chin chin!