Look Who's Coming to the Festival of Politics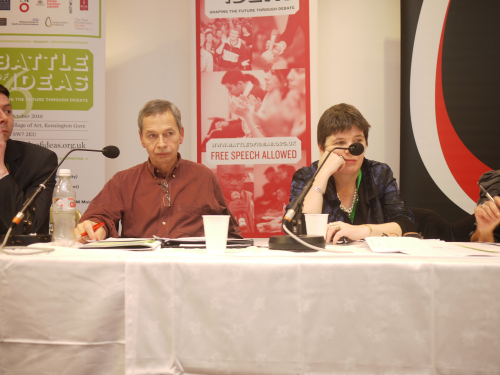 The Festival of Politics has been infiltrated and we should talk about it.
I was sadly not surprised to see the Battle of Ideas 2018 as one of the Festival of Politics named supporters. For years they 'sponsored' the Edinburgh Book Festival and bought platforms to fill-up with their chums. I am however surprised that 404Ink and Young Scot and other festival supporters are glad to keep company with such a group, who are part of the wide far-right libertarian entryist LM network (see 'Invasion of the Entryists' for background)
The Festival of Politics is an odd beast, but seems full of quality content and debates. The problem with such abstract and oddly-curated programme as this though is they are very open to entryism – someone coming up with an 'interesting' idea, or some money and there they are. The alt-right are masters of appearing 'edgy' and iconoclastic and the liberal intelligentsia are masters of falling for it. So you'll be able to listen to Brendan O'Neill on Kavanaugh on Thursday, who told Politics Live recently:
"There is no evidence whatsoever against Brett Kavanaugh and yet people are marching in the streets shouting, 'He's guilty! I believe Christine!' This is irrational and dangerous."
O'Neill's rancid views across a wide spectrum can be found littered across the internet, but you have to ask: what contribution to Scottish political life does he offer? Trumpism? Climate denial? Virulent racism?
In an era of climate crisis, in a moment of a renewed attack on women, is this really a useful quality to political debate in Scotland?
Is this really the best we can do to invite in Britain's premier libertarian cult group to Holyrood to spread more disinformation and propaganda?
Who are the Battle of Ideas?
On Thursday you'll be able to listen to Claire Fox ('in partnership with the Battle of Ideas') along with Joanna Williams (the programme doesn't tell us she is Associate Editor of Spiked!), and author of recent "No, women aren't at risk from men" amongst other greats.
As Jenny Turner writes in an exhaustive if vanilla analysis of the Battle of Ideas here:
"The Battle of Ideas has been held annually since 2005 by the Institute of Ideas, an organisation that from the outside looks pretty much like a standard right-wing public policy think tank – much talk about 'free speech, not me speech' and 'the crisis in authority', much condemnation of 'greenthink' and 'meddling policymakers'. "
Turner explains that members of theLM network produce: "the webzine Spiked, setting up media training for teens (Debating Matters, Young Journalists' Academy, a 'programme for London state-school pupils who have the passion and the guts, but not "the right contacts"') and a confusing cloud of other organisations: the Manifesto Club, WorldWrite, Audacity.org, the Modern Movement, Parents with Attitude … Back in the day, members of Trot groups would 'enter' – join and manipulate – bigger organisations in order to gear up their influence."
Sound familiar?
The LM network has at various times campaigned: against gun control, against banning tobacco advertising and child porn; in favour of global warming and freedom for corporations. Many of their network operate under false or 'cadre' names and their funding is – at best – opaque.
Here they are organising with the Christian Institute and the pro-smacking Be Reasonable campaign – and here they are as Sense About Science pushing GM on Scotland. 
Brendan O Neill and Spiked were part of a group of networks operating to lobby against the revision of Scots Law that allows children to be smacked by their parents under what is termed "Justifiable Assault". At the time O'Neill argued that "smacking is an act of love" and said: "I was smacked as a child. And damn I needed it."
He ranted on:
"Scotland is fast becoming the most strident, unforgiving nanny state in the West. A world leader in the policing of people's beliefs and lifestyles" – and, in full-flight: "…now this little republic of rulemaking plans to ban parents from smacking their kids."
Poor Brendan appeared concerned about the effect of this protective legislation:
"The consequences of the bill will be dire. Loving parents will suffer. The stressed-out mum trying to manage four kids as she negotiates the aisles of Asda and then finds herself lashing out at one of them: grass her to the cops. The traditionalist father who adores his children more than life itself and thinks a smack on the legs is a preferable form of punishment to plonking them on a chair for 15 minutes: drag him to court."
As the far-right settles into office and their views are made comfortable and normalised, organisers of political events with no apparent outlook or moorings need to think through their curation and programming.
Of course respondents will shout foul and say this is all about the 'Freedom to Offend'. This is how they have operated for years, infiltrating events and creating front groups, packing panels with friends and colleagues and all below radar. So if you are going to these events you should question them, if you are organising these events you should consider why you are doing this and if you are appearing alongside these people you should challenge them on their politics, their funding and their ways of operating.