A Radical Plan for Gaelic Scotland
When a group of likeminded individuals set up the group Misneachd (confidence, courage) a little over two years ago, there was a strong feeling that a new grassroots movement was needed to campaign for Gaelic, and more importantly, for Gaelic communities.
It was apparent that little had changed since the passing of the Gaelic Language Act and the establishment of Bòrd na Gàidhlig, more than 15 years ago. General promotion of Gaelic has gradually improved – growth in Gaelic-medium education, increased visibility of the language in Scotland and increasing public support for it.
However not nearly enough is being done to slow and reverse the ongoing shift from Gaelic to English in Hebridean and Highland communities nor to give the language any kind of long-term "secure status", which is what Gaelic campaigners were demanding a couple of decades ago in the lead-up to the passing of the 2005 Gaelic Language Act.
There have been important and successful campaigns on individual issues, notably for Gaelic-medium schools and units at a local level. We should be especially grateful to parents across Scotland who have spent more than a fair share of their own time on these campaigns, in a context where there are still far too many obstacles from local councils, and insufficient legal rights for families requesting Gaelic-medium education.
But there has been a lack of a broader campaign, with a holistic vision for the future of Gaelic, particularly from independent groups not reliant on government for funding and recognition.
For too long we have left matters in the hands of Bòrd na Gàidhlig and the government – even though the official bodies themselves recognize that external pressure and ideas are necessary to provide them with the evidence and impetus for moving things forward.
There may be occasional gripes about the weakness of official efforts to strengthen the language, but it appears that many in the Gaelic world, and Scotland more widely, imagine that things are more or less as good as they can be. What more could we ask for? A lot, to be honest.
There is a lack of recognition that without pressure from organised, determined grassroots lobby groups, the Government and other official bodies won't, and can't, do much. Examples from other countries with minority languages such as Wales and the Basque Country show that much more could be achieved with effective campaigning, but there is little awareness in Scotland of best practice elsewhere.
We were also aware that Gaelic promotion efforts rarely made an explicit link between Gaelic and broader questions of social justice and progressive politics. Too many see Gaelic as a neutral, non-political cultural issue. A relatively safe topic on which every party can agree (provided policies are as weak as they have been to date, at least).
 They do not realize that the struggle for Gaelic is one and the same as the struggle for economic, cultural and political justice for some of the most precarious and marginalized communities in Scotland. A struggle for the culture and way of life of a minority who have suffered persecution, bigotry, clearance, poverty and emigration over the centuries, as well as official efforts through education and other institutions to eliminate their language and assimilate them into the English-speaking majority. If anything is a political issue, it is Gaelic.
The effects of this persecution are still very much felt today in the lived experience of Gaels. Misneachd, following the example of campaigners for justice for other minoritized peoples across the globe, believes it is appropriate to use the term 'cultural genocide' to describe what has happened. Over the last century and a half, this process has seen the Gaelic-speaking population reduced from a quarter of a million to fewer than 60,000, and from a territorial extent of half the geographical area of Scotland to small pockets in the far west.
Official intent to accomplish cultural genocide via assimilation is clear in the 1616 act establishing parish schools which had the stated aim that the 'English tongue be universally planted' and that 'the vulgar Irish [i.e. Gaelic] tongue…may be abolished and removed'. And we should remember that public opinion until recently widely held that it was preferable that the Gaels give up their language and culture for their own material advancement.
When the third National Gaelic Language Plan was published in April this year we did not expect huge progress. But it nevertheless angered us that there was hardly any recognition in the Plan itself, or among politicians, of just how precarious Gaelic's situation is becoming in its heartland communities, and how necessary it is that radical, urgent efforts are introduced to turn things around. 
Most notably, there was no mention of research commissioned by Bòrd na Gàidhlig almost ten years ago on the state of Gaelic in Shawbost on the west side of Lewis, one of the strongest remaining Gaelic-speaking areas.
This research showed that although there were high levels of good will towards Gaelic among local people, use of the language was declining dramatically, especially among the younger generations, and that Gaelic would not survive as a community language without major changes in policy and approach, both in terms of official Gaelic policy and at the grassroots level. It is very likely that this is true of the Western Isles as a whole, and further research is due to be published in 2019 by the inter-university research network Soillse which will confirm this.
This then was the starting point for Misneachd's Radical Plan for Gaelic, which was recently launched in Dunoon at the National Mòd. First and foremost, we aim to be upfront and honest in explaining the uncomfortable truth about the situation of Gaelic in its heartlands. Dissembling and glossing over the truth will no longer work. Gradually people are coming to see through the words of the official bodies. The Gaelic community might as well be prepared and ready for the fight when the bad news is confirmed, rather than being demoralized and disorientated when it catches us unawares.
Secondly, we intend to say what is really needed to change the situation, in order to maintain Gaelic sustainably as a community language – or at least to provide some hope that Gaelic community life will survive in some form in fifty or a hundred years' time.
In particular, there needs to be a focus on making sure that the great majority of people in traditional Gaelic communities are able to speak and understand the language. This means an increase in Gaelic-medium education as the default, and preferably only, option in such areas. Alongside this, much greater resources and funding for the provision of adult Gaelic courses are urgently required. Most importantly however, greater support should be in place for those raising children with Gaelic as their home language, including regular grants for Gaelic-speaking families (as formerly in place in Ireland).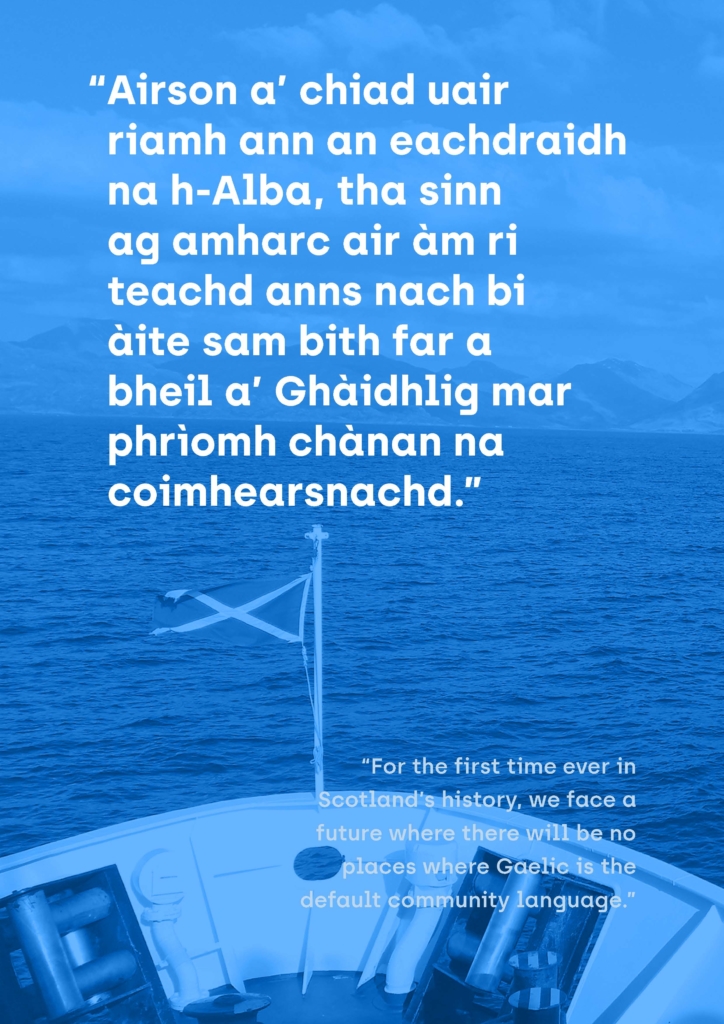 Without this focus on maintaining traditional Gaelic-speaking communities, existing policy priorities, such as expanding Gaelic education and broadcasting across Scotland, will prove unsustainable, as the supply of young people with a high level of competence, and confidence, in Gaelic dries up.
We realize that many of our proposals will not be implemented in the immediate future. It will be a long and difficult struggle to achieve meaningful progress. It is a struggle which is intimately connected to many other efforts to create a better Scotland, and a better world: campaigns for land reform, for sustainable economic development, for the environment, against austerity, against the delusion of neoliberal economics, and for justice for all minority groups.
We hope that with the launch of our Radical Plan we will start a conversation and a debate among speakers and supporters of Gaelic, and among policy-makers. Although we do not expect people to agree with all our views and proposals, we hope there will be widespread support for our general aims. 
The Mòd provided a good platform to communicate our views to members of the Gaelic community from across Scotland, as well as to agencies such as Bòrd na Gàidhlig and MG Alba (which oversees Gaelic broadcasting), and to hear their views.
Our Radical Plan was covered in the national Gaelic media, and it was heartening that a spokesperson for Bòrd na Gàidhlig stated they agree with us that Gaelic medium education for all children in the Western Isles would be a positive step forward and would be 'good for Gaelic and good for the children', even if it would take time. It is important that this dialogue continues, and we look forward to meeting with Bòrd na Gàidhlig and others in the future. 
Over the last year or so we have seen a groundswell of discontent and frustration in many sections of the Gaelic community: the problem of unregulated and unsustainable tourism in Skye, and increasingly in the Western Isles; the slow rate of progress with Gaelic medium education in the Western Isles; lack of protection and support for traditional ways of life such as fishing, where use of Gaelic remains strong; an apparent rise in attacks on Gaelic and Gaelic-speakers in the media.
We discuss all of these and many more in our Radical Plan, but it is important to note that it is not just Misneachd drawing attention to these issues – all of them have been raised independently by community groups on the ground in local areas. However, to move forward it is important that people join and contribute to groups such as Misneachd and other grassroots movements and community projects of all kinds. If we stand together and are organized, there is much that we can achieve, as all the struggles for progress and justice in the past have proved. Biodh misneachd againn – let's have confidence!
Misneachd's Radical Plan for Gaelic can be accessed here in both Gaelic and English: