Brillo's Brexit and the Museum of Communist Terror
An astonishing week of breakdown and breakthrough, clarity and exposure as forces of clandestine British power are revealed.  At the heart of a nexus of think-tanks and media is Andrew Neil,  the former UK Editor of the Economist, the Sunday Times, Executive Chairman of Sky Television, publisher of the Scotsman and supporter of the Adam Smith Institute.
Neil joined an interesting melange of the Russian Embassy, Arron Banks, Guido Fawkes and Julian Assange in smearing award-winning investigative journalist Carole Cadwalladr – for exposing many of the networks he is intimately connected to. Neil tweeted calling Cadwalladr a 'mad cat woman' before being forced to delete the tweet. 
BBC's Andrew Neil deletes early-morning tweet calling Observer's Carole Cadwalladr 'mad cat woman' https://t.co/W6L7oRB2fV pic.twitter.com/YE1TITBog2

— Press Gazette (@pressgazette) November 13, 2018
Something called the 'BBC News Press Team' felt the need to defend/excuse him tweeting: "There has been some discussion on here regarding a tweet from Andrew Neil about Carole Cadwalladr. He has deleted the tweet and recognises it was inappropriate."
No apology was deemed necessary.
As the journalist Nick Walker wrote: "There was a time when a BBC journalist would have been summarily sacked for this kind of partisan, misogynistic, inexcusable and totally unwarranted nastiness." 
But if we consign this to just being another example of a culture of habitually embedded right wing broadcasting and everyday sexism, we miss the deeper issue. Neil's political views, connections and utterances have no parallel in public broadcasting.
Earlier this year he claimed one in five Scottish children were illiterate. The BBC executive complaints unit said the figure had originally been put forward by a spokesperson for the Scottish Conservatives as being based on the 2009 Scottish Survey for Literacy and Numeracy. But the unit said the survey "contained no reference to 'functional illiteracy', and added that there was"no data which would have justified the claim in question". The unit said: "The Sunday Politics team has been reminded of the need to establish the evidential basis of claims that are quoted in its questions."
Not long after becoming a high-profile BBC presenter, Neil made a speech in homage to the rightwing radical Friedrich Hayek. In it he called for a "radical programme to liberalise the British economy; a radical reduction in tax and public spending as a share of the economy" as well as a flat tax "and the injection of choice and competition into the public sector on a scale not yet contemplated".
Recently, in an act of comic genius, he had the temerity of accusing the BBC of "left-wing bias'.
But asking: How does he get away with this in his position? is the wrong question. It's his position to get away with this.
Friends in the right places helps. His editor on the Daily Show was Robbie Gibb, a former adviser to Michael Portillo, a regular on This Week. Last year Gibb became Theresa May's head of communications.
Less well kent is that Neil is Chair of the The Spectator magazine where he oversees a coterie of assimilated Scots or 'Jocks' as Neil prefers, including climate change denialist Fraser Nelson and Pétain-apologist Alex Massie.
In fact Neil too rejects the scientific consensus on climate change, has frequently misrepresented the science of climate change on his BBC programmes, and has frequently invited non-scientists and climate change deniers to debate climate change on his BBC programmes.
According to Bob Ward of the Grantham Research Institute on Climate Change and the Environment at the London School of Economics and Political Science, Neil has "rarely, if ever, included a climate scientist in any of its debates about global warming" on his BBC programme The Daily Politics. Ward wrote that Neil lets inaccurate and misleading statements about climate change go unchallenged on The Daily Politics. He has however pressed politicians who accept the consensus on climate change.
The Spectator, under Nelson's editorship is fast-becoming the go-to place for Britain's newly emboldened far-right, a sort of Breitbart with brogues, The Oldie after a few too many G&T's.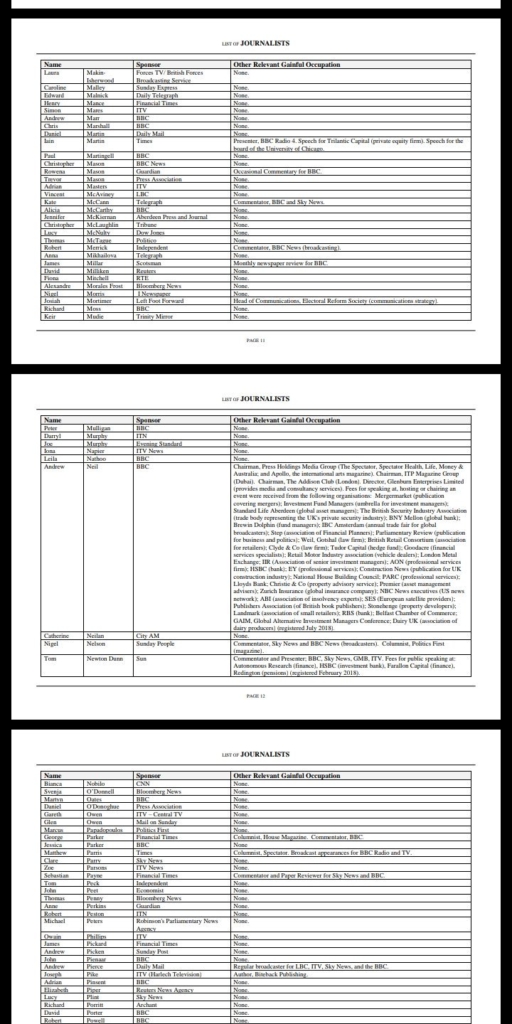 Neil's lobby Register of Journalists' Interests is fun reading too.
Whilst most journalists have a simple one line, Neil has this:
"Chairman, Press Holdings Media Group (The Spectator, Spectator Health, Life, Money & Australia; and Apollo, the international arts magazine). Chairman, ITP Magazine Group (Dubai). Chairman, The Addison Club (London). Director, Glenburn Enterprises Limited (provides media and consultancy services). Fees for speaking at, hosting or chairing an event were received from the following organisations: Mergermarket (publication covering mergers); Investment Fund Managers (umbrella for investment managers); Standard Life Aberdeen (global asset managers); The British Security Industry Association (trade body representing the UK's private security industry); BNY Mellon (global bank); Brewin Dolphin (fund managers); IBC Amsterdam (annual trade fair for global broadcasters); Step (association of Financial Planners); Parliamentary Review (publication for business and politics); Weil, Gotshal (law firm); British Retail Consortium (association for retailers); Clyde & Co (law firm); Tudor Capital (hedge fund); Goodacre (financial services specialists); Retail Motor Industry association (vehicle dealers); London Metal Exchange; IIR (Association of senior investment managers); AON (professional services firm); HSBC (bank); EY (professional services); Construction News (publication for UK construction industry); National House Building Council; PARC (professional services); Lloyds Bank; Christie & Co (property advisory service); Premier (asset management advisers); Zurich Insurance (global insurance company); NBC News executives (US news network); ABI (association of insolvency experts); SES (European satellite providers); Publishers Association (of British book publishers); Stonehenge (property developers); Landmark (association of small retailers); RBS (bank); Belfast Chamber of Commerce; GAIM, Global Alternative Investment Managers Conference; Dairy UK (association of dairy producers) (registered July 2018)."
But the real issue at stake here is the revelations by a handful of journalists from the Guardian, Open Democracy and DeSmog about the right-wing network circling around the Brexit deal.
The accusation is not just that the BBC have been remiss, absent or negligent, but they have been active players in the story itself.
The story goes back to the role of Shamir Sanni, a whistleblower against the Tax Payers Alliance – who he claimed sacked him for telling the truth and then smeared him.
Earlier this week Sanni wrote:
"In July, the Electoral Commission confirmed the truth of my story and found Vote Leave guilty of breaking the law. And now, the TaxPayers' Alliance has effectively admitted that it broke the law by firing me, smearing me and attempting to silence me.
Britain knows now that institutions like the TaxPayers' Alliance are playing a dirty game. A game that in this case, meant committing multiple unlawful acts. But this goes much deeper than that. It goes to the heart of the British establishment and exposes a covert relationship that operates between the government, these "thinktanks" and the media.
In not contesting my claim, the TPA has admitted that it is part of a network of rightwing thinktanks – including the Institute of Economic Affairs, the Adam Smith Institute, BrexitCentral and others – that have the ears of cabinet ministers and MPs. It is a network that attempted to stop my evidence becoming public, and that used the media to try and discredit me.
This cannot go on. Broadcasters and journalists cannot continue to provide a platform to this network of organisations that have so obviously tried to cover up unlawful activity. And they can no longer get away with hiding the true origins of their financing and influence. We need a full inquiry into how Matthew Elliott, head of Vote Leave and founder of the TaxPayers' Alliance, undermined the findings of the Electoral Commission by leaking its report, and was then provided with a platform by the media to call me a "fantasist" and a "liar" as part of a campaign of vilification."
Neil's ties to the Adam Smith Institute leaves him at the heart of this debacle, and this is the motivation for his attacks on Cadwalladr.
As Carole Cadwalladr has noted: "No @BBC bulletin covered @shahmiruk's story. His hugely significant revelations went unreported. Instead a leak from Number 10 co-ordinated with Vote Leave & Tax Payers Alliance shaped the news agenda."
"But it didn't end there. 2 weeks before Electoral Commission reported Vote Leave broke multiple laws @matthew_elliott leaked it to @BBC. He used BBC to smear @shahmirUK & call a fantasist & a liar. Elliott got to frame the story. The BBC was played."
"Astonishingly we now know @matthew_elliott's comments to BBC were unlawful. The Tax Payers Alliance has conceded they were part of an illegal smear campaign co-ordinated between 9 orgs & Downing Street. The BBC wasn't just used as a propaganda outlet. But to break British laws.'
"The worst thing is that both @matthew_elliott's & @arron_banks' strategies worked. They lied for a purpose. To create a distraction story. Which the BBC amplified. Meanwhile, the real story – of Banks & the Kremlin – is still untold."
"The BBC treated @shahmirUK abominably. But it goes much deeper. Today he revealed an invisible web of dark money that links 9 think tanks to Downing Street. BBC MUST now examine its role in this. The ruling shows how it being used as a propaganda outlet."
Now of course the BBC is not going to examine its role in this.
The behaviour of Andrew Neil, his awful Dad-humour clunky tv programmes and the casual sexism of his ilk are small beer compared to the incredible reality of his political bias and how it is not just endured but protected by his bosses. As Owen Jones has written there is simply no equivalent on the BBC:
"Imagine this. The BBC appoints a prominent radical leftist, a lifelong Bennite, the chairman of the publisher of a prominent leftwing publication no less, as its flagship political presenter and interviewer. This person has made speeches in homage of Karl Marx calling for the establishment of full-blooded socialism in Britain, including a massive increase in public ownership, hiking taxes on the rich to fund a huge public investment programme, and reversing anti-union laws. They appear on our "impartial" Auntie Beeb wearing a tie emblazoned with the logo of a hardline leftist thinktank. Their BBC editor is a former Labour staffer who moves to become Jeremy Corbyn's communications chief. They use their Twitter feed – where they have amassed hundreds of thousands of followers thanks to a platform handed to them by the BBC – to promote radical leftist causes."
Clearly this is unthinkable.
But the Neil twitter breakdown shows a media-elite in panic. It is in meltdown huddling around the broken wreck of their increasingly isolated ideology and sheltering in such bizarre ideas as a Museum of Communist Terror.
As Nick Cohen writes for the New York Times, the BBC's problems with Brexit run deep (How the BBC Lost the Plot on Brexit):
"The BBC's reporting of the scandals around the Brexit referendum is not biased or unbalanced: it barely exists. It is as though the US networks had decided the Mueller investigation was no concern of theirs. There have been three huge stories the BBC has covered with only the most perfunctory reports: the Facebook/Cambridge Analytica data leak, the Brexit campaign funding scandal, and the exposure of Russian interference in British politics.
That 2018 has been the year that Western publics realized how much Facebook knew about them, and how that information could be used by hostile foreign powers and malicious plutocrats, is thanks in large part to the efforts of Carole Cadwalladr, my colleague at the London Guardian and Observer. In 2016, she was a jobbing feature writer tackling any subject the desk pushed at her—a fact that has caused established journalists, who ought to know better, to sneer at and diminish her work with mutters that she is a conspiracy theorist. Two years on, Cadwalladr has inspired investigations of global interest in the Brexit referendum. She did it the old-fashioned way, by banging away at the story week in, week out. The more often she appeared in the paper, the more potential whistleblowers realized they could trust and talk to her.
Cadwalladr makes no claim to neutrality (and no one would believe her if she did). A few weeks ago, I urged her to take time off from exposing the corruptions of the Brexit campaign to write a book about her investigation. It would be a bestseller at home and abroad, I assured her. Think of the translation rights. Think of Cadwalladr: The Movie, with Reese Witherspoon learning to speak in a Welsh accent as she prepared to play the lead. Far from being grateful for my unsolicited career advice, Cadwalladr looked appalled: "But I can't stop the journalism, Nick. I can't let them get away with it." No one has done more to expose how the axis of technology, demagoguery, and oligarchy operates in Britain. She is everything BBC journalists are not."
He continues:
"The pattern repeated itself with Shahmir Sanni from the Vote Leave campaign (whose deliberate refusal to present the British public with a workable plan for Brexit I mentioned earlier). Vote Leave was the supposedly respectable face of British nationalism. It counted Boris Johnson and several other Conservative ministers among its supporters. Sanni turned whistleblower and showed how the group had bypassed electoral law and allegedly breached the official spending limit of £7 million ($9.3 million) during the run-up to the EU referendum. One leading London lawyer said the breach was of a scale and seriousness beyond anything Britain had seen in modern times. Once again, the BBC did not want the scoop. "We don't have enough evidence to turn this around in three weeks," a Panorama bureaucrat wrote to Cadwalladr."
Cohen concludes that: "Whether you are on the left or the right, there will be times when you will be frightened of saying what you believe for fear of offending your friends, breaking a taboo or going against the ephemeral consensus of the day. Allow that fear to dominate you and you will end up like the BBC: platitudinous, frightened, and irrelevant."
But this is quite wrong, the right is never frightened to of saying what they believe, why would you if you were given a six-figure salary and a public broadcaster to play with?