Dumb and Dumber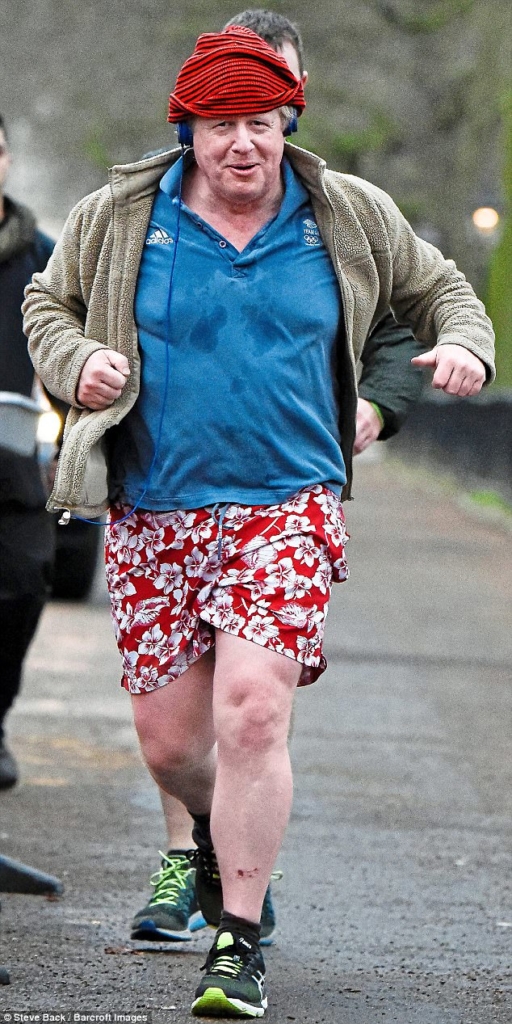 There's something unsettling about being ruled-over by people who are clearly dense. We live in a kind of Oligarchy of Morons. It's well established that many Tories suffer a deficiency of moral values, but growing evidence suggests some of them are also just forensically thick. Liam Fox, Liz Truss, David Davis, Boris Johnson and our own Jackson Carlaw: these people aren't known for their over-thinking. As my friend put it of our very own Secretary of State for Scotland & MP for Dumfriesshire, Clydesdale and Tweeddale: "If he were any more stupid, he'd have to be watered twice a week."
There's loads of them.
Take poor Justin Tomlinson, the junior work and pensions minister, who this week told a committee of MPs that people could "take in a lodger" to beat the benefit cap. There was the remarkable Owen Paterson, who blamed the badgers for not taking part in the cull in 2013. "The badgers moved the goalposts" he explained. More recently we had the unfortunate Dominic Raab who hadn't got his head around the fact that Britain is an island:
"I hadn't quite understood the full extent of this, but if you look at the UK and look at how we trade in goods, we are particularly reliant on the Dover-Calais crossing" he intoned.
Keeping to the issues of our "Coastal State" (as we've now been designated) here's poor Ross Thomson asking for a letter about the fish– and take pity on the famously dithering Scottish Tory MP Kirstene Hair, who didn't vote in the EU referendum as she didn't know which way to vote, and now says she doesn't know how to vote on the Prime Minister's deal. Hmmm, tricky this thinking business innit?
Remember Karen Bradley, who betraying a room temperature IQ admitted she was unaware that "nationalists did not vote for unionists and that unionists did not vote for nationalists" – in Northern Ireland.
Then there was the MP for West Leicestershire Andrew Bridgen who made the bewildering claim that all English people are entitled to an Irish passport, just cos, well, just cos they're English.
But this division between being a vile racist/homophobe/general bigot and being stupid maybe an artificial one. Take Anne Widdecombe, now rehabilitated as a national treasure despite being the the former Prisons Minister who insisted that women prisoners should be manacled to their hospital beds while giving birth.
Or where would you place the Food bank enthusiast Esther McVey? Or Alastair Marjury?
Of course all parties have their fair share of dozy members. George Foulkes isn't exactly the sharpest tool in the toolbox is he? And UKIP's David Coburn is famously thick as mince.
But there's a growing realisation that the Tories are a special case. Even normally loyal scribes seem to be catching on: "Scotland's Tory MPs are no-marks. Brexit has cruelly exposed them as divided, ineffectual, naive and incoherent."
But in the olden days this calibre of dope wasn't in charge. Tebbit, Lawson and Thatcher were many things but they weren't dumb. Mandy and Blair may have been war-mongering Tories in disguise but they weren't stoopid. So what has caused this decline in our rulers?
Have they been dumbed-down by ingesting their own media? Reading the Daily Mail every day for years can have serious side-effects. Have the clever Tories retired or left politics? It may be that the smart ones operate in the shadows and push the dopes and the dupes into the limelight.
Whatever the reason our low-grade leaders are in charge hustling us into the potential economic disaster-zone of a No Deal Brexit fallout. Maybe we're the stupid ones.
Describing David Davis, the writer John Crace noted: "Detail and Davis are barely on nodding terms. Partly because leaving the EU is a great deal more complicated than he expected, but mainly because he's hopelessly out of his depth. Davis has yet to be asked any question, no matter how straightforward, that doesn't take him completely by surprise."