Saving the Planet with Daniel Hannan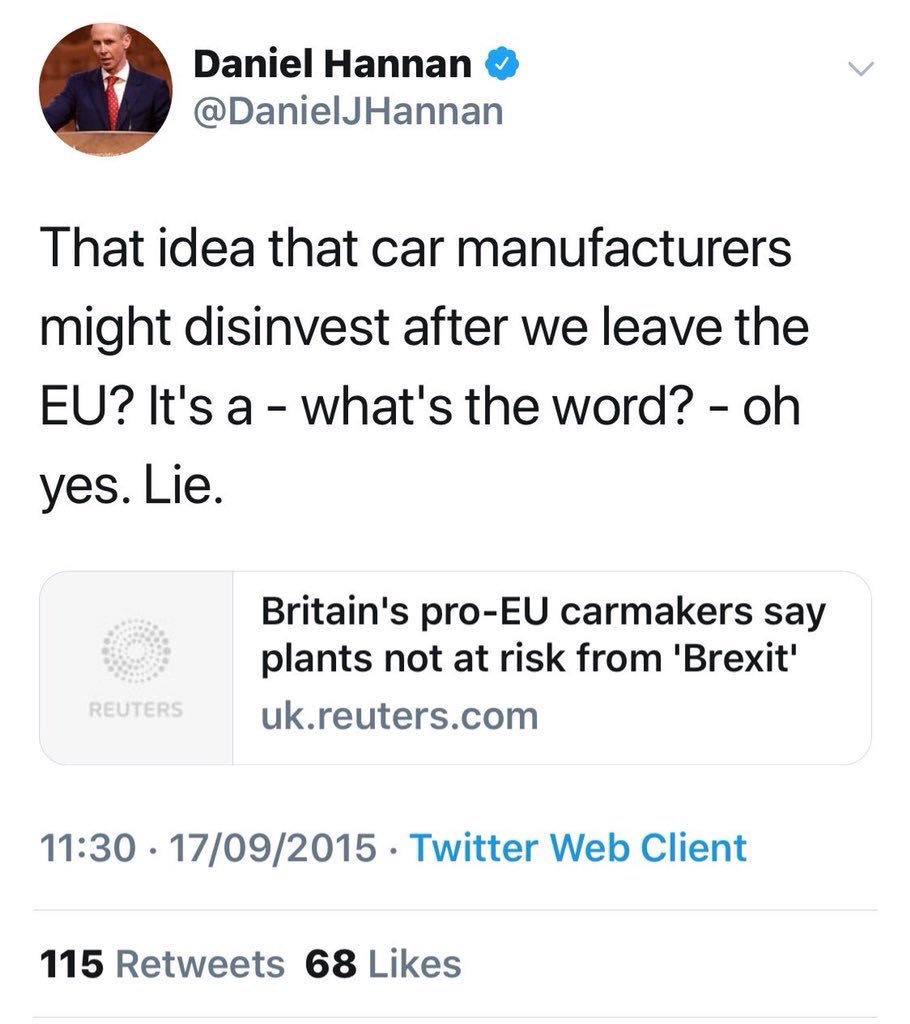 Denial about climate change takes many forms. There's the old-school version of Big Oil funding eccentric old men to push out their drivel, or big business financing disinformation to protect their income; then there's the version that says "this is really happening but there's nothing we can do about it". This second variant resists any change either on the basis of scale ("Scotland is too wee, too poor to make any difference" we've heard recently), or because it claims we as individuals are powerless, or just out of a generalised self-imposed ignorance.
The school climate strike has evoked a new form, that of the sympathetic but patronising adult who either equates the young peoples protest with their own, as if the climate crisis is just like all previous protests, or gently passes on responsibility for 'fixing things' to children (itself paradoxically an act of infantilism).
Tory MEP Daniel Hannan, the Oddfather of Brexit, who famously launched the (now forcibly re-named) Institute for Free Trade at the Foreign Office while refusing to say who its backers were, has penned a remarkable piece in The Sun "Saving the planet from global warming isn't as easy as you think as UK CO2 falls for 6th year".
Hannan's article is a test-case in climate denialism and economic ideology dressed up as faked inter-generational ignorance: "The interesting question is whom the youngsters think they are marching against. I mean who, in their imaginations, wants to eliminate the human race?"
Who indeed?
Hannan continues his feigned incredulity spouting: "They are asserting that governments, including ours, are deliberately wasting time for some reason that no one ever quite explains, but that vaguely has to do with "putting profits before people".
Daniel – as sharp-witted readers will know – is of course a regular on Fox News, the co-author with Douglas Carswell of "The Plan: Twelve Months to Renew Britain", as well as being a supporter of the far-far right Freedom Association.
Now getting into his stride Hannan explains that the true origin of Britain's green credentials is none other than Margaret Thatcher:
"Britain has seen huge reductions in its CO₂ emissions because, under Margaret Thatcher, it stopped subsidising unprofitable coalmines. At that time, the sort of people who now march against climate change were marching against the closures."
Now it may be a revelation to many of you that Thatcher's true motivation for closing the mining industry wasn't to break the power of trade unions in Britain, but in fact a very early Earth First action.
Of course not everyone has followed Green Maggie's fine example. Donald Trump – whom Daniel is a big fan of –  is also an eco-warrior in the Thatcher mould. Hannan explains: "The reason that the United States (the ultimate baddie for many of the demonstrators) is also seeing a sharp fall in its carbon output is that it is has taken up large-scale fracking – again, a technology that many of the marchers hate."
Yeah – stick that you krazy klimate kids!
Of course there are a few minor issues with this analysis.
The first if of course that fracking is an environmental nightmare.
The second is that coal hasn't disappeared in Britain. As Carbon Brief reported only in 2017: "Dirt cheap coal poised to make a comeback".
The third is that despite endless pro-coal rhetoric in America it is in terminal decline.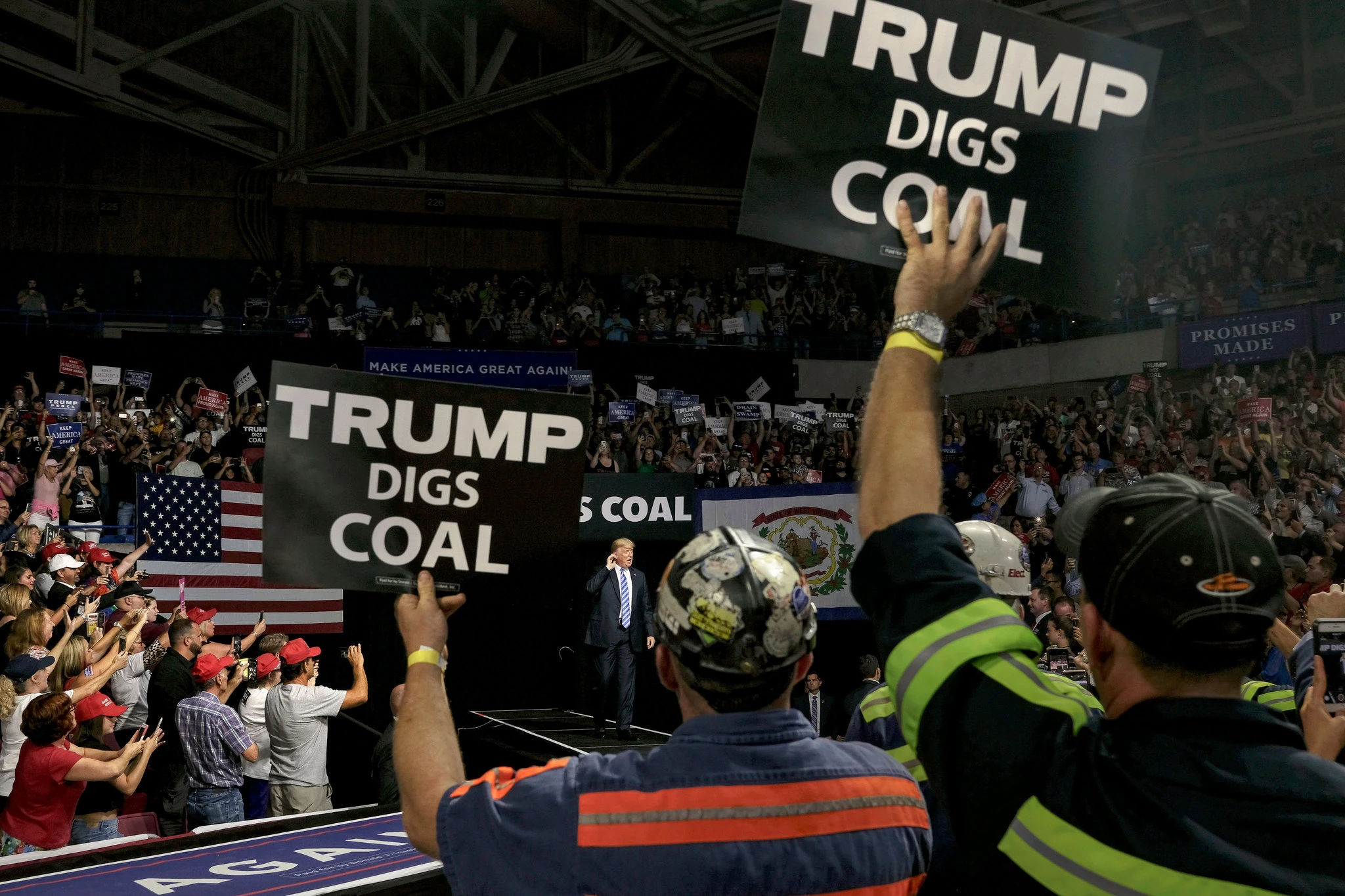 As the New York Times reports ("Trump's New Pollution Rules Still Won't Save the Coal Industry"): "America's ailing coal industry was buoyed on Tuesday when the Environmental Protection Agency unveiled a proposal to relax pollution regulations on coal-fired power plants. President Trump traveled to West Virginia to tout the planned measure, telling supporters, "We're putting our great coal miners back to work."
The NYT continues: "…the reality on the ground for the nation's coal industry remains bleak. Even the Trump administration's own numbers suggest that its latest proposal won't reverse the sharp decline of coal power, which has been crushed by competition from cheaper natural gas and renewable energy over the past decade.
More than 200 coal plants have shut down since 2010, and another 40 plants have announced they will close in the years ahead, with virtually no new coal plants being built today.
At best, if finalized, the E.P.A.'s newest rollback could help a small number of those endangered coal plants stave off retirement for a bit longer, albeit at the expense of increased air pollution."
Trump uses coal as a symbol for his MAGA revolution but he can't deliver because reality is over-taking even his breathless climate science denialism.
Daniel Hannan's modest confusion about just what exactly anyone might have to protest about doesn't stand up to much scrutiny.
He claimed in December 2009 that "The case for anthropogenic global warming was, as far as I can understand, slightly more convincing a decade ago than it is today, with global temperatures having recently dropped".
He told the European parliament in December 2015:
"Let's accept what seems to be the consensus that the world is warming partly as a result of human activity. How we then deal with that is a political rather than a scientific question. And the particular issue is how much we spend on seeking very slightly to mitigate the rise in temperatures with huge sums of money versus adapting with a fractional sum of money.
"I look around the world and I see that in Helsinki the mean temperature is about five degrees, in Athens it is about 21 degrees, in Rio it's about 35 degrees – all support large populations. I think we might just be able to adapt."
Balmy.
War on Experts – Cash from Kochs
Not only is Hannan in-tune with America's far-right administration, he was their enabler into European political circles. As Mat Hope from DeSmog UK reported on the Blue-Green Summit cross-Atlantic climate science denier network that Hannan convened in 2017:
"Myron Ebell, the former head of President Trump's Environmental Protection Agency (EPA) transition team and a director of the libertarian US think tank the Competitive Enterprise Institute (CEI), was a keynote speaker at the Blue Green Summit taking place in the heart of Brussels on Wednesday. He was joined by Matt Ridley, who sits on the academic advisory board of the climate science denying Global Warming Policy Foundation (GWPF). The conference's convenor was Brexiteer MEP Daniel Hannan. Climate denier and UKIP MEP Roger Helmer and the GWPF's director Benny Peiser were also in attendance."
"Ebell used his keynote address to argue that experts and scientists should be ignored when it comes to climate change and environmental policy. He said:
"We find time and time again the experts are being relied on in our major cities and our media, who listens to them when they talk about what they know about theoretically, but have practically no knowledge of."
He encouraged the audience to, "whenever you hear an environmental expert, think that he is an urban eco-imperialist and say, 'what do people who actually have some experience of the environment know'."
In this context Hannan's self-presentation as a kindly and concerned parent "I mean whom are the youngsters think they are marching against" wears a bit thin.
Nor is Daniel quite as free and independent as he likes to present in the super-soar-away Sun.
Like his libertarian friends over at Spiked, Hannan has more than a passing acquaintance with the Koch brothers. As Sourcewatch tells us:
In an article entitled "If Tea Partiers are such deluded fools, why are they doing so well?" Hannan suggests again that the Tea Party is spontaneous and grassroots. He states "I have no special brief for the Tea Party." He defends the Koch Brothers campaign saying "The only difference between us and the Kochs is one of scale: the Kochs are wealthy, and good luck to them." But Hannan fails to disclose that he enjoys the Koch's patronage through the American Legislative Exchange Council and the National Center for Policy Analysis. In 2009 Hannan addressed the Koch Foundation in a pro bono engagement. His 2009 Declaration of Members' Financial Interests declares flights to the U.S. were paid for by the National Center for Policy Analysis , Regular Folks United, the Campaign for Liberty and the American Legislative Exchange Council. Two of those, the National Center for Policy Analysis and American Legislative Exchange Council are funded by climate deniers ExxonMobil and the Koch Family Foundations), the latter donating close to a million dollars."
At least this info answers Hannan's own question:
"Who, in their imaginations, wants to eliminate the human race?"  … ExxonMobil and the Kochs would be the obvious answer.
Delete Everything
Given his enthusiasm for climate crisis it's maybe appropriate that Hannan is an enthusiast for deleting things.
And Bella is told that the Telegraph has in fact deleted all of Hannan's own blogs from a decade ago (thankfully the Wayback Machine helped us out).
For Hannan, the issues all boils down to money.
"So where do I stand? With Peter Lilley, I suppose. I also tend to agree with Nigel Lawson that adaptation would be more effective and cheaper than a programme of greenhouse gas reductions which, even according to its proponents, would slow global warming by only around 0.2 degrees. In other words, it ought to be possible to accept the case for global warming – and, indeed, for an anthropogenic component therein – while still believing that the Rio-Kyoto-Copenhagen agenda represents a misallocation of resources."
You following the logic here?
Climate is happening and we can do something about it, but it would just be too expensive.
This kind of hyper- capitalist idiocy paves the way for him to spout some queasy eco-blandism:
"Mrs H is meticulous about reusing and recycling and sourcing our food locally and all the rest. Our children were brought up with washable nappies. I'm as keen as the next fellow on clean air and water, on whales and rainforests, and I have always thought it a pity that free market solutions are not more widely applied to environmental problems (see here). The natural world is too important to be left to the Left."
Even on their own terms the "we can't afford it" arguments don't make any sense. As Bob Ward from the Grantham Research Institute at LSE explained this week:
"We know that unmanaged climate change creates risks of impacts that will be simply unaffordable. On the other hand, much of the required reduction in greenhouse gas emissions over the coming decades is found to cost less than business as usual, when one takes into account avoided climate damages and the many co-benefits associated with the transition away from the unabated burning of fossil fuels, such as cuts in local air pollution. The barrier to urgent action over the next decade is not technological but political. We need politicians to listen carefully to the words of young people like Greta Thunberg and then implement strong and effective policies, such as carbon pricing, that promote wellbeing and prosperity for today's and future generations."