Scottish Oil Club Dinner Occupied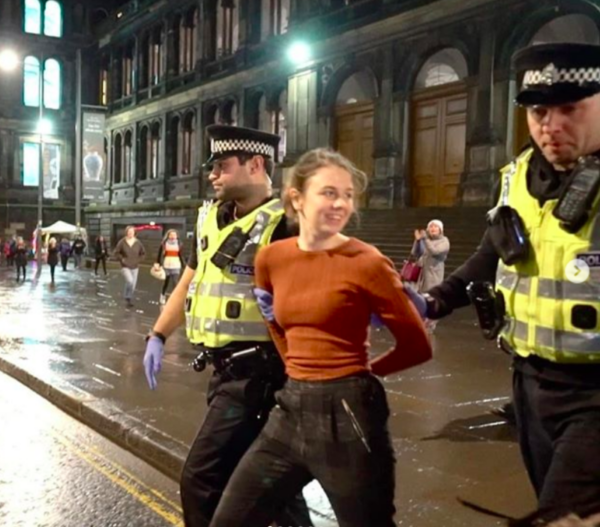 Last night in the capital 30 Extinction Rebellion Scotland activists occupied the main hall of the National Museum of Scotland to disrupt the annual dinner of the Scottish Oil Club. 890 fossil fuel industry executives annually celebrate the success of their trade and network to further its interests.
At 5pm, a group of around 30 activists sat down in the middle of the main hall and held a peaceful People's Assembly focusing on the damage done to the world by the fossil fuel industry and paths to transition away from it immediately.
When asked to leave by the police, a number agreed to leave. 13 people stayed and continued the Assembly. 6 were locked together with D-locks. All 13 were arrested and eventually taken away by the police with last arrestees leaving the space around 8pm.
Outside, around 300 protestors had a party on the street with music, bands, dancing, speeches and ceilidhs. When guests started arriving, protestors lined the entrance to the museum and sang, chanted and spoke to them about the climate emergency.
This action was planned in a context of rapid and uncontrollable climatic breakdown that is unprecedented in the course of human history.
Mim Black, 26, commented
"The fossil fuel industry has hoodwinked the British public into believing they are an asset to the country – I believe it is a drain. Fossil fuel lobbying threatens democracy. Climate chaos is already underway across the planet, and we know that the fossil fuel industry is a major driver of this. We must immediately start putting safety before profit."
Lauren McGlynn commented:
"The oil industry has brought us to the brink of extinction. They have irreversibly damaged and desecrated our one and only precious planet. They have lined their pockets with the ashes of our collective future. They have built obscene amounts of wealth through war, genocide, and by poisoning our water, our air, and our land. The oil industry's own scientists have understood nearly everything that we now know about climate change since 1979. They've been fully aware of the dire consequences of continuing to burn fossil fuels for over 30 years and instead of changing course, they decided that it was more important for a handful people to hoard hundreds of billions of dollars, than it was for humanity to have access to a habitable planet. I can imagine no worse crime than this. They must never feel comfortable celebrating these crimes again. They are not welcome in our museum, they must stop their plundering, and they must pay for the damage they have done."
Extinction Rebellion claim that:
Climate change is already happening much faster than anticipated, with record temperatures and extreme weather across the globe. Drastic and immediate action is required if we are to escape the unimaginable consequences of runaway climate change.
As an educational institution the National Museum of Scotland holds a responsibility to tell the truth and to take affirmative action in this crisis.
At the same time as the Oil Club meets, BP is sponsoring the Portrait exhibition at the National Portrait Gallery and the Edinburgh Science Festival ('Unstaining the Edinburgh Science Festival')
A statement added:
"The members of the Scottish Oil Club include companies and individuals that bear the greatest share of responsibility for our global predicament. The oil and gas industry is not an asset to Scotland; only kept afloat by £10.5 billion in subsidies every year, they profit at our expense. The companies present at this dinner, including Shell, Total and BP, are amongst the worst historic polluters in the world. The fossil fuel industry has known full well about the dangers of climate change for over 30 years, and far from taking action, has engaged in lobbying to protect its narrow self-interest and to prevent effective action on climate change. Even now, when climate science is clear about the  need for a rapid transition to a zero carbon economy, the sponsors of the Scottish Oil Club continue to spend billions of pounds developing new oil fields around the world, locking society into a deadly dependence on fossil fuels. "
A new report out last year by experts from the Tyndall Centre for Climate Change Research at the University of Manchester and Uppsala University in Sweden concluded that for Scotland to meet its global responsibilities it can only emit a total of 300 million tonnes more carbon dioxide – meaning it has to cut emissions by at least ten per cent every year starting now.
According to the pollution database maintained by the Scottish Environment Protection Agency (SEPA), 12 of the top 20 carbon polluters are linked to North Sea oil and gas. In 2016 they emitted a total of over six million tons of carbon dioxide. See details of the top 20 polluters on this map: