Forget St Paddy's Day, Remember Paddy's Market
Rob Brown calls for the creation of a Museum of Migrants in Glasgow to remember all those, like the victims of the Irish potato famine, forced to flee to other shores.
Jinty McGuinty's will be jumping and Waxy O'Connor's will be filled with wild revelry. But, yet again, you won't find Guinness-fueled leprechauns dancing down Sauchiehall Street in a big, swaggering St. Patrick's Day parade, as they do on Fifth Avenue and other central boulevards all over the globe.
Clydeside isn't New York or any of the other shimmering metropoles where all sorts of tricolour-waving antics are not only tolerated but universally smiled upon. Mother Glasgow isn't just nestling the Billy and the Tim, all too often she's got to wrestle them apart and confiscate their lethal weapons.
So if there is a certain nervousness in the marbled corridors of power in George Square about giving the go ahead to a great annual flaunting of Irishness, that's perfectly understandable (if not entirely excusable).
But if campaigners for St Patrick are keen to demonstrate true solidarity with the Glaswegian proletariat of Irish ancestry, they'd do better for now to stop banging on about a St Paddy's Day parade and commit some time to commemorating Paddy's Market.
Almost exactly a decade ago, a decision was taken by Glasgow City Council to shut down one of the oldest and most popular sites of common exchange on these islands. A colourful and characterful slice of the city's heritage dating back to around 1847, it was suddenly wiped off the city map after being declared a "crime-ridden midden".
The shell-shocked stallholders were ordered abruptly to pack up their wares and clear the way for the realisation of a new visionary project aimed at 'revitalising' the area through the creation of an artist colony and a more upmarket shopping destination occupied by "legitimate traders".
Tucked in a lane between the city centre and River Clyde, Paddy's Market was a true Glaswegian institution, spontaneously created nearly two centuries back to serve a vital social need among Irish immigrants who had fled the potato famine – providing the necessities of life at the lowest prices for those trapped in poverty.
Alright, it was a bit anarchic with second-hand fur coats, mismatched shoes and furniture strewn along rickety tables and camp-beds. But, as a fifth-generation hawker told a reporter from the Guardian dispatched to chronicle its hasty demise, that had always been part of its appeal.
"You cannot make this city all shiny and polished and pretend it's something that it's not," lamented Michael Burns. "Paddy's is a reminder that poverty still exists here. Closing us might take the problem out of sight, but it doesn't solve it."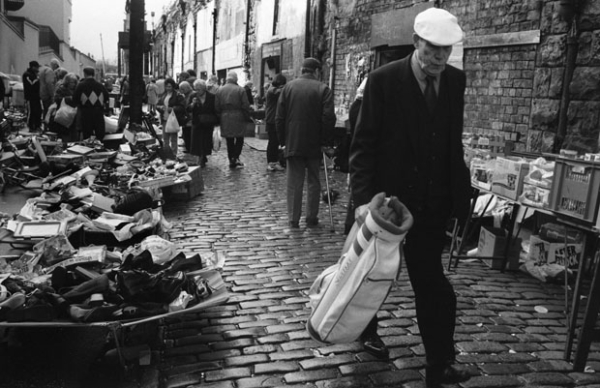 The scandalous proliferation of food banks across the Clydeside conurbation – and all over the country – during the last decade has provided ample confirmation of that statement.
That social crisis won't be solved by commemorating – or even recreating – Paddy's Market. But a real sustained sense of solidarity among Glasgow's citizenry might be engendered by creating an attractive visitor destination dedicated to all migrants forced by destitution to flee to Scotland's commercial capital.
These include the Protestant poor as well as the Catholic poor from the north of Ireland. The Great Hunger did not discriminate. An Gorta Mór drove hundreds of thousands – drawn from both communities – to clamber aboard the emigrant boat to Glasgow.
Abject poverty, along with plagues of cholera, typhus and dysentery, struck like the four horsemen of the apocalypse as the potato blight swept through the whole province of Ulster. In fact, it has been estimated that a full-third of those who sought refuge in Scotland in that cataclysmic period were Protestant.
Four years ago, a remarkable cross-community project was established in Northern Ireland to shatter myths and develop deep awareness about the shadow cast by the famine across the entire north of Ireland – not just Donegal.
Sharing the Past enabled community groups to hear of harrowing stories learn about the suffering of their tragic ancestors in Loyalist strongholds such as Larne and the Shankill. Community groups were even enabled to walk through old workhouses and sites on both sides of the Border.
Backed by a grant from Heritage Lottery Fund, the project – driven from the grassroots up – set out to publish a series of small educational booklets and stage an exhibition on the famine.
But wouldn't it be marvellous if a far more ambitious educational facility of this sort could be founded and funded on a permanent basis in the city that offered refuge to so many victims of 'Ireland's Holocaust'?
Hopefully, it would be widely attended by many well-heeled visitors from the Republic of Ireland, all too many of whom casually disremembered their country's tragic past and its diaspora when the Celtic Tiger purred. Featuring strongly among what were dubbed the 'Forgotten Irish' in an RTE documentary were all those desperate migrants to the west of Scotland.
As the former Irish Press editor-turned-popular historian, Tim Pat Coogan shrewdly observed in his book Wherever Green Is Worn: "The Irish in Scotland, especially the Glasgow Irish, are viewed as the 'Cinderellas' of the Irish diaspora, at the bottom of the league headed by the Boston and New York Irish."
Nothing illustrated that more than the demolition of Paddy's Market, which was completely ignored by the Irish media. (I can testify to that because I was based in Dublin at the time and tried in vain to pitch the story to virtually every media outlet).
Back in 2009, Paddy's stallholders campaigned to the council to turn it into a tourist attraction – a documented piece of Glasgow history much like the Barras Market nearby. But the lane from which the powerless stallholders were forcibly evicted has lain empty for almost a decade.
Glasgow could generate massive amounts of global attention – and make a much-needed statement to the world in these turbulent times – if it were to create a Museum of Migrants. Even better if this grand project were located on – or in close proximity to – the site of Paddy's Market.
If that truly pioneering facility fulfilled its fabulous educational potential, the city council might even one day feel perfectly relaxed about sanctioning the first ever St Paddy's Day parade down Sauchiehall Street.