Scots Language Deserves Better than This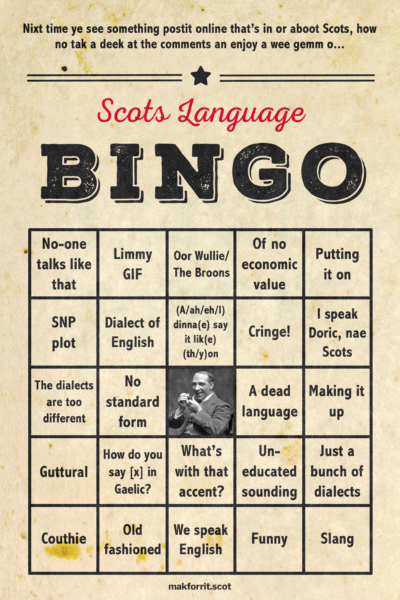 Dear First Minister,
I'm writing to you about the appalling treatment received by Scots language activist Alistair Heather as a guest on The Kaye Adams Programme on BBC Radio Scotland on 21/03/19.
Alistair had been invited on the show and briefed to expect a discussion on recent positive developments relating to the raised profile of the Scots language. Instead, the segment focussed on the 'mixed reaction' to a Scots language video Alistair had made the previous year, along with a recording of voice artists reading out a sequence of personally upsetting and abusive comments which had been made about Alistair in the wake of the video. These comments were not presented sympathetically as examples of the kinds of discrimination which Scots speakers are accustomed to in everyday life, but as legitimate reactions and responses to the notion of 'a Scots language'. The presenter pointedly ignored all Alistair's attempts to initiate a constructive discussion around the subject, refused to acknowledge the massive positive reaction to this and Alistair's subsequent videos, and went on to bizarrely connect Alistair's legitimacy as a Scots speaker to the fact that his father is from another country.
I would urge you to listen to the programme, as I sure you will be as appalled by all this as many of its listeners have been, and would agree that the quality of the 'journalism' on display was several magnitudes below that which we expect from blogs and independent podcasts, never mind a state broadcaster. However, this is not principally why I am writing to you.
After the abundantly belittling and hostile treatment of Alistair, the presenter then went on to open up a debate (with another guest) as to whether Scots is 'even' a language, with the presumed answer, on the basis of the tenor of the programme and the attitude of the presenter up until that point, being 'no'.
As you will no doubt be aware, even the most cursory amount of research by either the presenter or her staff would have revealed that the legal status of Scots as a language is not a matter of opinion. Both the Scottish Government and the UK Government, along with the European Charter for Regional and Minority Languages, attest that Scots is a language. The suggestion that this legal status is in some way a matter for debate is manifestly toxic and hugely concerning.
Because we should be concerned, as a society, when a powerful voice seeks to delegitimize the hard-won rights and protections of a marginalised group of people. We should be concerned when a minority group are required, again and again and again, to prove that they warrant the basic protections and rights which they have struggled to gain over the course of generations. And we should be concerned, most of all, when the platform for such counterfactual 'views' is a state broadcaster, funded largely by the contributions of the very people whose voices it seeks to deny. Because this is nothing better than state-sponsored discrimination. And it is not okay.
I write to you today because, as the leader of the government of that state, I trust that you are as alarmed by this as I am. I am sure that you are able to see, at a glance, what subtext would be intended by a programme which posited for debate the proposition as to whether Polish, say, is 'even' a language, or Urdu, or Punjabi. And I would like to ask; are the rights and protections enjoyed by speakers of Scots real or illusory? What is the Scottish Government willing to do to meaningfully affirm and maintain those rights, both in this specific instance and in the face of ongoing discrimination which is open and widespread yet, in terms of its political and media profile, largely invisible? Is the continued silencing of 1.6 million people, people who you represent, a recognisable and acceptable aspect of the Scotland you are working towards? I do not think it is, and I am confident you do not either.
Yours aye,
Thomas Clark