A Land of Poets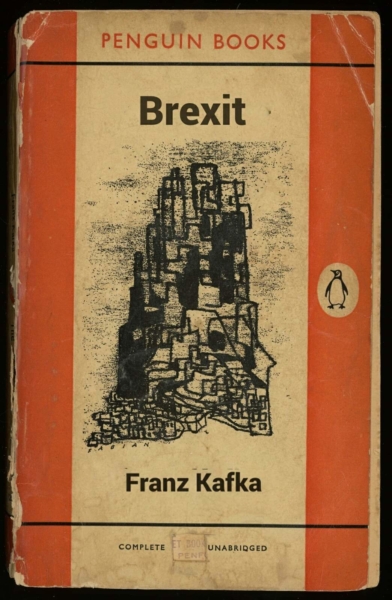 When more than 90% of the population of a country have absolutely no influence on the social, economic or political policy of that country and do not benefit from any of it, then, in reality, they live in another country. In Scotland, as the Cameron cooked-up Brexit authoritarian shambo-fest enters its grinding, yet gutless, endgame, we can see that we do, in fact, live in another country. In the country where we have no influence the Scots hear orders coming down from above, from Government and from Strong Men in Business, but none going back up the way. In the other country we can at least imagine (or dream) of a future where we can have a face to face participatory democracy. The country where the orders come down from above is in fact not a country at all but a state called, somewhat ironically, the United Kingdom. The country where people are encouraged to speak to each other we can still, optimistically, call Scotland.
Those who hold power in the UK do not like political instruction coming from below. Participatory democracy, their modern media Cicero's tell us, does not work in the large, concentrated and complex population centres; that commercial production, financialisaton and the global economy is too complicated a matrix to be held to local account and can only be facilitated by a centralised system based in locations like the City of London. However, in the other country we optimistically call Scotland, where people can discuss the issues of the day with each other, we can see that, for example, far from the UK leaving the EU, in reality it is Europe that is leaving the City of London.
Daily the media shows us a British Parliament that does not even know how to talk to itself and at its head a Prime Minister – Theresa May will be followed by yet another similar reactionary – who leads a government that is hostile to most forms of democracy, except that limited kind which keeps its own party together. Which from a political/scientific point of view is highly understandable. What is the Tory party but a compound, an amalgamation of various conservative, nationalist and radical right-wing political ingredients? All welded (loosely) by the need for common and imagined enemies (the Scots being one of them, Europe another), with ill-defined passions for a regenerated and purified "nation", purified of the EU, Muslims, whingeing Jocks, because it is important to the Tory myth that they see themselves at odds with "the establishment", even though they are that establishment. They pursue their zeal as the true upholders of the rule law and order whilst at the same time undermining it. They proclaim themselves the natural champions of free enterprise and all its private, trickle-down benefits as loudly and as actively as they trample the free institutions and rights of others into the dust of their desire. On the other hand, the Tory party in action looks more like a network of relationships than any fixed essence, being as they are, and as we can see, the result of a set of dubious choices, alliances, compromises and above all – rivalries. Brexit is a result of this internal, highly masculine rivalry. Their primary interest is themselves. "Omnia mihi", as the historical Cicero might have said – "All for myself". Which translates, politically, as "Nothing for anyone else." Certainly nothing for Scotland. Nothing for us in the orders coming down from above. No audience for the voices of dissent at the grassroots, informing on the reality from below.
The reality of Brexit Scotland is that we are being diminished political and economically by Westminster and redacted socially, culturally and artistically by the media. Hugh MacDiarmid's squib of a poem, The Little White Rose of Scotland, painted one squint of perception,
"The rose of all the world is not for me.
I want for my part
Only the little white rose of Scotland
That smells sharp and sweet—and breaks the heart."
For most Scots "The rose of all the world" is what we are being denied, but we are damned if our hearts are going to be broken… again. So, whatever Scotland is or is not, one thing she is, is a land of poets.
It is important, at this stage in our history we remember that, at least. Especially as in December 2018 we lost the poet Tom Leonard and in March 2019, Donald Campbell. They were two of our best dissenting, hugely original poetic voices. The former a quintessential and existential Glaswegian with strong Irish roots; the latter very much an Edinburgh poet even though he was born in Caithness. Their poetry, like all true poetry, was constructed from two basic things: the thing the poem is about and the language it is written in. Language is a lens: it illuminates and clarifies, but it also can alter and distort. Language, for Tom Leonard, was politics. In poem after poem he tackled the class and power issues of language head on. "Six O'clock News" is probably his best known, but this poem shows that Leonard had a purpose, something to explain.
right inuff
ma language is disgraceful
ma maw tellt mi
ma teacher tellt mi
thi doactir tellt mi
thi priest tellt mi
ma boss tellt mi
ma landlady in carrington street tellt mi
thi lassie ah tried tay get aff way in 1969 tellt mi
sum wee smout thit thoat ah hudny read chomsky tellt mi
a calvinist communist thit thoat ah wuz revisionist tellt mi
literati grimly kerryin thi burden a thi past tellt mi
literati grimly kerryin thi burden a thi future tellt mi
ma wife tellt mi jist-tay-get-inty-this-poem tellt mi
ma wainz came hame fray school an tellt mi
jist aboot ivry book ah oapnd tellt mi
even thi introduction tay thi Scottish National Dictionary tellt mi
ach well
all livin language is sacred
fuck thi lohta thim.
(Tom Leonard, 1984)
Tom Leonard's poems were never merely an advanced form of rhetoric, although they were beautifully rhetorical; nor were they purely entertaining, although they were deliciously entertaining as direct address. Leonard's poems always displayed a great confidence in themselves and in their materials and were never just a speech by the poet or even a performance, even though he was a great performer of his poetry when his health allowed.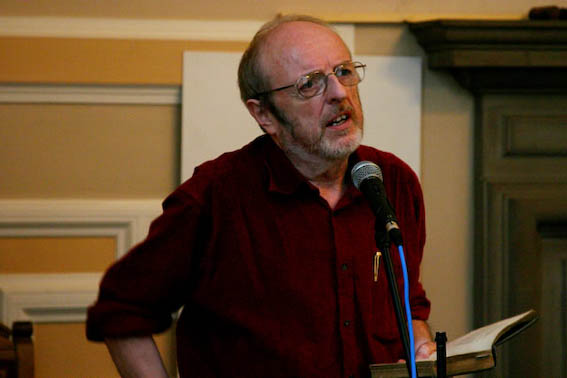 In an interview with the BBC he said, "I don't ever claim to represent the excluded, I'm not the Robin Hood of working-class language. If someone's got high-status language, the truth pours through them like a tap. Whereas if they've got low-status language, the pipe doesn't run their, sorry." This was proven in 1984 when his seminal collection Intimate Voices shared the Saltire Society's Scottish Book of the Year Award with David Daiches' God and the Poets: The Gifford Lectures: it was duly banned from Central Region's school libraries. The pipe didn't run there, obviously.
It is a part of the function of poetry to serve as a test of truth, because it is the job of the poet to find out what the world is trying to be and to report back to the tribe. In this regard Tom Leonard was both a modernist and a tradition bearer because his poems concerned themselves with accuracy, precision and truth. They also concerned themselves with tenderness, love and the multi-verse of essential humanity. Contrastingly, he had his own special relationship with reality. His views on Scottish independence, for example, were complex – often warm, when it came to the aspirations of the Scottish people, and often hostile, even scathing, when it came to the SNP. However, an entry in the journal on his website for January 1st, in the referendum year of 2014, is revealing. It read simply, "Self-determination in art. Independence of mind. Nationality an irrelevance."
One of the great tragedies of Scottish theatrical life was that Tom Leonard never saw his version of Bertolt Brecht's Mother Courage produced on a Scottish stage. This mixture of indifference and hostility, when it came to the theatre, from those who run and manage it towards radical voices, was shared, and endured, by his fellow poet, Donald Campbell.
My relationship with Tom Leonard was occasional – we met up from time to time, laughed and argued, agreed and laughed. My relationship with Donald Campbell was more intimate – I knew him for forty years. It was seeing his play The Widows of Clyth at the Traverse in 1979 that showed me that I could write about my own people in their own language, and that as a poet the theatre was my natural medium, and that the language of the theatre was, in fact, poetry. To no other single writer do I owe so much.
The language of Donald Campbell's poetry was that of the Edinburgh streets, the football terraces and the pubs. It was not the literary language of the post-MacDiarmid generation but a living, breathing lingua Lothian of an observed reality, of a compassionate socialist whose deep affinity for those he lived amongst was apparent in everything he wrote. All his poems were captured epitomes and epiphanies, where humanity was allowed to speak for itself. He once told John Herdman, then editor of the magazine Catalyst, "For me sound is everything." Which is why Campbell's language worked so well in the mouths of Scottish actors. His portrayal of ordinary squaddies in his play The Jesuit (1976), the way they spoke in relation to the "high heid yins", was a revelation and a joy for audiences who saw it. As his long-time collaborator and director of the Scottish Storytelling Centre Donald Smith put it, "He hated snobbery and pretension and wanted a classless theatre."
This "spark of joy", as the poet Rayne MacKinnon termed it, was a recurring energeia (potential and actuality) throughout Donald Campbell's creative life. I think this can be traced back to his earliest visits to the theatre in Edinburgh. For example, he recalls in an article he wrote for the magazine Chapman, of how, in 1956, aged 16, he went with his parents to the Lyceum to watch Duncan Macrae play the title role in Robert McLellan's play, Jamie The Saxt. Campbell described Macrae's performance being "of such theatrical power that it remains in my imagination 30 years later". Of the play itself, Campbell recalled how "from beginning to end, frissons of excitement sped through the auditorium perpetually, creating a marvellous feeling of release which everyone seemed to share. Entertaining as it was, Jamie the Saxt gave us something more than mere entertainment – it gave us liberation."
One of the liberations Donald Campbell desired to be free of, ironically, was from what he called "loquaciousness", as was best summed up as the one quality to unlearn in his early poem "Prayer to the Poets", where he lists all the "qualities" he could learn form the long list of Scottish makars and their "particularities". As the years passed and Donald's health failed and his involvement with the Scottish theatre scene diminished, he returned to writing poetry and in a circumnavigational sort of way his imagination returned to the landscapes of the far North of Scotland, the land of his birth, the setting of The Widows of Clyth, and to the poetry of 18th century Strathnaver bard Rob Donn Mackay in particular. In this poem, in plain English, Campbell, the 21st century poet, is addressing his illustrious antecedent and poetic forebear, Rob Donn: in many ways he is summing up his entire creative life. I find it extremely moving, deeply resonant, full of gratitude and humility. In many ways it is an answer to the "Prayer to the Poets",
Homage to Rob Don
From the Gaelic of Iain MacEachainn
One plant in every garden
aye wants the soil it needs
Filius ante patrem
The flowers outgrow their seeds.
Should favour for my talents
in eternity be found,
my best verse, in the balance,
will be owing to Rob Donn.
I once was used to making rhyme
that won my friends' goodwill.
In taverns, where they'd pass the time,
they'll no forget my skill.
But that old trade, I'll now deny.
My taste for it is dead.
I'll give it up, but surely try
to honour you, like this, instead.
On days when light is dwining
the earth's beset with gloom,
but let thon sun start shining
and joy returns to every room.
My own verse may be rejected,
tunelessly lacking renown,
but whenever our art is respected
they'll pay homage to you, Rob Donn.
Donald Campbell
from Homage to Rob Donn (Fras Publications, 2007)
It may be a difficult thing to accept right now as the Brexit drums batter, as Prime Ministers rise and fall, but Brexit, for Scotland, in the long run, does not matter. It is part of our historical disentanglement from our larger, more insular, prosaic neighbour. There will be more desperate battles to come, just as there most certainly have been in the past. In Rob Donn's Strathnaver in 1814 Patrick Sellar, the factor for the Sutherland estates, was beginning the first of his notorious clearances. A mere 23 years after Rob Donn died the British Army raised, in 1800, some 700 men from North Sutherland in Strathnaver to form the 93rd Regiment, a forerunner to the Argyll and Sutherland Highlanders. In January 1815 these same men, their numbers swollen to over 900, fought in the Battle of New Orleans, as the British took advantage of Napoleon's incarceration on Elba to re-engage violently with the newly formed USA over control of the northern American continent. By the end of the day on 8th of January 1815 half of them were dead.
Six months later, on 16th June 1815, two days before the Battle of Waterloo, at Quatre Bras, after an engagement with the French Army, 900 more Highlanders lay dead upon the muddy field. By 1820, the straths of Kildonan and Naver, where these soldiers' families had lived in continuation for 2,000 years, were empty of humanity and full of sheep. The house walls were ruins. The roof timers charred and burned. For those of us who live in the North Highlands there is a cold familiarity when we see a cohort of English public-school incompetents in the House of Commons leading us to oblivion. The officers leading the Highland troops at New Orleans and Quatre Bras proved equally incompetent, equally fatal.
At New Orleans the Americans lost eight men killed and fourteen wounded. They took pity on the retreating Highlanders, whose bravery they admired, and did not seriously harass their defeated opponents. Instead they distributed leaflets amongst them inducing them to desert, offering them lands and the "superiority of democratical government". As James Hunter remarks in his book about the Sutherland clearances, Set Adrift Upon the World, "It would be a long time before there was anything approximating to 'democratical government' in Sutherland." It could be argued, with the state of the Highland Council, the size of the political constituencies and the archaic nature of land ownership, that 'democratical government' is still absent.
Incidents of bloody military catastrophe in the 19th century may seem irrelevant to political disaster in the 21st century but I think they are prescient. The men who lay dead at New Orleans and Quatre Bras came from a bardic culture where poetry was as natural as speaking, and for many of them, was speaking. They were destroyed by the mercantile and military demands of the British Empire. They literally were consumed by greed. They were far from Scotland, for in truth, after 1707, Scotland lay dormant. Once the Tories have devoured themselves – and whether one member, of whatever sex, of the British officer class resigns or not, it makes not a bit of difference – and the post-Brexit economy lies like a smouldering wreck on the roadside of history, we can get on with the business of rebuilding our country, of making Scotland new and prosperous again.
It is writers such as Tom Leonard and Donald Campbell who remind us, no matter what else we think we are or what happens politically, that Scotland is a land of poets.