Deeper Into Darkness?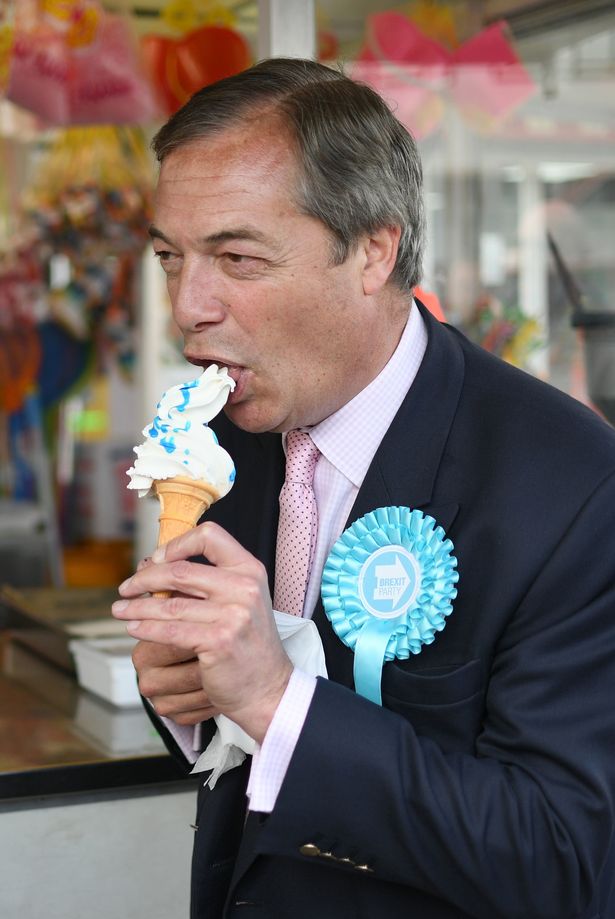 The imminent electoral victory of Nigel Farage's facade of a party into an institution they despise, and the possible arrival of Boris Johnson into No 10 is causing apoplexy in the two main political parties who may be facing a near-death experience. Have no sympathy. It's a bin-fire entirely of their own making by decades of Jeremy Kyle politics, contempt for ordinary people and simultaneously stoking and assuaging racism in many forms. It's too late for a "moderate Conservatism" or a "return to the middle ground" to emerge from the carnage of Brexit or the endless prevarication of the Labour shambles. Mainstream British politics is being broken in the maelstrom of toxicity it helped create. As Farage's notional "party" – in reality it's essentially a website, a shell company and front for dark money – sucks up all of the Brexit anger – Labour voters are defecting to the Liberals and Tories are defecting to the Brexit Party.
In this scenario it's entirely futile and at least a decade too late for Sir John Major and former deputy prime minister Lord Heseltine to demand an end to the "virus of extremism" that has divided the country and left the Conservative Party trailing in fourth place in two opinion polls for the European elections. Heseltine revealed that for the first time he will not vote Conservative but will cast his ballot for the Liberal Democrats, dismissing his party as "myopically focused on forcing through the biggest act of economic self-harm ever undertaken by a democratic government". He said the party was infected by a virus and risked descending "deeper into darkness".
Will Hutton has noticed that:
"Boris Johnson, a charlatan and an inveterate liar, will complete the transmutation of the Tory party into an ultra right-wing English nationalist party. All those preparing to save Corbyn after these catastrophic Euro elections need to reflect that Johnson prays he stays leader."
But all is flux and chaos.
Hutton may be right that Corbyn's strategy is a disaster in Europe, but less so in England. A survey out polling people in England yesterday suggested Jeremy Corbyn is preferred PM and most likely to improve schools and NHS, with 26% of voters saying he would make the best PM, pipping Theresa May on 25%.
What does this mean in Scotland?
Currently YouGov polling shows (YouGov Scotland):
SNP: 38%
BXP: 19.8%
Green: 11%
Lab: 10.2%
Con: 10%
Lib Dem: 7%
ChUK: 2%
UKIP: 2%
That would result in  a change from the current tally of six Scottish seats: 2 SNP, 2 Labour, 1 Conservative, 1 Ukip to 3 SNP, 1 Brexit Party 1, 1 Green 1, 1 Labour and no Conservatives.
As Kirsty Hughes, the Director of the Scottish Centre on European Elections points out that: 
"The Brexit Party is ahead in all regions for European Parliament elections except London with Libdems ahead & in Scotland with the SNP ahead. Latest poll: 3 MEPs for SNP & 1 each for Lab, Greens & Brexit party in Scotland, none for Tories or Libs. Scottish politics is essentially distinct."
It would mean that Alyn Smith, Christian Allard, Aileen McLeod would be elected for the SNP, Maggie Chapman would be elected for the Scottish Greens, David Martin for Labour and Louis Stedman-Bryce for the Brexit Party.
This result, if born out in actual voting would represent an extinction event for the short-lived Change UK, a portrait of failed opportunism, a testimony to the staying power of the SNP and a major victory for the Scottish Green Party. It would also mean a personal disaster for Richard Leonard as his own MEPs turn on the abject failure of Corbyn's Brexit strategy. Whilst this week has centred on the Tories efforts to slide Theresa May out of office with as little shame and blood on the walls as they can manage, the reality is that both Corbyn and Leonard's leaderships are also on a shoogley-peg. Labour's campaign – only nominally "overseen" by either Leonard or Corbyn, but for which they are responsible, is as ineffective & useless a Labour campaign as ever been seen in a Euro elections. The desultory Labour offering looks like they will have started off in first place, fell to second and now in many polls are trailing in third place. The result would also be a disaster for Ruth Davidson's ailing return as she aims to distance herself from her parties right-turn and her own discredited and empty campaign.
Does any of this matter?
These are elections for an entity we (Britain) may not be part of after Halloween. Paul Hutcheon argues that it will not have any bearing on the next Holyrood election, and he may be right. Scottish voters have become accustomed to traversing through the modalities and different voting systems of council, national, UK and Euro elections. The Brexit process has bizarrely breathed new life into European elections people previously ignored in huge numbers.
There are dangers and ironies in what is essentially a protest vote at the Euro elections. The Brexit Party may destroy the Conservative Party but have nothing to offer in a domestic Westminster election. The Labour Party may succeed in the remarkable achievement of resuscitating the moribund Liberal Democrats from the grave, but fail to capitalise on the internal collapse of the Tories as they stagger to the right and become even more toxic to many across the whole of Britain.
In Scotland, we have the life raft option of voting against the relentless xenophobia of contemporary Britain and the basket of lies and liars as represented by Farage's Brexit Party.   Five key questions remain:
As the mountain of evidence stacks up about the dark money behind Farage and the Brexit Party will this make any difference?
Can the Green Party sustain the sort of surge there's been across Europe?
How far will the collapse of Labour and Conservatives translate into domestic UK politics?
How far will the far-right advance across Europe?
What impact will a disastrous Euro election have for Richard Leonard and Ruth Davidson's leadership?