No Guid Eneuch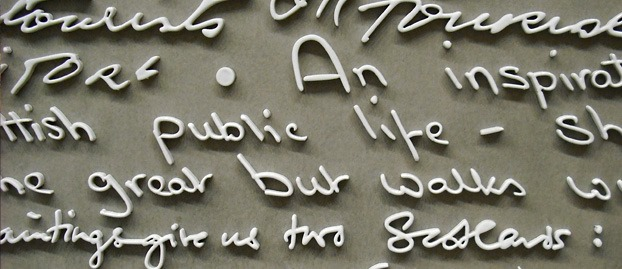 In spite of twenty years of devolution, next to no serious political action has been taken to protect or promote Scotland's second most spoken language, Scots. Jack Capener explores why, and argues that the time is now for the Scottish Government to finally provide Scots speakers with linguistic equality.
Twanty year syne, at the openin o the Scots Pairlament, Donald Dewar famously statit thit the chynges brocht aboot bi devolution warnae aboot wir politics an laws, but aboot hoo we cairry wirsels. Compare the Scotland o the day an the Scotland o 1999, an it seems gey clear thit he wis richt. Twanty year o devolution his lairnt us tae cairry wirsels wi mair confidence, pride, an dignity.
But some hings hivnae chynged ower muckle. Aw thon new cultural confidence brocht aboot bi devolution hisnae translatit ower weel intae confidence aboot hoo we speak, especially fir thae folk thit speak Scots. Whan it comes tae the status an treatment o Scotland's seicont maist spake leid, it cin sometimes seem like devolution ne'er happened at aw.
Jist like in 1999, Scots speakers still hae tae cairry themsels wi shame fir their wey o speakin. Thair remains confusion amang the general public aboot whit exackly Scots is, an the fauchlin 'language or dialect' debate hauds hingin aboot wir heids like flees aroon keech. Stigma in scuils micht be fadin awa bit bi bit, but Scots is still the leid o the hame, wi nae presence in the contexts thit gie a leid the wecht o offeicialness. Gey few folk cuid e'er howp tae yaise Scots in offeicial contexts like job interviews wioot bein geckit at.
The fact thit maist Scots speakers still cannae feel at hame in their ain vyce mauger o twa decades o devolution shuid be an affront tae us aw. An the reason fir it is simple: lack o serious government action.
Grantit, some guid steps hae bin taen, sic as the creation o a 'Scots Language Qualification' an the settin up o 'Scottish Studies' in scuils. Yet Scots lacks statutory recogneition or protection an haes neist tae nae veisbility in the public sector. Fundin fir Scots organisations sic as the Centre fir the Scots leid hisnae been muckle mair nor pocket siller, an anely a wee puckle scuils gie Scots medium education. Sae it's left maistly tae private bodies an individuals tae pick up the pieces.
Whan A massel first stertit reconneckin wi ma Scots vyce an gettin involved in a wee bit advocacy, A wis nearhaun blawn awa bi aw braw wark bein duin bi a hale fouth o private organisations an individual advocates sic as academics, screivers, an siclike. These war folk dedicatin their ain time an siller tae proteckin an promuivin Scots, wi neist tae nae support or fundin fae public authorities or the government. A thocht tae massel, "Jings, wir leid's futur shair is in capable hauns!"
A wisnae wrang, but A didnae realise at the time thit the leid's futur shuidnae hae tae be in thae folk's hauns at aw. Gin we accept thit linguistic richts are human richts, then we maun accept it's the responsibility o the government tae facilitate the enjyement o linguistic richts.
It's a miracle thit Scots haes bin thrawn eneuch tae survive sae lang wioot the kinna government support it needs, but we cannae tak its ongangin survival fir grantit, as thair's anely sae muckle thit individuals an private organisations cin dae. Coordination atween sindry groups an projecks cin be a richt sair fecht, an lack o siller is an ayebidin roadblock. On tap o this, individuals cannae dae onyhin aboot the lack o Scots broadcastin, signage, an owersettin in offeicial documents. Thon's exackly why government action is sae sairly needit.
Thair are maist like hunners o reasons thit Scots isnae gien the attention it needs, but at the en o the day, nane o thaim really maitter. Facts mey be cheils thit winna ding, but the wey A see it, thair's anely twa facts thit really maitter here. Fact yin: aw weys o speakin are equal. Fact twa: 1.54 meillion folk speak Scots.
Wi thae twa facts in mind, the lack o strang, serious government action is naehin short o a failure tae enshair linguistic equality fir awmaist 30% o wir population.
We cannae jist accept this reality. It's time fir chynge, fir strang an serious action fae the Scots Government tae shaw fir the first time thit they tak linguistic equality seriously.
A Board fir the Scots Leid (or Scots Language Board) sib tae the Bòrd na Gàidhlig wad be a guid stert. It wad finally pit Scots on a formally equal fuittin wi Scotland's ither indeigenous leids. It michtnae be a siller bullet, but it'd be an important first step taeward linguistic equality. It sens a clear message thit the Scots Government cares aboot linguistic richts an is willin tae walcome Scots back ben whare it belangs: on the public stage. An whit better time tae sen thon message nor 2019, the UN Year of Indigenous Languages?
Suin, A reckon, Scotland will rejyne the warld as an independent kintra. Whan that happens, it shuid be as a kintra thit taks tent o its diversity an promuives fairness an equality. Bi treatin wir leid wi thae values, we cin shaw jist hoo serious we are aboot biggin a better society.
Sae as Donald Dewer statit twanty year syne, we hae tae cairry wirsels differently. Scots speakers are stertin tae cairry their identities wi mair pride, but a chynge at the grassroots needs tae be accompanied bi a chynge in politics. We cuid weel be at the stert o a Scots Leid Renaissance, but it'll ne'er get aff the groon wioot political action. We maun encourage wir Scots-speakin politicians – an there maun be a wheen o thaim – tae reconeck wi their ain leid, their ain dialect, ken its value tae theirsels an their constituents, an its value tae Scotland. The chynge is bein made doon at the grassroots, noo we hae need o wir representitives tae tak on the cause in Holyrood.
Noo's the day an noo's the oor fir the Scots Government tae pit wir leid on the agenda. Aw een will be on the SNP's Naitional Conference in October.