Cold Fury Carlaw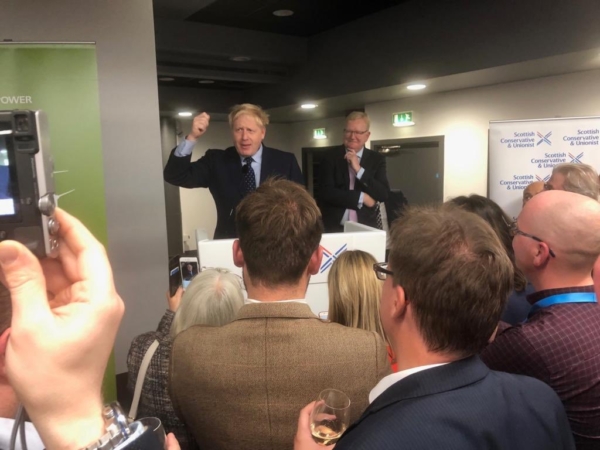 It's difficult to over-emphasise the depth of the crisis about to engulf the Scottish Conservative Party. The post-Ruth era demanded that any new leader stamp their authority on the party, and Jackson Carlaw has done that by by-passing his own colleagues and imposing a radical Johnson-loyal NO Deal policy.
The Telegraph reports that: "Senior Conservative insiders expressed "cold fury" over Jackson Carlaw's decision to unilaterally announce the major shift in policy at the UK party conference in Manchester. It is understood Mr Carlaw unveiled the about-turn despite it being neither discussed nor approved by the Shadow Cabinet at Holyrood. He cancelled last week's meeting."
As visions of Ruth Davidson's imminent coronation to the office of First Minister recede like a fever-dream, a new reality dawns, that of electoral wipe-out, the return to the days of a Tory Free Scotland and the routing of a leadership clinging to the coat-tails of their deranged thigh-squeezing post-legal un-elected premier. It's one thing to do the kamikaze reckless politics of Trump or Johnson if you are at the head of a populist surge and surrounded by acolytes. But if, like Carlaw, you are an isolated and powerless interim figure who sounds like the baddie from a Maeve Binchy novel, not so much.
To be fair to Jackson he has inherited precisely the contradictions his predecessor had: how do you interact with the madness of a government that is wildly unpopular in your own country and that is taking Scotland unwillingly into the prospects of economic catastrophe?
Davidson's answer was threefold:  say nothing at all; engage in an endless series of meaningless stunts and photo-shoots; and repeat like a mantra "We said No and we meant it." The problem for Carlaw is that he does not have Davidson's "unique backstory", he is not surrounded by a host of journalists ready to pen yet another fawning puff piece and he has a resurgent gang of MSPs who are paid-up members of the Boris Johnson Fan Club.
Having said this he has done remarkably badly in a very short period of time.
Responding to the First Ministers efforts to navigate through Brexit by offering support to Jeremy Corbyn as an interim leader, Carlaw said "That the Nationalists are prepared to do a deal with a man like Corbyn makes me sick to the stomach." His idea that he should play to Corbyn's alleged anti-Semitism is laughable.
But his attempts to ridicule the allegations against Boris Johnson for sexual harassment are maybe less funny.
Carlaw told Radio Scotland's Good Morning Scotland programme: "The whole atmosphere in politics now is very heightened, I understand that, this is a huge issue, passions are running very high, some of the allegations that are flying around are quite sensational and some are lurid, it is not for me to comment one way or another."
"If there are significant allegations about anything or anyone, there is a process for these things to be investigated, that of course should happen."
"But I do think that we are in a political environment at the moment where there is far more talk about all of that as a distraction from the very substantive matter of on what basis do we leave the European Union and after that who runs the country, and after that how do we ensure that Scotland carries on being an integral part of the UK . . . and bury the SNP's plans for a second independence referendum which the majority of people in Scotland do not want?"
You've got to love the idea that there are big serious constitutional questions like Brexit and Independence, but things like the sexual misconduct of the Prime Minister are just "sensational".
But while we were forced to pretend that Ruth Davidson wielded massive influence (she didn't), Carlaw openly admits he lacks any impact at all:
As if to reflect just how LITTLE INFLUENCE can be exerted by the leader of the 'Scottish' Tories … JACKSON CARLAW admits he hasn't been consulted by Boris about EU negotiations and KNOWS NOTHING about them … but insists Scotland should blindly acceptpic.twitter.com/EVthOn9dmR

— Independence is Normal (@jim45cotland) September 29, 2019

The problems for the Scottish Conservatives about adopting a pro No Deal position is that it exposes the heady-days of Davidson's pro-EU rhetoric and the reality that a No Deal crash-out will massively boost the case for independence …
Jackson Carlaw and @ScotTories now back No Deal.
Here's Jackson stating No Deal would justify #indyref2 pic.twitter.com/hp0j8gGlGQ

— Phantom Power (@PhantomPower14) September 29, 2019
Carlaw is faced with an impossible scenario. He is leading a party predicted to lose as many as ten of their 13 MPs. It was virtually re-branded as The Ruth Davidson Party and now has a large Ruth Davidson shaped hole in it. She may re-emerge as a Geoffrey Howe-like figure to skewer him from the back benches, or re-enter the fray like Farage and Salmond before. But this seems unlikely. What's more likely is the Scottish Tories disappearing in the wake of Johnson's hostility as he takes Britain out of Europe, and Scotland out of Britain.