A New Media is Possible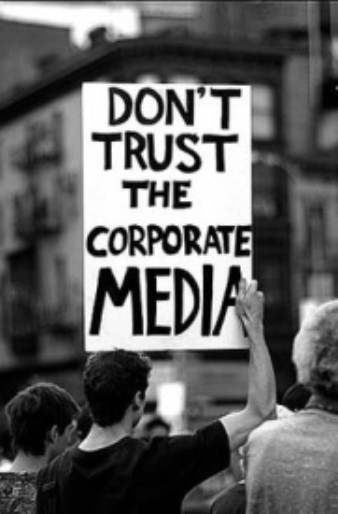 Peter Oborne's scathing analysis of the lobby system, and the fake news agenda created by unattributed "No 10 sources" is an eye-opener and a courageous bit of journalism. The story spilled out onto Channel 4 News, but it's really a major scoop for Open Democracy "British journalists have become part of Johnson's fake news machine"). So it's either a major story and badge of honour for crowd-funded new media, or an indictment of traditional journalism, either way it's a sign of the times.
Oborn's names names and pulls few punches: Nick Robinson on the BBC's flagship Today programme is slated for engaging in No 10 fantasies about an investigation into 'foreign collusion' of Remain MPs that simply didn't exist; BBC political editor Laura Kuenssberg's slated for being an accomplice-journalist and Robert Peston for effectively being a conduit to Dominic Cummings messages. The accusations are obvious and real and have hit home, provoking Peston to respond himself on Open Democracy.
In doing this Oborne is breaking the omerta and challenging his own employer at the Daily Mail.
The problem is what Scottish readers will recognise as Succulent Lamb journalism.
Oborne writes:
"This compliance is part of a pattern. Political editors are so pleased to be given 'insider' or 'exclusive' information that they report it without challenge or question."
The easy access, the socialising and the tip-offs lead to exclusives and scoops and insider knowledge. The problem is that this becomes institutionalised. As a journalist you're not paid to be pals with the powerful. But the back and forth between trusted journalists "the lobby" and the politicians goes deeper. Many politicians are ex-journalists: Nigel Lawson, Ed Balls, Ruth Davidson and Benito Mussolini spring to mind, but there are dozens of them.
This isn't a surprise as the political elite and the media elite spring from the same social background, share the same schools and universities, and go to the same bars, clubs and restaurants. Creating a media that looked like the society it reports to would be a key start in changing the media landscape in Britain.
It's hard to be tough in your interview if you grew up with the person, or if your dads friend owns the newspaper you work for.
There's an irony that it took a traditional journalist to break the story.
If Open Democracy had run the story itself it wouldn't have got half the traction. Not the old media-new media binary really works either. Only recently Guido Fawkes was successfully framing itself as 'new media edgy outsider' (even if it was a nest of far-right libertarian Tories). Now, as Oborne points out: "I haven't cited the Daily Express, The Daily Telegraph or The Sun – all of them Johnson cheerleaders. Nor have I examined Guido Fawkes, which has transformed itself within a remarkably short space of time from an anarchic website challenging lobby freemasonry to the provisional wing of Boris Johnson's Conservative Party press office." Guido, like Breitbart and Spiked present as radical libertine outsiders when they prop-up the powerful and routinely punch-down.
Celebrity Journalism
This client journalism is magnified by social media and the new cult of personality.
Robert Peston meticulously grooms his own brand, as have Nick Robinson and Laura Kuenssberg and Andrew Neil before him. They have a book to sell or a vast salary to justify. The relationship feeds a chumocracy just at the time when institutions of democracy are most at threat and when the dark arts of propaganda seem to be merging with the newer arts of deep fakes and data manipulation.
This is not to say we should slay all journalists, deny ourselves the right to a credible public broadcaster or indulge in a frenzy of nihilism or paranoia.
We should separate the good from the bad, keep a watchful eye for deception and spin and create better more transparent institutions that can do the job needing done, because, as Oborne concludes: "… there is now clear evidence that the prime minister has debauched Downing Street by using the power of his office to spread propaganda and fake news. British political journalists have got chillingly close to providing the same service to Boris Johnson that Fox News delivers for Donald Trump."
We knew the News Where You Are is frequently under-funded, trivialised or infantilised – but Oborne has thrown back the covers to reveal its frequently just passed-on whispers from the powerful to their pals.