Sea Lice and SNP Economic Strategy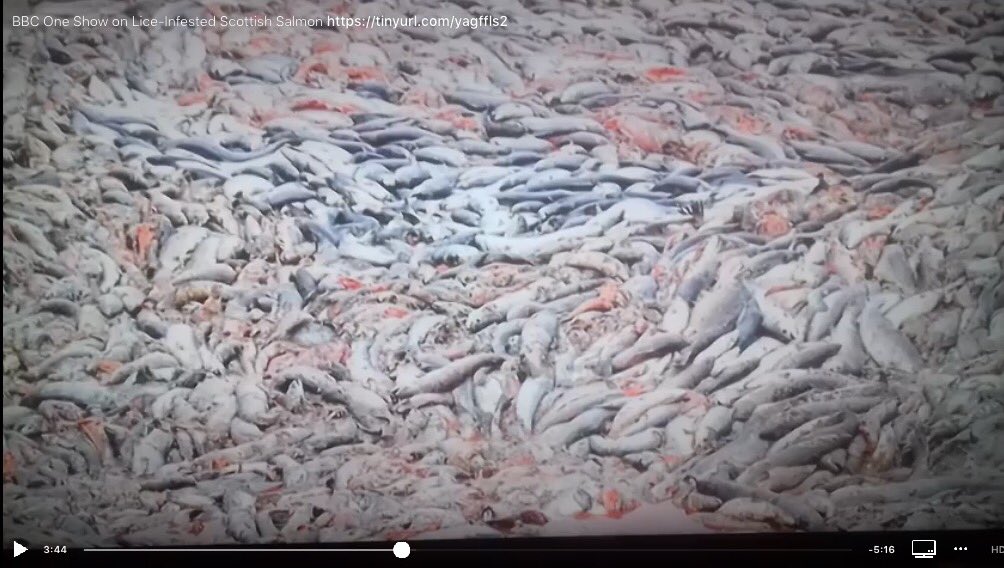 In March 2015 the SNP Government published its latest economic strategy document. This prioritised six growth sectors: food & drink (including agriculture & fisheries), creative Industries (including digital), tourism, energy, financial and business Services, and so-called life sciences. The rationale was that these were sectors where Scotland "typically has distinctive capabilities and businesses with the potential to be internationally successful".
However, it is clear that this set of priorities reflects – and indeed reinforces – the existing, subservient role Scotland plays within the global neoliberal division of labour. Shorn of the usual jargon, this list priorities: unsustainable extractive industries (food, energy), generating intellectual capital for future foreign exploitation by US hi-tech monopolies (digital, life sciences), mass tourism (which is distorting the Edinburgh housing market, for instance), and providing a de-regulated zone for footloose international finance capital to operate in.
Note: this globalist strategy dovetails perfectly with the pro-market, 'modern' economic ideology outlined in the SNP leadership's Growth Report, authored by Andrew Wilson, which aims to annual treble Scottish GDP growth rates within a decade.
This strategy is perfectly 'rational', since it actively collaborates with the existing supply chain needs and accumulation policy of US and European capital. But just admitting that reality exposes the inherent weaknesses in such a limited approach.
Firstly, the SNP Government strategy ignores the need to build a domestic, self-sustaining economy. Note: the latter approach is not synonymous with autarky – international trade remains vital both to generate foreign currency and provide a benchmark to stimulate local productivity. But framing Scottish economic policy rigidly within the current, fragile and externally determined international division of labour is to surrender local autonomy from day one. And to do so with spectacular mistiming, just as the world enters an era of deflation, deep economic uncertainty, trade wars, climate disruption and massive technological upheaval.
Secondly, a strategy based on extraction (food, energy and local brain power) is – by definition – unsustainable, even if relatively successful in the short-run. Once you've extracted, there's nothing left. That's how it works. The fact that the Scottish Government (or its PR machine) litter their policy statements with the adjective 'sustainable' does not alter this fact. Consider an example: food and drink.
From one perspective, Scottish food and drink exports have been a massive success in the past decade. Exports annually to outside the UK are running at over £6bn and climbing – the exact data is obscure because HMRC does not provide exact figures for Scottish exports via English airports and ports. The Scottish food and drink industry employs circa 45,000 people – 25 per cent of the Scottish manufacturing workforce. And around a fifth of all Scottish exports to firth of the UK are supplied by the sector, though the vast majority by value is accounted for by whisky. The food element is heavily concentrated in seafood, premium meat and animal feed.
In June 2019, the Scottish Government proudly announced the second phase of its Food and Drink Export Plan, geared to doubling turnover value in the sector to £30bn by 2030. Yes, to double sales (Scottish, UK and foreign) in an energy-intensive and greenhouse gas-emitting industry in exactly the decade when the world is struggling to curb destructive climate change.
The problem is that boosting turnover means boosting output means an energy-intensive, environment-eroding strategy that is anything but sustainable.
Take fish farming.
Farmed salmon is Scotland's single biggest food export – worth £600m. But packing captive salmon together causes the spread of disease from parasitic sea lice – a killer infection that easily spreads to wild salmon, with catastrophic results. Environmental experts have raised concerns about the use of dangerous insecticides such as azamethiphos to treat the lice, which only compounds the environmental damage. Other industrial chemicals used include hydrogen peroxide to wash the fish, and emamectin benzoate, which is put in the salmon's feed. Nothing is natural about farmed fish.
The result is that both farmed and wild salmon in Scotland are dying in unprecedented numbers. In 2018, the Holyrood backbench environment committee reported that fish mortality had reached "unacceptable levels" yet that there had been little progress in tackling environmental problems since 2002. It concluded that salmon farming is not being regulated sufficiently or effectively by SEPA, the government watchdog, and that any further expansion of the industry should stop until environmental issues had been resolved.
However, in September 2019, environment secretary Roseanna Cunningham declared that there was insufficient evidence to support any moratorium on the expansion of fish farming. This is insouciance bordering on the negligent. There was a day when Rosanna Cunningham was the standard bearer for the left in the SNP. But in recent years – particularly since she took over as Cabinet Secretary for Environment, Climate Change and Land Reform – Cunningham has appeared transmogrified into a defender of pro-business interests.
Just whose interests are being protected? The answer is the world's largest salmon farmer – the giant, Norwegian-based, multi-national, conglomerate known as Mowi (which previously went by the more accurate moniker Marine Harvester). Mowi produces over 60,000 tonnes of salmon in Scotland each year, around 40 per cent of which gets exported to China [we're doing a carbon calculation of that – Ed]. Mowi also has operations in Chile, Canada, France and Ireland. The company's global revenues last year were circa £3.3bn, with before-tax profits of £125m.
Mowi's creator and major shareholder is grumpy billionaire John Fredriksen, who also owns the world's largest tanker fleet. Fredriksen, a welder's son, made his original pile in shady Beirut in the late 1960s, trading crude oil. But he became seriously rich shipping Iranian oil during the 1980s Iran-Iraq conflict when he became – in the words of his biographer – the "Ayotallah's lifeline".
That episode made Fredriksen Norway's richest capitalist. But the Norwegian authorities arrested him in 1986 over a complicated insurance fraud. The case was eventually settled out of court though Fredriksen had to pay a fine and reimburse the insurance company some $800,000. In a huff (or perhaps to avoid further trouble) Mr Fredrikson renounced his Norwegian citizenship, acquired a Cypriot passport and moved to London, where he owns a house in Chelsea reputedly worth $200m.
Along the way, Fredriksen found time to create his fish farming empire. But his main line of business is still trading petroleum. In other words, John Fredriksen is one of the key players in wrecking the global environment. And he is still up to his old tricks. In 2014, his main oil trading operation, London-based Arcadia Petroleum, was forced to agree to pay a $13m fine to the US authorities – though carefully neither admitting nor denying culpability – to settle a claim Arcadia had illegally manipulated oil futures prices. Fredrikson's companies were busily filling, emptying and re-filling petroleum storage tanks in the US with the same oil, in order to fool the market about availability. With this insider knowledge, Arcadia and its US subsidiary were able to take profitable positions in the market.
(Note here that the organisation form taken by the Fredriksen empire has become standard for the neoliberal, globalist era. It involves the integration of production with global trading in commodities, and the use of this trading leverage to engineer financial markets in order to extract value from elsewhere in the international economy. This is a new development which I will return to in a later blog.)
Fredriksen's Mowi fish business is no less fishy than his oil trading. In April this year, for instance, the Irish minister for marine Michael Creed discontinued a fish farm license held by Fredricksen's Mowi company in Count Kerry, for massive over cultivation (with consequent massive, illegal effluent discharge). I mention these examples in order that you take any assurances from Mowi or its managers regarding the safety of its Scottish operations, or adherence to regulations, with the biggest pinch of salt possible. Rosa Cunningham please note.
My basic point is not the character of John Fredriksen – though anyone who made his money smuggling oil for Iran, was arrested in Norway for insurance fraud, and has paid multi-million-dollar fines to the US Justice Department for market manipulation, surely has a questionable background. No, my real argument is that the fish farm industry has already proven deeply unsustainable and deeply environmentally hazardous. An economic strategy based on actually expanding Scottish farmed fish production is neither sustainable nor credible.
We all know that grain-fed cattle are "reverse protein factories" because they require many more kilos of plant protein to produce a given kilo of beef – a definition of unsustainability if there ever was. But a similar dynamic is involved in fish farming. To process 1 kg of high-protein fishmeal – which is fed to farmed fish, along with fish oil -requires circa 4.5 kg of smaller pelagic (ocean) fish. Counterintuitive as it may seem, domestic fish farming is hoovering up ocean fish. And all in the name of Mr Fredriksen's bank balance.
Capitalist accumulation only proceeds by investing in ever more intensive production techniques, running ever more hazards to workers and the environment, and ultimately alienating humankind from the natural order. The SNP Government has not only bought into the insidious logic of this accumulation process uncritically, it is acting as its state sponsor. Regulation of the environment in Scotland is thus increasingly regulation on behalf of the international investing class.