Yoke Mates of Destruction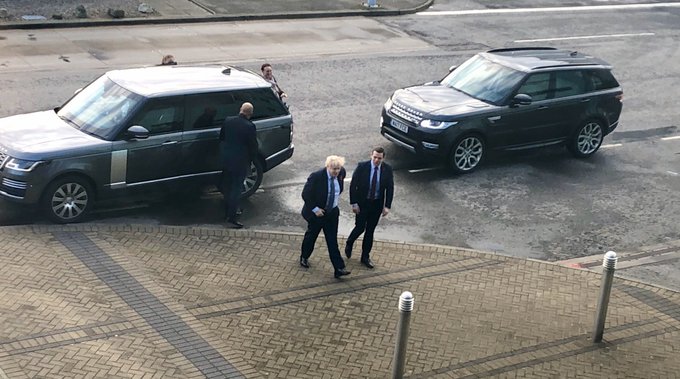 The unelected Prime Minister arrived in the country today and began lying and lying. He first claimed that Labour have done a deal with the SNP  and second that they'd hold a referendum next year. Both of these claims are untrue. 
He told reporters in that he would not grant the powers for a second independence referendum regardless of whether the SNP wins majority of seats in this election or win a pro-independence Holyrood majority in 2021.
Which is odd. And indefensible.
He described Nicola Sturgeon and Jeremy Corbyn as "yoke-mates of destruction" in terms of their threat to the future of the UK, inadvertently launching a mass new t-shirt brand.
His aim was to right the unsteady path of his wavering election campaign, offset by a slew of disastrous lies, contemptuous attitudes and scandals tumbling out of the Tory closet so fast the general public couldn't keep up.
His launch, only yesterday, was described as a 'sewer of lies':
"He cleared his throat, punched his palms into the lectern and threw open the sluice gates. The lies poured forth like open sewage, or a catastrophic explosion at the start of a disaster movie. Out they tumbled at such speed it was impossible to know where one began and one ended. At times, actual, self-contained lies could be made out, like bodies on the current of a deadly river. At others, the lies had coagulated to form a kind of very slow-cooked bulls**t casserole, the false meat and the untrue gravy forming a kind of unctuous slop."
Here he was much swifter.
The format is now well-worn. Pick obscure rural setting. Arrive in secrecy avoiding all of the general public, denounce elected politicians, cancel democracy, spout about the "Awesome Foursome", then leave.
The optics, as they say, were not good. But Boris probably doesn't want to spend much time up here.
Meanwhile the idea that the Conservative campaign in Scotland is a survivable event is draining away down his sewer of lies.