Glasgow is Named UK's Top Cultural and Creative City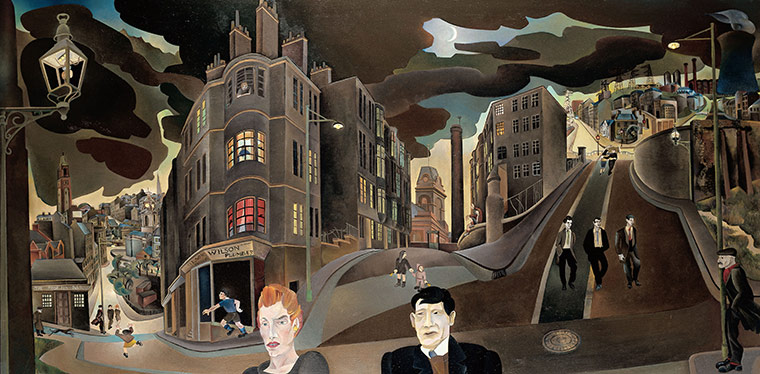 It's almost 40 years since Alasdair Gray wrote his seminal novel Lanark, set in the dark, sombre, smoke filled streets of 1960's Glasgow and the dystopian alt-reality town of Unthank.
In a belittling tone, reminiscent of a backbench Westminster Tory MP, Glasgow's cultural relevance at the time is summed up in the line "Imaginatively Glasgow exists as a music-hall song and a few bad novels. That's all we've given to the world outside. It's all we've given to ourselves." This is Gray at his best, penetrating the fog of the cultural cringe that had long clouded Glasgow's cultural horizon.
Ten years on from the publication of Lanark, Glasgow was (surprisingly to some) named the European Capital of Culture; it was a decision that would spark the minds and imagination of the city like little before. Our confidence boosted by the support of our European partners, we took our first tentative steps as a cultural capital and we haven't looked back since.
Today's Glasgow is a city brimming with confidence, teaming with young people, holding an audacious belief in its own cultural vibrancy and creativity.
The creative arts are one of the main drivers of our economy and the city's 3rd largest employment sector. We have a network of world class, independent, commercial and public funded galleries and arts spaces who contribute to our year round festival programme.
All but one of Scotland's performing arts companies are based in Glasgow and we are so proud to be the home of so many local and international artists who add greater colour to our city and who have helped Glasgow forge our unique reputation as a true global arts capital.
That reputation continues to grow and I'm proud to have the political responsibility of delivering the key strategies to continue that growth in the decades ahead and for championing our art, artists and creative entrepreneurs. In the near future we will be launching a co-produced culture plan for Glasgow that we have developed in partnership with our cultural sector and that will lay the foundations for the next 25 years of Glasgow's cultural growth and development.
This week we celebrated a further cultural milestone as the city was named as the UK's top cultural and creative city as part of a landmark report by the European Commission.
The Cultural and Creative Cities Monitor for 2019 has put Glasgow ahead of London, Bristol, Brighton and Manchester who make up the rest of the top five in the UK, while Edinburgh is ranked at 6th place on the list. The Monitor report looked at 190 cities from across 30 European countries and ranks 29 different aspects of a city's cultural health, including its cultural vibrancy, creative economy and a city's ability to attract creative talent and stimulate cultural engagement
As befits the city's 'People Make Glasgow' slogan, the report also ranked Glasgow as Europe's best City in regard to 'openness, tolerance and trust'.
This is a result everyone in Scotland can be proud of; it's a vote of confidence in Glasgow by our European allies in the same week that Glasgow was announced as the European Capital of Sport for 2023.
Glasgow is at a tipping point, arguably our international reputation has never been stronger as a city, but we face a choice and two possible futures.
Isolation with Brexit or as an independent nation, liberated in part through our cultural growth and confidence.
Glasgow cannot afford Brexit culturally, socially or economically; we can't afford another out of touch Westminster Government, neither can Glasgow afford a return to Gray's Lanark…
'Glasgow is a magnificent city. Why do we hardly ever notice that?' he wrote.
We can't afford to go unnoticed ever again, instead we must grasp the opportunity of independence to renew our vision and commitment to stand as a beacon for hope and progress and to use culture to build bridges between nations and people.