Our Common Home – Imagining a Post-Oil Scotland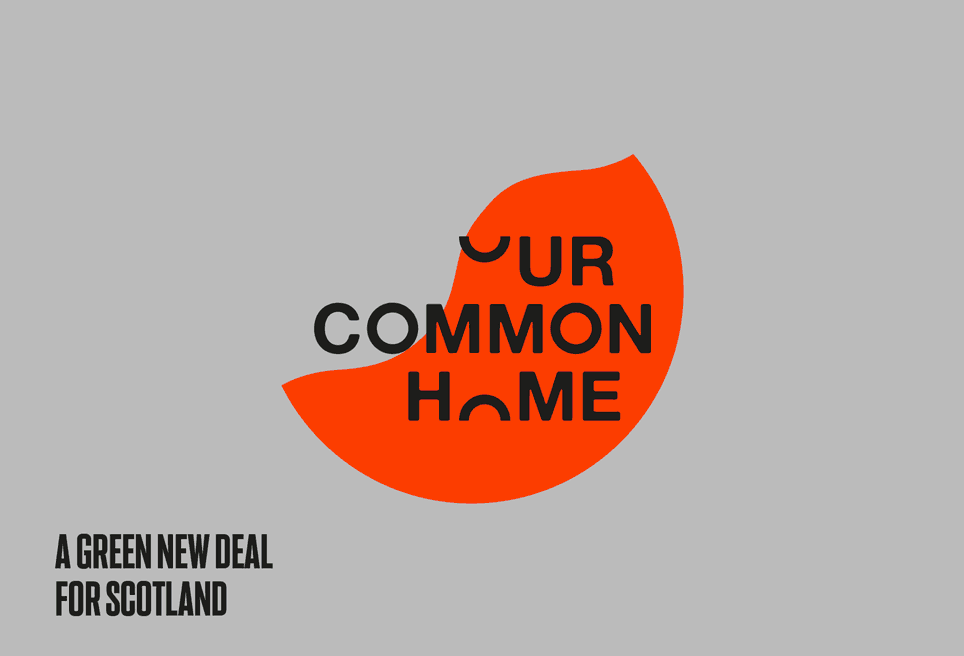 BREAKING SCOTLAND'S CARBON BONDS
IN my last article I began to examine the logic of the current Scottish Government economic plan, published in 2015. This strategy document prioritises six key growth sectors: food & drink, creative Industries, tourism, energy, financial services, and life sciences. The rationale given is that these are sectors are where Scotland "has…the potential to be internationally successful".
This is hardly a focused short list as it encompasses a sizeable chunk of the entire economy. But my real worry is that this selection of industries reflects the existing, subservient role Scotland plays within a global division of labour decided by the big imperialist powers, particularly the USA and EU. Far from developing Scottish economic independence, the plan reinforces our dependence on capital accumulation, investment and technology choices made elsewhere.
Worse, the plan is tailing an unsustainable, neoliberal world order that is starting to fragment. Last week I gave the example of farming and aquaculture, where the ScotGov plan centres on doubling Scottish output. However, this can only be achieved through ruinous additional energy inputs, which are at odds with any attempt to reduce greenhouse gas emission to net-zero by 2045.
THE SNP'S ENERGY CONUNDRUM
This week I want to examine another sector where the ScotGov "growth" plan exposes its irrational basis – the energy sector. Including the continental shelf operations and onshore chemicals, this industry represents a good 15 to 20 per cent of GDP, depending on prevailing market prices. Also, it is largely not Scottish owned. Along with the financial sector (also a ScotGov priority) this sector is a key determinant in locking Scotland into externally determined supply chains.
The SNP party website is unequivocal:
"We will press the UK government to deliver a strong deal for the oil and gas sector. This must include targeted incentives to develop small pool discoveries, as well as further support to stimulate exploration activity and loan guarantees for critical infrastructure".
In other words, produce more oil and gas.
Of course, ScotGov and the party are committed to decommissioning initiatives and the development of renewable energy sources. I don't doubt this. But the SNP is also and simultaneously committed to extracting the last drop of oil and gas from the North Sea and Atlantic fields. This is a glaring contradiction.
Party policy also states:
"The SNP Scottish Government has welcomed the confirmation from analysts that production of gas at the newly opened gas fields at Laggan and Tormore is expected to meet 100% of Scotland's average gas demand… The fields will have a lifespan of 20 years".
That gets us to at least 2040 – I suspect longer.
I have some sympathies – to a degree – with ScotGov. We can't close down the world's oil and gas fields overnight. We need gas to power our homes till we convert to renewables. Oil and gas workers have to be re-trained. Also, gas and oil tax revenues remain significant. With sales running in excess of £30bn per annum even at today's low international prices, a canny independent Scotland can easily increase its tax take from the North Sea and Atlantic fields.
However, none of this is a justification for extending the life of the gas and oil industry, or its attendant petrochemical sector, indefinitely. Given the climate emergency, we require a detailed conversion strategy to eliminate production as soon as possible. To date, that detail is conspicuous by its absence. Instead, the tenor of the SNP's energy policy statements suggest the party's leadership is committed to running the oil and gas production sector for as long as technically possible, and extracting the maximum output achievable.
Last year, the SNP sponsored a debate at Westminster on the future of the domestic oil and gas industry, led by my friend John McNally (SNP Falkirk). The debate was squarely aimed at getting the Tory Government to provide more support for the sector. Here's what John said: "The UK Government must… provide the political certainty and financial support [the oil sector] needs now, or risk undermining North sea oil and gas by once again using it as a cash cow, this time to pay for Brexit Britain." He then called on "the UK Government to support and encourage investment in this vital asset…"
Alan Brown (SNP Kilmarnock and Loudoun) then piled in:
"Overall, the North sea holds significant potential, with the equivalent of up to 20 billion barrels of oil remaining. That could sustain production for the next 20 years… the UK Government must introduce measures to improve the exploration and attract fresh investment. They need to support the industry in its ambitions to increase the total economic value of the North Sea."
Such productivist sentiments are always paired with references to renewable energy and decarbonisation. But such pairing leads you into dangerous political territory. Alan Brown went on: "Scotland's energy strategy recognises that a strong domestic oil and gas industry can play a positive role in supporting the low carbon transition". I find the notion that expanding current oil and gas production to the maximum can "play a positive role in supporting low carbon transition" somewhat breath-taking as a concept.
What Alan really meant – as is clear in the rest of his speech – is that we need to link oil and gas extraction to carbon capture and storage (CCS) at the point of industrial energy burning – if we go on burning the hydrocarbons as fuel. However, CCS remains an unproven technology at scale, and (so far) is hideously expensive. The cost and technical issues are reduced when burning gas rather than coal, I admit. But you are still is bolting on a second factory to your power generation system to get rid of the effluent gases and pollutants. Inevitably that adds extra cost. With wind and solar power dropping in price, I can't see that even successful CCS-enabled gas generation will ever be cost effective. Which means that my friend Alan Brown is (unfortunately) talking baloney.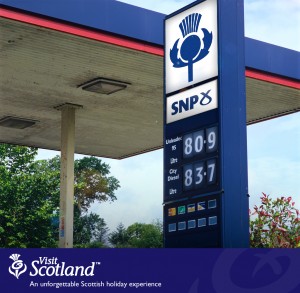 WILL BIG OIL GIVE UP ITS NORTH SEA PROFITS?
Which brings us to my key point: we need to stop burning gas and close down the North Sea and Atlantic fields as soon as possible – the very opposite of trying to extend their lives ad infinitum through tax incentives (the current SNP policy). The constraint is obvious: around 80 per cent of UK and Scots homes use gas for heat and power.
Fortunately, last week, the Common Weal think tank published a first draft of a detailed, full costed carbon reduction and energy conversion plan. It will take 25 years to complete and cost £170bn. The Common Home Plan, as it is christened, will create 100,000 jobs and so increase the amount of tax collected in Scotland by circa £4bn per year – roughly 80 per cent of the cost of borrowing the cash to finance the plan's implementation. (You can find the details of the plan in glorious technicolour detain on the Common weal website.)
The Common Home plan is a good start. Begun today, it would allow us to escape fossil fuel dependence by 2045. The gains are front-loaded and cumulative, so I think we could de-carbonise in nearer 15 years if we had a state of our own and the will to do so. But there are two problems with implementing the Common Weal blueprint as it stands.
First, we have to convert the SNP leadership away from its pro-oil strategy. That is something SNP members will have to confront. Second, we have to brace ourselves for resistance from Big Oil and petrochemical companies such as Ineos. The latter extract huge profits from Scotland. The have invested vast amounts of capital in their existing assets which need decades to valorise. Expect political resistance on a grand scale.
Let me give you some numbers. Much of the Scottish economy, oil and gas included, is foreign owned. For over 70 years, the primary economic policy pursued by governments of all stripes in Scotland is to boost foreign direct investment. The latest SNP economic strategy continues this approach. But foreign manufacturers, banks, oil companies and agribusiness only invest in Scotland in order to make profits – and to send those profits back to their shareholders abroad. If we decide to close down the oil and gas industry, Big Oil will retaliate.
We can put numbers on the stake foreign capital has in Scotland, courtesy of the Scottish Government. At the end of last year, ScotGov published estimates of Gross National Income (GNI). This is different from our old friend GDP, Gross Domestic Product. The latter, familiar statistic measures the output of (marketed) goods and services created in Scotland in a single year. It is a crude measure of economic activity. But this activity is produced by both domestically owned and foreign owned companies (from rUK and abroad). But external owners repatriate their profits. So GDP over-estimates the amount of revenues that stay in Scotland. You might have a big GDP (i.e. manufacture a lot) but the benefits could disappear as foreign companies send their earnings back home.
We now have Scotland's GNI figures up to 2017. They show that Scottish GNI was £159.3bn (£29,357 per head) compared to Scottish GDP of £168.5bn (£31,055 per head). So, Scottish GNI was 94.5 per cent of GDP. The difference represents the net outflow of profits/income from Scotland to owners and investors abroad. Note: these numbers include our share of North Sea oil and gas.
The discrepancy between GNI and GDP has varied greatly depending on the point in the global economic cycle. In 2007, at the top of the global oil and commodity boom, the gap was about 13 per cent of Scottish GDP. In other words, a net £13 out of every £100 of output created in Scotland was repatriated to external investors. That's not 13 per cent of profits made, that the equivalent of 13 per cent of total output created (which is massively more).
Oil, by the way, is not the only syphon on Scottish output creation. Banks send their profits to London or abroad while Scottish based pension funds pay out to policy holders living outside of Scotland. In 2017 (the last year for which we have data) foreign investors of all kinds earned a staggering £34bn from Scotland, and Scottish brains and brawn. The next time anyone says Scotland has a financial deficit or can't pay its way, ask for your £34bn back. In 2007, that number was £50bn. In fact, since the Millennium, the total taken out of the Scottish economy by rUK and foreign investors is a staggering £602bn. We are a veritable cash machine. And they say Scotland is too poor and too small to be independent.
Do you think that Big Oil wants to give up this Scottish largesse? In the end, that may be the red line when it comes to closing down North Sea oil.