Love Island
It's a period of temporary hope and optimism as the best intentions are solemnly laid down. It's in this mood we are being asked to start 2020. Michael Heseltine and Lord Adonis have conceded the "fight is over", even Gary Lineker has thrown in the towel.
"Britain sees in the new year on a wave of optimism" declared The Times yesterday, publishing a poll suggesting "Britons are becoming more optimistic about the economy" as Brexit day approaches.
Be in no doubt "Brexit Day", when it arrives, will be a deluge of triumphant nationalism.
"This is no time for doom-mongering," says a Financial Times editorial.
The Prime Minister stuck to this theme in his New Year message arguing that "leaving" on January 31 will allow people to "turn the page on the division, rancour and uncertainty" of this ghastly Brexit debate and look forward to "a fantastic year and a remarkable decade".
Liam Halligan writes in the faithful Telegraph explains ("A united Britain will have the upper hand over a divided and declining European Union"):
"He has a golden opportunity to create an economic model promoting competition rather than cronyism, local enterprise rather than big business, that not only generates wealth but spreads it – particularly beyond the South East. For the first time in living memory, defending their new Midlands and Northern seats, the Tories have a powerful electoral imperative to govern as "One Nation Conservatives".
I sense that not all of you are being swept away in this new mood of triumphalism.
Maybe you are suffering from the ongoing effects of austerity, caught in the poverty trap, unable to afford your extortionate rent, or struggling to pay your heating? Maybe you have fears about the dark money and dark data that has been swirling about our politics? Maybe you resent the fact that Scotland and Northern Ireland are being dragged out of Europe against our will and are fearful of the inevitable de-regulation that is coming down the line? Or maybe you've noticed that, despite the upbeat messages beaming out of every Tory mouthpiece, the reality is stagnation and a faltering economy?
The British Chambers of Commerce (BCC) said its research suggested "protracted weakness" across the economy, affecting firms in manufacturing and services.
And the group warned that Boris Johnson's government must move quickly to ensure that its Brexit plan delivers "a clear future trading relationship" with the EU in order to strengthen the prospects of restored business investment and growth.
That seems unlikely.
For those who treat Brexit as a British form of Manifest Destiny all this is just an un-patriotic lack of optimism. Doom-mongering.
But there are some further problems to the analysis than recalcitrant Jocks failing to fall into line with the delusion. Halligan's exultant mood in the Telegraph is the give-away: "For the first time in living memory, defending their new Midlands and Northern seats, the Tories have a powerful electoral imperative to govern as "One Nation Conservatives".
Now one thinks maybe Geography isn't Halligan's strong-suite, but the only "one nation" that he can possibly be describing is: England. Such is the myopic sense of the country shared by many of these Empire Loyalists that the defeat of Corbyn and the wins in 'the North" (sic) has blinded them to the wider crises developing across the water in Ireland and here in Scotland.
The collapse of the Labour vote in parts of England does not make a United Kingdom.
"Brexit" and "Britain" are incompatible entities. You can have one but not the other.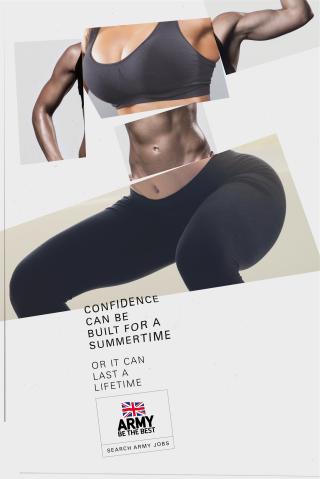 Confidence Building
As this exercise in self-delusion gets a head of steam behind it, it's nice to see the British Army getting on board. The Times tells us that: "The army is seeking to enlist the Love Island generation with adverts claiming that military service is the best way to gain lasting self-confidence."
"Posters and television commercials appearing from today suggest that traits associated with contestants on the popular ITV reality show — bodybuilding, cosmetic surgery and fast fashion — develop self-esteem that is only skin-deep compared with that produced by a character-building army career."
We've talked about the bizarre emotional appeals of the British Army before.
It's cutely Orwellian that as parts of British society become more alienated, and more dysfunctional for young people, the state offers to train you to kill other people as a solution to your estranged life-experience.
Nick Terry, head of marketing for the army recruitment team run by outsourcer Capita, said: "This generation is being bombarded with stuff that gives them very short-term or superficial quick hits of confidence whether that's through chasing likes on Instagram, buying the latest pair of trainers every month, getting your body buffed up for the summer, Love Island-style. These are all things that on the surface give quick hits of confidence but actually… there's something longer-lasting that the army can give."
The poster says: "confidence can be built for a summertime, or it can last a lifetime."
As a metaphor for the process Anglo-Britain is experiencing right now, this could hardly be improved on.
Brexit as an antidote to a crisis of national self-confidence and a crisis of identity is a palpable phenomenon. But is is likely to be – like the bodybuilding and cosmetic surgery – only skin-deep.
Britain is a divided country. Divided socially by a decade of austerity. Divided constitutionally by nations in which huge sections of the population don't want to be part of the union anymore. Divided politically by masses of people who despair about the parochial reactionary and racist element of much of the Brexit movement.
Brexit is a quick hit. It solves nothing. This is no Love Island.