Domestic Extremist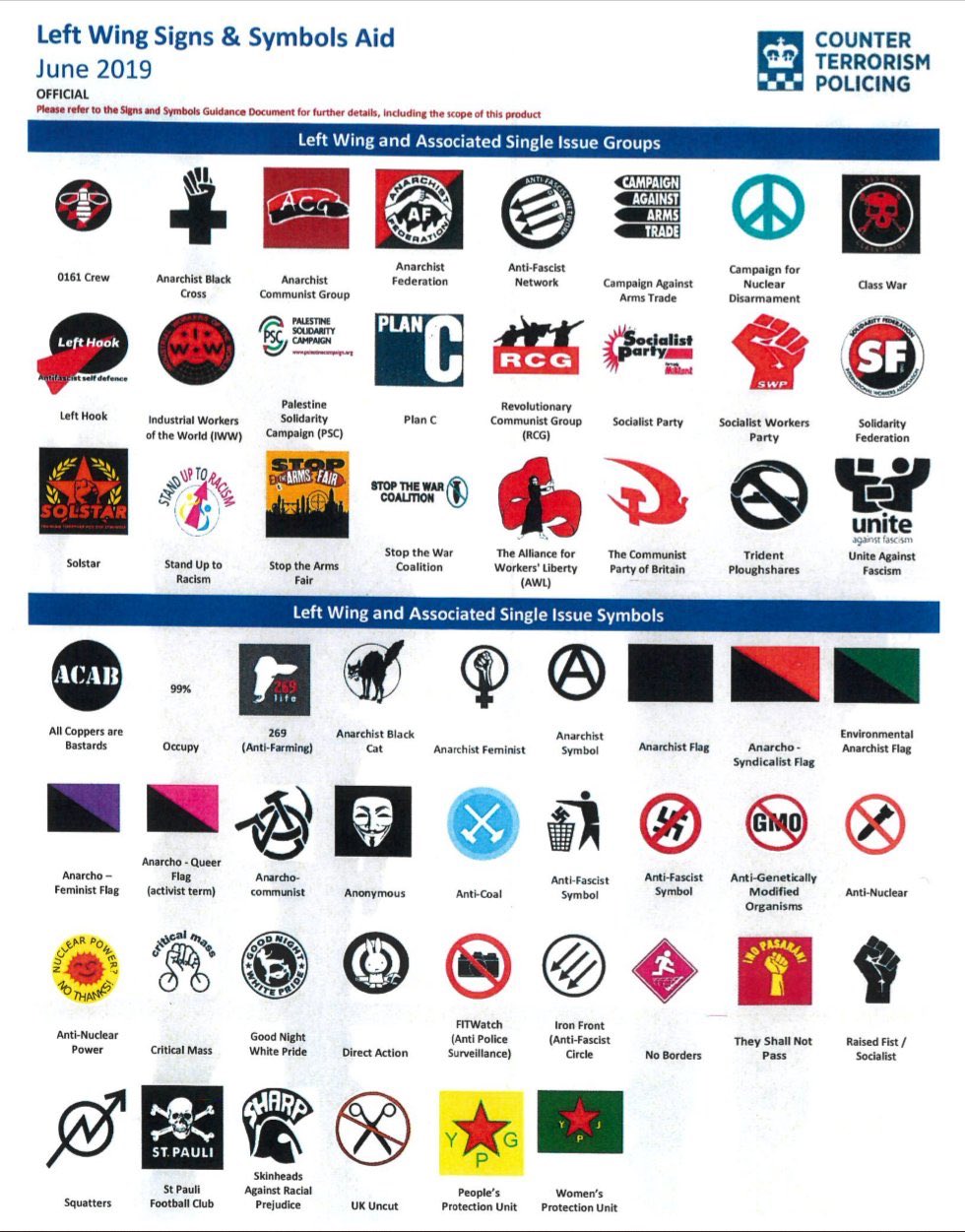 You live in a state that can't tell the difference between Extinction Rebellion and National Action, between Judi Dench and Combat 18, and thinks cyclists and vegans and peace activists are a threat to society.
This has a long history.
"Counter-terrorism police placed the non-violent group Extinction Rebellion (XR) on a list of extremist ideologies that should be reported to the authorities running the Prevent programme, which aims to catch those at risk of committing atrocities, the Guardian has learned. The climate emergency campaign group was included in a 12-page guide produced by counter-terrorism police in the south-east titled Safeguarding young people and adults from ideological extremism, which is marked as "official". XR featured alongside threats to national security such as neo-Nazi terrorism and a pro-terrorist Islamist group. The guide, aimed at police officers, government organisations and teachers who by law have to report concerns about radicalisation, was dated last November."
Read the document here:
It's a real insight to realise that the British state finds actual self-confessed Nazis just as offensive and threatening as schoolchildren worried about climate change.
It's being presented as all a terrible misunderstanding but it has its roots in the rhetoric of very senior politicians and in the conflation of terrorism and legitimate protest in the west, as states realise that there the economic interests they represent and the destruction they cause are in complete conflict.
The roots of this outrage are many – but we should note three: first the (little noticed) conflation of independence supporting voters with ISIS (Separatists and Extremists) at the last General Election, second the long-standing attacks on environmental protestors in the USA and the militarisation of the police (see Barbarism in Dakota) which is part of a wider pattern in western societies, third the criminalisation of legitimate protest and the new surveillance tools being used against peaceful protesters in England.
We can add to this the disgraceful language of the Prime Minister. As I wrote in De Smog:
"Like in so much of public debate, the Prime Minister sets the tone. As a fortnight of peaceful protest started in London, Boris Johnson called the Extinction Rebellion protestors "importunate nose-ringed crusties in hemp-smelling bivouacs" at an event at Banqueting House for the launch of the third volume of an official biography of Margaret Thatcher.
The Prime Minister's tone was echoed throughout the media as the full force of the state prepared to come down on people peacefully protesting in defence of our future.
Leo McKinstry in The Sun called them "a deranged fundamentalist religion." "Extinction Rebellion trades in misery and fear, with suffering as the only route to salvation. Filled with loathing for mankind, there is nothing compassionate about this creed. Its activists warn of climate change disaster, but their own policies would lead to chaos, meltdown and mass unemployment," he said. McKinstry's tirade is echoed in the paper's own editorial, which rather confusingly calls Extinction Rebellion a "Marxist doomsday cult".
Last year the Telegraph would chip-in with an editorial resurrecting an old trope of confusing peaceful protest with terrorism: "The right to protest does not extend to acting like a terrorist", it assured its readers.
As we said before: "This has been a strategic part of British policing for a decade, it's not some clerical error, or typo. We don't even know what 'domestic extremism' really means."
The phenomenon of framing legitimate protest as acts of terrorism is global, we can see it most explicitly in the Dakota Pipeline protests where 21 year-old Sophia Wilansky had her arm blown off by the police in 2016. 
The process is one in which factors spiral: police claim the need to be militarised in the face of ongoing disruption and protest, political fears about terrorism feed that budget, the surveillance state has to justify itself so turns inwards.
We know from the Spycops Scandal that this has a deep history.
We now know that a body called the SPL (Subversion in Public Life) was established in the 1980s comprising senior civil servants, MI5 and Special Branch. This sought to control and blacklist trade unionists.

As Iain Cobain has written ('Subversive' civil servants secretly blacklisted under Thatcher'):
"The majority, 733 people, were identified as Trotskyists, and a further 607 as communists. Forty-five were said to be fascists, and 35 Welsh or Scottish nationalists, "black or Asian racial extremists" or anarchists. MI5 also compiled lists of suspect local councillors and active trade unionists deemed to be of similar concern."
We know that the police operated illegally in Scotland for a sustained period of time, and that this invasion of civil liberties is still being ignored and covered-up.
We know that the former Chief Constable, Phil Gormley, sanctioned deep cover infiltration by spycop, Mark Kennedy, who deceived environmental activist, Kate Wilson, into an intimate relationship.
The most telling part of the Counter terrorism document is when it explains why XR is considered a threat, it states: "Extinction Rebellion is an anti-establishment philosophy that seeks system change."
That says it all.