Beyond Decline, Welcome to Parody Britain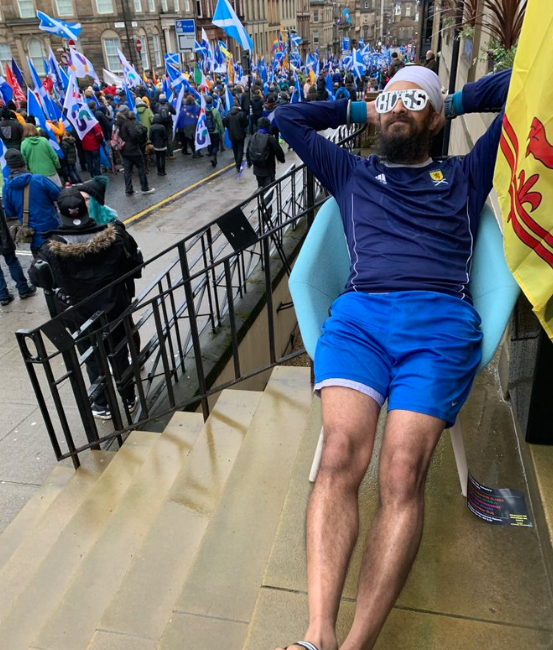 As the whole phenomenon of Meghan Markle and Harry hovers somewhere between Grazia and Made in Chelsea, so it's difficult to comment at all without being sucked into a vortex of stupidity. You can agree with Afua Hirsch about the torrent of racism endured by Markle and what it tells us about the cultures inculcated by establishment and tabloid Britain, but it only takes you so far. Hirsch wrote:
"From the very first headline about her being "(almost) straight outta Compton" and having "exotic" DNA, the racist treatment of Meghan has been impossible to ignore. Princess Michael of Kent wore an overtly racist brooch in the duchess's company. A BBC host compared the couple's newborn baby to a chimpanzee. Then there was the sublimely ludicrous suggestion that Meghan's avocado consumption is responsible for mass murder, while her charity cookbook was portrayed as somehow helping terrorists."
The debacle has been followed by the phenomenon of male commentators queuing up to expose their own ignorance and bigotry as the British media spiraled into a frenzy of hysterical incomprehension. These are Tom Nairn's "watchdogs straining at the leash to keep the population inside the Britain theme park".  If Piers Morgan was peerless in this regard, he is followed by Iain Macwhirter's privileged whitesplaining on The Nine and Jonathan Freedland breezily explaining: "The second warning for republicans is that, once we've left the EU, Britons will hold even tighter to those things that are uniquely or peculiarly British."
The premise that this charade was based on was never tenable. The fanfare that greeted the couples marriage ceremony was always a slightly uncomfortable one, with strange notions of a "Feminist Princess" walking hand in hand with even wilder notions of a post-racial Britain just as a blatantly racist Prime Minister was elected into office and figures revealing that racially motivated hate crime has increased every year since 2013, doubling to 71,251 incidents in England and Wales in 2018, according to the Home Office.
Meghan and her mum couldn't fix this. There was no redemption.
But the spectacle of a dysfunctional family imploding and the racism it reveals shouldn't obscure the deeper British crisis we're in the midst of.
We are experiencing late or terminal Britishness. As Tom Nairn puts it in Pariah:
"Decline was the older, more genteel form of putrefaction which prevailed until the close of the 1970s. But from then on, a qualitatively distinct phase has taken over – the brazen simulacrum endured by all subjects of the Crown today."
If bunting and confetti were important to Declining Britain they are essential to Parody Britain. That's why the failure of the Meghan and Harry Reboot is important. It will of course be followed shortly by the death of Prince Philip and the Queen, and they will be left with Charles and Camilla and Andrew (who seems to have successfully disappeared into the shadows).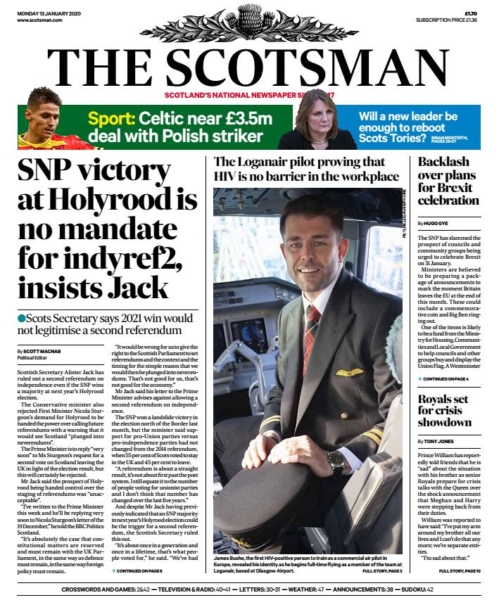 Identity River
But as this all unfolds in all its tabloid glory, commentators like Freedland (and many others) continue to assume that the process of leaving the EU is strengthening Britain and Britishness. This is the world seen through an English lens and represents staggering ignorance of what's happening.
This has been a long time coming and commentators have had a long time to catch-up.
If September 1997 was one landmark, so too was the landslide of 2015 and the surge of 2019.
The idea that democracy doesn't matter, or that it's viable to shut-off all means of democratic expression that is being put out there by Alister Jack and Boris Johnson is the very caricature of a crumbling ancien régime.
The Scottish Secretary announcing the result of the 2021 Holyrood elections in January 2020 is Not Normal – and it stands next to Priti Patel's attacks on Extinction Rebellion today as a serious assault on democracy. People need to start making these connections and get out of the silo.
As the saying goes: "A Union needs a unionist at both ends" – and the new sensibility that this is not a Union based on consent is beautiful as a revelation and a campaign tool.
It seems that something is broken and much more is breaking down.
Johnson's election – and the wider crisis of Anglo-British identity – threatens to bring the "underground river to the surface".
As Nairn writes in After Britain (Granta 2000):
"That is, the "identity-river" or undermining stream of abnegation, self-suppression and doubt, what had been until then) the sustaining junior-partner negativism of modern Scotland. For the first time since 1707 – since "the last day Scotland was Scotland" – the black waters reached the open air again and began to flow something like normally.'
Soft Totalitariainism
What was apparent on Saturday in Glasgow seemed to be the breaking down of self-suppression, a new normal emerging in the face of the abnormality of Brexitland Britain and the retreat from the world it represents.
Jack and Patel's attacks on democracy can be seen as what Nairn foretold as a new "soft-totalitarianism":
"…this impersonation of old Britain should not be confused with real continuity. The country's rulers have now become a parody of themselves. "After-Britain" is simultaneously the heir to, and the absolute betrayer of, its past and traditions. Its real meaning is a "soft totalitarianism" under which society is ceaselessly convoked into whatever redemptive dream is projected by the governing elite and its media. The "revolutions" of 1979 and 1997 have continued to nourish the Unwritten Constitution, and to revere its retrospect of glamour and untouchable stability — a paralysing façade of reassurance, behind which a deeply divergent country has in truth emerged."
When Nairn wrote of the UK as a "changeling Kingdom of Thatcher, Major and Blair — a parody of Britain which strives to rejuvenate itself by will-power, charisma, histrionics, cascades of "new ideas" and ingenious policies from cones to domes — anything except a new political constitution. Within this non-stop, non-revolution from above, what we see are features of revered tradition reinvented as farce, and sometimes transformed into their opposites."
What is Brexit if it's not a "non-stop, non-revolution from above"?
The "cones and domes" have been replaced but now with bridges to Ireland, Johnson's techno-gibberish at the Tory conference and the Legatum Institute's drones and zeppelin.
These stand in place of any meaningful reforms, as Labour blah-blahs about Federalism and organises an away-day to talk to itself about it's terminal decline (again).
There are two themes that survive against the background drone of Harry and Meghan chatter.
One is the almost constant refrain that this is the time for "unity" and "continuity" and going "beyond rancour" etc etc. Conveniently unity trumps democracy with Jack saying: "Referendums are very divisive for our society and I think the time now is for us all to pull together as one United Kingdom, and go forward and take on the benefits that exist".
The second is the continual backwards reference to war, empires and former glories. This is normally heard from the vantage point of those wanting a Festival of Brexit and proclaiming January 31 Liberation Day.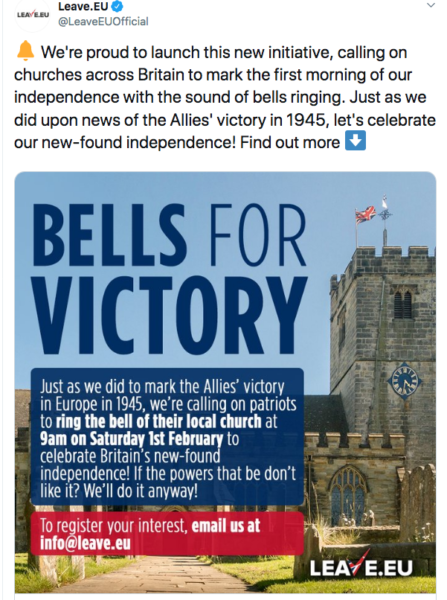 This strand neatly brings together a quasi-religious vibe with a retro-British militarism. Leave.EU here somehow equating Brexit with defeating Nazism in 1945, mixing LEAVING Europe with LIBERATING Europe. A campaign run by forces allied with some of Europe's far-right now channeling the defeat of fascism, a political force intent on de-regulation and selling off of public / collective areas of the economy celebrating the moment that heralded a Labour government and the modern welfare state.
I'm not sure how many "patriots" will find their way to bell-towers but the state of English politics continues to resemble a weird hybrid of the hyper-normal and the Orwellian.
All of this is to say that whilst talking about – or writing about – Meghan and Prince Harry is faintly embarrassing it does have meaning in the context of the wider historical collapse of British institutions and meaning.
The British state is incapable of re-inventing itself because it is incapable of reflecting on its past or distancing itself from the structures of power and privilege which its institutions are designed to protect. There will be no Federal state, there will be no reformed House of Lords, there will be no modernised Monarchy, there is no Feminist Princess. There is no 'post-racial Britain' and Brexit will not strengthen Britishness.
Meghan and Harry have been removed from the stage at Madame Tussaud's. The press dutifully reported this as if it was part of some ancient meaningful ritual: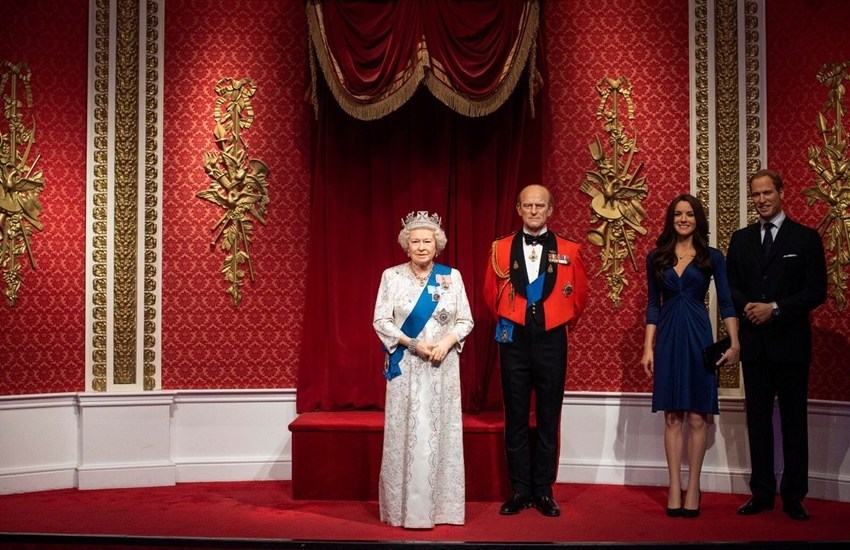 Steve Davies, General Manager at Tussaud's said:
"Alongside the rest of the world we are reacting to the surprising news that the Duke and Duchess of Sussex will be stepping back as senior Royals. From today Meghan and Harry's figures will no longer appear in our Royal Family set."
Images of the display today now shows an empty space next to Queen Elizabeth and Prince Philip where the couple once stood.
Britain is being melted down and re-ordered before our very eyes.