From MAGA Hats to Magna Carta, why Brexit Britain is Broken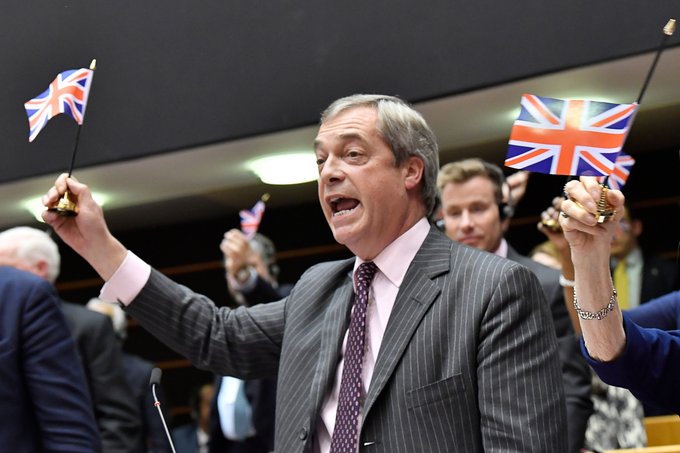 The newspaper headline was beautifully apt for the week when "sovereignty" was in the air: "Man tried to steal Magna Carta from Salisbury Cathedral because he thought it was fake". Like something out of a Tintin comic the radio reported the thief was stopped by people shouting "he's trying to steal the Magna Carta!"
As Britain leaves the EU (but doesn't really) we are entering a new phase of heightened symbolism where flags replace dialogue and songs replace ideas. Whilst the singing of Auld Lang Syne by the European parliament may have given us a warm and fuzzy feeling, or the flying of the EU flag over Holyrood might make us feel momentarily triumphant, both are empty gestures as the reality of power and impotence lands.
Farage and his coterie of hypocrites have won.
Flying their tiny flags and nursing their imaginary grievances they treated us one more time to their performative imbecility:
Our nation has been utterly humiliated by the actions of this xenophobic, carpet-bagging chancer, but it's never too late to shame us one last time. pic.twitter.com/2vXY5oL8aj

— David Schneider (@davidschneider) January 29, 2020
The Brexit Party will have to give up the gravy-train they enthusiastically boarded and will instead have to suck on the teat of Aaron Banks or some other billionaire bank-roller for their toxic populism. No doubt Nigel will be back soon spending someone else's money nursing someone else's grievance, milking someone else's misery on the television you and I pay for.
Next to Farage teetered Ann Widdecombe to his right – and Claire Fox (physically) to his left. The full list of the Brexit Party's MEPs can be found here, including Scotland's own Brian Monteith who, we're told – among career highlights – "has advised governments in Trinidad & Tobago, Pakistan and Botswana, and helped prepare the Nigerian President's submission for the Paris climate accord of 2016."
As Scotland is ejected from Europe there is pathos in watching the Vice President of the EU being one Mairead McGuinness, from a small northern independent European country called Ireland.
The optics, as they say, aren't good.
But among all the flag-waving, the coin-minting and the fist-clenching there's a bitter predicament that isn't going away. The tiny flag Farage and his swivel-eyed crew waved cretinously at their disbelieving colleagues is the Union Jack.
As Fintan O'Toole writes: "Brexit has to present itself in these terms: a suppressed people rising up, as Jacob Rees-Mogg puts it, to set itself "free of the heavy yoke of the European Union".
Such myth-making is darkly comic but has been politically very useful eliding over the great chasm of social inequality and poverty that stalks the land.
But if this is a nationalist populism it's one without a nation. The flag they're flying is a one without a country. The bitterest pill for Brexiteers has got to be that Britain has been killed in its "liberation".
Farage and friends are imaginary patriots of an imaginary nation nursing imaginary grievances.
As O'Toole notes:
"… there is a great irony: Britain is not and never has been a nation-state. For most of its history as a state, it has been at the heart not of a national polity, but of a vast multinational and polyglot empire. And the UK is itself a four-nation amalgam of England, Scotland, Wales and Northern Ireland. There is no single pre-EU UK "nation" to return to. There is no unified "people" to whom power is being returned. And this is the contradiction that the Brexit project cannot even acknowledge, let alone resolve."
Nor does Johnson's repression of Scottish democracy work any magic wonders, nor does his triumph in what they call 'the North' either.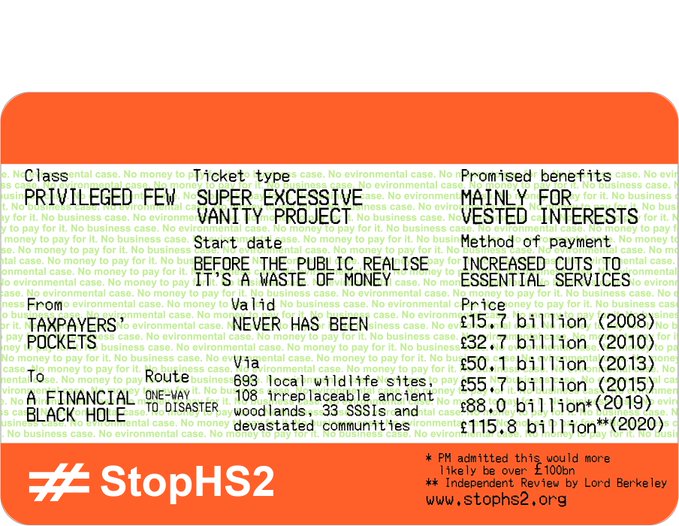 The HS2 project is facing mass opposition as it crumbles under the wight of its vast overspend and ridiculousness, it can neither be the great project that unites the UK nor even the great project that unites England north and south.
It's worth remembering that someone somewhere thought up the hashtag  #BringingBritainCloserTogether for a rail project that runs from Birmingham to Leeds (!)
Someone's not been paying attention in Geography.
And then, just on cue comes the announcement that Boris Johnson and Sajid Javid are preparing for "5% cuts across all departments".
So as we're told that's it all done and dusted, in reality we enter another "transition phase".
Britain's slow remorseless grinding process of change continues but now with blue passports, and Beatrice and Eugenie instead of Harry and Meaghan, Johnson instead of May and missing significant amounts of European funding and connections.
Britain will continue, with extra bunting for Liberation Day still teetering towards No Deal despite all that having been now swept away in a mixture of boredom and defeat. Johnson and his team have now just eleven months to negotiate a trade deal with the remaining EU and simultaneously deal with a MAGA-hat wearing president under impeachment and in an electoral cycle.
The problem for "Britain" is not just that it doesn't exist it – but that the multitude of social problems that fueled this national humiliation really do.
They – like the constitutional crisis – aren't going away anywhere. They will come back to haunt those celebrating in triumph today.
It's easy to say this is all  David Cameron's fault, or Nigel Farage's but the peeling apart has been a long time coming.
Way back in 2007, the then Chancellor Gordon Brown made an extraordinary speech on the subject of Britishness that tells a tale of political detachment from deep cultural and constitutional problems.
In it he said:
"A few years ago less than half – 46% – identified closely with being British. But today national identity has become far more important: it is not 46% but 65% – two thirds – who now identify Britishness as important, and recent surveys show that British people feel more patriotic about their country than almost other European country.
One reason is that Britain has a unique history – and what has emerged from the long tidal flows of British history – from the 2,000 years of successive waves of invasion, immigration, assimilation and trading partnerships, from the uniquely rich, open and outward looking culture – is I believe a distinctive set of British values which influence British institutions.
Indeed a multinational state, with England, Scotland, Wales and now Northern Ireland we are a country united not so much by race or ethnicity but by shared values that have shaped shared institutions. Indeed, when people are asked what they think is important about being British many say our institutions: from the monarchy and the national anthem to the Church of England, the BBC and our sports teams."
There is so much of this that is so baffling wrong its hard to know where to begin.
I suppose we could begin by noting that the identity figures he quotes are for England not Britain and that his sense of history is bizarrely wrong (what was the 2000 year old entity?) – and that all of his references to institutions are ones that resonate only in England:  the monarchy and the national anthem to the Church of England.
If we are to ask why Brexit Britain is a disunited kingdom – a broken husk of an idea – we need to go back to the politicians that in the pursuit of power disregarded its constituent parts and stamped "Britain" across us all. Reaching a crescendo of magnificent contradiction, a Scot preaching Britishness declared:
"And there is a golden thread which runs through British history – that runs from that long-ago day in Runnymede in 1215 when arbitrary power was fully challenged with the Magna Carta, on to the first bill of rights in 1689".