Oil Isn't Worth Anything Any More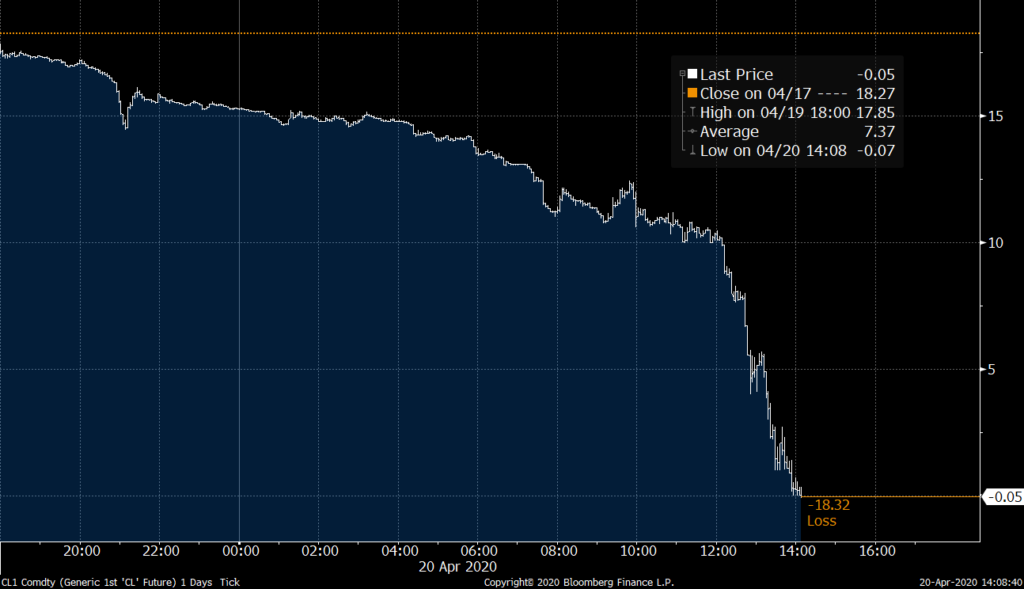 The price of oil has plummeted. US oil prices turned negative for the first time in history yesterday. North America's oil producers ran out of space to store an unprecedented oversupply of crude oil left by the coronavirus crisis. Oil supply is now bobbing about in huge tankers outside US ports, a floating legacy to a stranded asset.
The price collapse in the US market – known in the industry as the West Texas Intermediate price (WTI) – accelerated because it is the last day oil producers can trade barrels that are scheduled for delivery next month, however the price for Brent Crude, the most widely used benchmark, fell 8% to $25.79. The geopolitical consequences of this are unclear, though they do point to us living through a seismic event, a rupture in our whole world.
The event was pounced on by Unionist commentators who suggested that an independent Scottish economy would be wrecked by such turmoil. But the economic case for independence hasn't been based on oil figures since 2017. It doesn't in any sense undermine the case for independence, but it does define what sort of independence we should be building. The dwindling pockets of Scottish nationalists still harbouring the idea of an independent Scotland propped up by North Sea Oil should be paying close attention. Regardless of this the depth of the crisis we are living through make independence, or one-dimensional constitutional change just one aspect of the epochal changes we are experiencing. While the crisis has shown the need for independence more acutely than ever before, we are in such new territory that the old political discussion will take some time to catch-up with the new reality.
What it also shows is that the globalised petro-chemical economy is a precarious and wildly volatile entity over which we have very little control. The LA Times reported: "Oil's plunge into negative territory — which followed a months-long global price war started by Russia and Saudi Arabia, whose economies lean heavily on petroleum — is just one piece of a larger story playing out across the energy sector, with long-term implications for the world's ability to phase out the fossil fuels that are responsible for rising global temperatures. The COVID-19 pandemic is at the center of that story."
There are immediate ecological gains from the reduction of driving and flying and from economic activity in general, in less pollution, in C02 reduction and in air quality. But those gains are fragile, temporary and at risk. As David Roberts reports (Coronavirus stimulus money will be wasted on fossil fuels):
"The dominant narrative is still that fossil fuels are a pillar of the US economy, with giant companies like Exxon Mobil producing revenue and jobs that the US can't afford to do without. Even among those eager to address climate change by moving past fossil fuels to clean energy — a class that includes a majority of Americans — there is a lingering mythology that US fossil fuels are, to use the familiar phrase, too big to fail. But the position of fossil fuels in the US economy is less secure than it might appear. In fact, the fossil fuel industry is facing substantial structural challenges that will be exacerbated by, but will not end with, the Covid-19 crisis. For years, the industry has been shedding value, taking on debt, losing favor among financial institutions and investors, and turning more and more to lobbying governments to survive."
The danger is that the industries that are destroying our planet are the industries that are saved. Richard Branson's bid to have Virgin Atlantic bailed-out is a prime example.
Whether there is a public government bailout remains to be seen, but there is evidence there's already a private one.
Johanna Bozuwa writes (The case for public ownership of the fossil fuel industry):
"The U.S. fossil fuel industry continues to seek bailouts during the COVID-19 crisis, as global oil demand craters and crude oil floods an already oversupplied market. These twin phenomena have combined to crash the price of oil, threatening the stability of the U.S. oil and gas sector. The federal government has responded by cutting environmental and public health regulations, prioritizing corporations over frontline workers and communities, and exploring appropriating billions of dollars to purchase oil surpluses to fill the Strategic Petroleum Reserve.1 Most recently, big banks are establishing holding companies to snap up financially shaky oil and gas companies, offering an ostensible private bailout."
While the situation lasts, no-one has anywhere to drive to and nowhere to fly to. But there is real danger in a "rush to get back to normal" and "business as usual", and we can either be complicit in this return or oppose it and resist it.
Three Narratives of Modern Life
The are three interlocking narratives at play here. The first is that the fossil fuel industry is an inevitable part of modern life and that there is no alternative. The second is that the growth economy is the only economic model we have (or can have). The third is that we should have the right to drive and fly anywhere we like at any time, for very little cost. These assumptions are self-reliant on each other.
Each of these is being challenged by the coronavirus crisis.
The mythology about oil and national identity, its intrinsic value to the American economy and culture is profound. Oil is a form of magic. It feeds the mythology that capitalism just spurts growth and hands out prosperity from that growth. The magical thinking we've assumed will go on for ever is that we could just benefit from this growth for ever and ever. The fact that fossil fuels is at the heart of our climate crisis and that we have been living dangerously beyond the earths carrying capacity has been ignored for too long, and the virus is revealing how close we are both to fatal runaway climate breakdown, but also to viable and clear solutions to avoid that.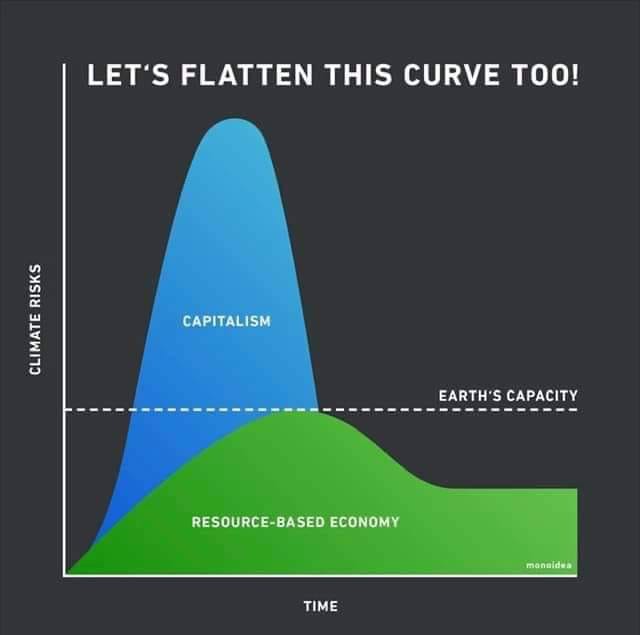 If anything the virus is showing how the system works and why it is deeply broken and dysfunctional. David Roberts points out, amazingly that:
"The petrochemical and plastics industry, which is in large part an extension of the oil and gas industry, is exploiting the crisis as well. It has lobbied the federal government to declare an official preference for single-use plastic bags and suggested that more fresh produce should be wrapped in plastic."
This crisis needs to be salvaged from our governments who will waste the opportunities it represents by returning us back to the economy that was destroying us. Old industries must be allowed to die-off and all bailouts and salvage projects must be focused on life-giving and future-focused industries and activities.