Exam Time
James McEnaney explores the lockdown's impact on children and school pupils sitting exams – and what it tells us about the deeper problems in Scottish education.
So, first thing's first: what exactly is going on with this year's exams?
Well for a start there aren't any, not with lockdown rules and social distancing protocols. Of course, pupils in S4-6 still need to be awarded qualifications, so the Scottish Qualifications Authority (SQA) has had to come up with an alternative approach: using teachers' judgements of their pupils.
After all, teachers know their pupils best – they've been working with, observing and assessing them for months, perhaps even years – so it makes sense to ask them to take the lead here. They've also been submitting estimates for years, so the systems for that are already in place. The wheel has already been invented – it just needs to be turned, right?
Wrong.
Unfortunately – but unsurprisingly – the SQA has insisted on complicating the process. Estimates are now broken down into many more levels than before and, crucially, all schools and colleges will also have to rank their students. This is to allow for "moderation" of teachers' estimates, a euphemism for changing pupils' grades based on the performance of previous students.
It also means that some students will be awarded a fail even after their teacher has judged them to have passed.
Why? That's easy: to protect the status quo and all of the systems, structures, organisations and reputations that depend upon it.
The SQA wants this year's stats to look much the same as last year's, and the year before that, and the year before that – for the typical distribution of Scottish results to be maintained. They want this to be seen as a fair and respectable method for maintaining the credibility and value of qualifications being issued.
They want no questions asked and, judging by Thursday's education committee session, aren't up for answering them anyway.
Ultimately, when things calm down, the SQA wants a compliant return to normal.
Well let's talk about normal.
Normal is an iron-clad link between affluence and attainment. Normal is a qualification system that largely rations success by background, not talent or potential or effort. Normal is schools within a few miles of one another achieving results that are worlds apart. Normal is rich parents and private schools buying success while those with least are left behind.
Normal is pupils from wealthy areas being more likely to leave school with 5 Highers than those from the poorest areas are to leave with one.
It's less than a fifth of pupils from those poor areas leaving school with four Highers – the standard university entrance benchmark – while nearly 60% of those from the richest areas manage to do so.
It's schools in poor areas being unable to even provide as many options as those serving wealthier catchments, a postcode lottery of charges as high as £125 for exam level practical subjects, and a paid-for exam consultancy service dominated by private schools.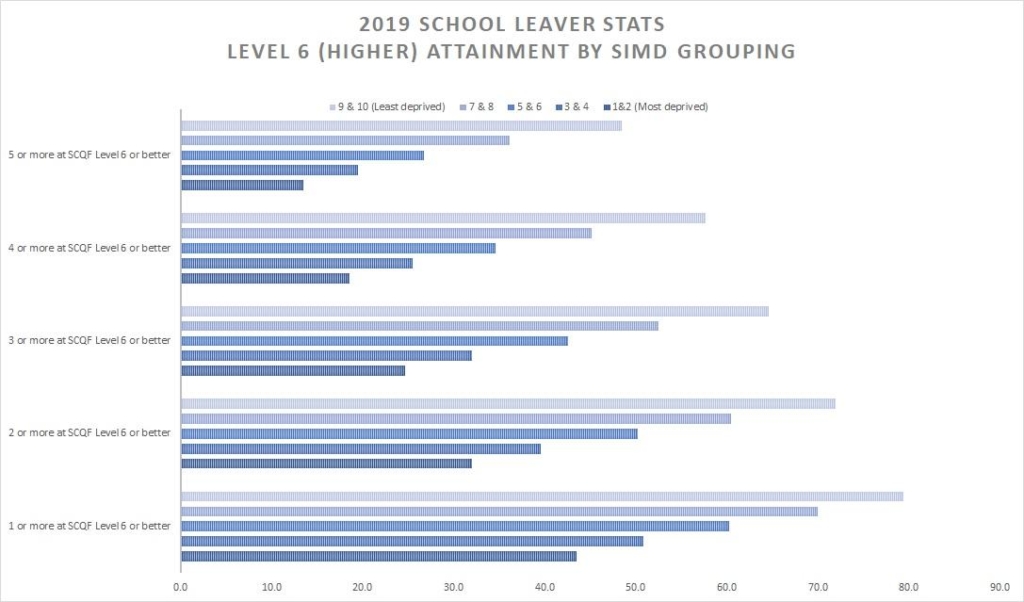 It's a system that ensures that the 'best' kids will always get ahead, whether through private schooling, tutoring fees or the simple fact that the whole game is rigged.
Normal is buttressing inequality while we talk about building a better society: rewarding affluence and calling it meritocracy.
Normal is obscene.
Normal is a failure.
And look at us, working so hard to protect a system that treats tens of thousands of young people each year as socio-economic collateral damage; one that has failed so many, for so long, in the name of 'fairness'.
This was our chance to start to think about – and build – something much, much better; instead we're going to throw it away because of a toxic mixture of desperation, deference and cowardice.
The problem is priorities, and the SQA's are wrong.
If we are to deploy system-level data to ensure 'fairness' for students, if we really are going to use statistical modelling to right some unbearable wrongs, then we should at least have the guts to do it properly – we should be fighting for students instead of a corrupted status quo.
So if the sacred grade distributions need to be maintained then fine, but why not apply that philosophy across the board? Let's decide that 30% of Highers awards would still be A grades, but ensure that this applies to 30% of the richest kids and 30% of the poorest and 30% of everyone in between.
We can do the same with all other grades, too, so the data remains consistent – the only difference would be that academic recognition in Scotland would be evenly distributed across society instead of concentrated around affluent postcodes.
These proposals would be no more unfair than our present approach and would tackle educational inequality at a stroke. They would allow exceptional kids from the poorest areas to succeed in place of mediocre ones from wealthy backgrounds.
They would close the attainment gap.
Might some students do better than they would otherwise have done? Absolutely.
The student who works hard all year but spends evenings and weekends caring for their parents might get what they actually deserve. Someone whose school has never had the resources to support their learning difficulty might get an A instead of a C. The talented kid who would be going to bed hungry the night before the exam might pass.
The hand-wringing classes and those running Scottish education would regard this as a disaster; others might call it justice.
But isn't there a chance that able pupils could lose out through no fault of their own? Won't some kids be disadvantaged purely because of their circumstances?
Of course – after all, we wouldn't want to change too much, too fast.