Scottish Independence – Wexit or Sexit?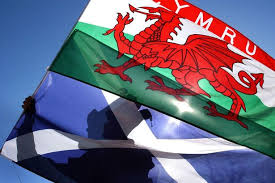 Of Scottish descent – by way of New Zealand – I have long taken a close interest in Scotland's pursuit of independence and its realisation as a free nation. Needless to say, this I firmly support.
Now well settled in Cymru, I recognise that our country has much to learn from their experience.
In both countries, there is impatience among many to take back control and get indy done. Others, at least for now, are more cautious, and some are antagonistic. In the shifting sands of modern politics, we should neither underestimate nor exaggerate these differences.
Nevertheless, public opinion in both countries has been moving towards independence, albeit in fits and starts, and now beyond a significant minority in Scotland. The tantalising prospect of a majority appears to be within the SNP's grasp.
The unionist parties are at sea. Labour is much diminished. Despite the Conservative's election victory in Westminster, the Tories are isolated and impotent in the Scottish Parliament. They will surely follow the Liberal Democrats and Labour into the margins. Further gains for the SNP are likely.
A more astute PM than Johnson, intent on preserving the Union, would promote a referendum in Scotland (and possibly Wales) forthwith. There are unlikely to be majorities for independence today or tomorrow, and further referenda could be shelved indefinitely. Though with yet another government in London that Scotland did not vote for, and will gain little succour from, support for independence can only increase. The longer an independence referendum is delayed, the more likely the vote will be carried.
The Brexit vote was a poisonous chalice, exacting a significant price on social cohesion in the UK, the Union and its people. The divisions that were laid bare then were only partly subsumed by fear of a Corbyn government in 2019, mendaciously ratcheted up by a largely hysterical media. Those divisions will re-emerge in the years ahead. Consensus and unity will be difficult and time-consuming to achieve. There must be a strong likelihood that they may never be.
London has little to offer Scotland, with little will to do so. The PM will be sure to delay a second plebiscite on independence, attempt to withdraw powers, marshal his cheerleaders in the media to pour scorn on and undermine the case put forward by the SNP, and otherwise create as much uncertainty as possible. Johnson's recent letter declining a second referendum simply underscores that intent. Already disliked by the Scots, Johnson will probably risk further unpopularity with equanimity if the Union is saved for another decade or two.
In part the SNP has inadvertently provided the PM with an easy target. The case they have put forward for independence is hardly robust or inspiring. As Professor Richard Murphy and Dr Tim Rideout point out, the retention of sterling immediately concedes control of the Scottish economy to the Bank of England and the City. Other compromises, like the continued use of Faslane for Trident, have been mooted. In short, an independent Scotland as currently envisaged by the SNP may not be very independent at all. It would be a weak exit from the United Kingdom, a Wexit!
Would Scottish voters get out of bed to vote for or against a Wexit? What difference will a Wexit make would surely be a fair question. How much enthusiasm would there be for maintaining a clone of England north of the border?   Scotland in name only? Admittedly, the SNP Government has acted to ameliorate social conditions for the least well-off, and further progress across a broad field is intended. Divergence is certain, but is the current prospectus sufficient to gain appeal, let alone enthusiasm?
A bare majority will be enough for the politicians and for many Scots. Perhaps even a Farage-style 'overwhelming majority' of 52% will be achieved in the referendum. Either way, the SNP would inherit a divided country.
And how helpful and magnanimous would the rUK Government be towards a newly independent Scotland? A measure may be found in the tone and content of Johnson's letter and other denigrations of Scotland. Some readers might recall the churlish behaviour of British politicians and diplomats at the Hong Kong Handover event. That would not happen in this case, surely? But it could be oh, so tempting with many levers at the former's command to cultivate some, shall we say, buyer's remorse.
While no country on attaining independence in modern times has ever opted to return to its former status, a looser arrangement – for example, federalism – might achieve most of London's fallback objectives, including neutralising Scotland's voice. One might imagine important concessions being extracted in the early days…
Looking at the SNP prospectus for independence, what is there that could inspire distinct enthusiasm? The offer appears to be designed to placate English settlers (some are clearly colonists and unlikely to be swayed) without losing the confidence of the nationalists. The SNP is after all a centre-left party with modest political and social objectives, and perhaps unable to seize people's imagination.
What if a more radical programme were offered? Complete independence, a Scottish currency, no membership of Nato, phasing out nuclear power, a Green New Deal, not rejoining the EU until its manifest problems are sorted – in short, a strong exit – a Sexit!
As in Cymru, I suspect that younger Scots are seeking a very different society, not one so in thrall to the money economy, a nurturing culture where well-being would be prioritised. To them, Wexit would be a sell-out. More importantly, a Wexit may pre-empt the deep reforms that Scotland's politics and governance needs.
What chances then for a Sexit in Scotland? If the SNP stalls, and starts to lose ground among younger voters in particular, the choice may be reversion to a Unionist stalemate or real independence. The latter would certainly be a stirring rallying cry. Scots wha hae! Hwyl!
Rhydyfelin
Rhondda Cynon Taf
[An edited version of this article was first published by Nation.Cymru as Scotland may be heading for independence in name only – will Wales follow? on 11 February 2020]