Glorifying Violence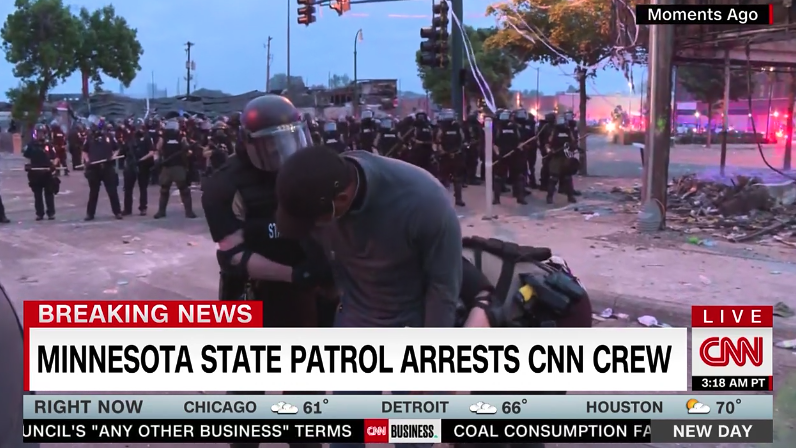 Minneapolis has erupted in protest and anger after the killing of a black man, George Floyd, by a white police officer Derek Chauvin.  Chauvin had already been involved in several incidents, according to a database by Minneapolis' Communities United Against Police Brutality. The horrific event, witnessed on social media, echoed Eric Garner's "I can't breathe" as he was killed by police officer Daniel Pantaleo in New York. The grim roll-call of deaths and murders is relentless and the absence of prosecution has fueled calls for more radical action against the police. As global pandemic stretches and breaks the social contract between the state and the people, trust is breaking down. Now the experience of police brutality – and the seeming impunity from justice – has forced activists to abandon calls for reform.
As Derecka Purnell, a social movement lawyer based in Washington, D.C. wrote: "George, like Dreasjon Reed, Breonna Taylor and other black people killed by police this year, should be alive and breathing. This cycle – murder, protest, calls for justice, non-indictments – is revelatory. We must join others to reduce police power before, during and after these viral killings. Police reform is not enough. We need abolition."
Now, as the debate about state violence takes root amid burning cities, a significant moment in internet history sparks as Twitter puts a public interest notice on a Tweet from @realdonaldtrump . The company explained: "This Tweet violates our policies regarding the glorification of violence based on the historical context of the last line, its connection to violence, and the risk it could inspire similar actions today."
Trumps tweet: "….These THUGS are dishonoring the memory of George Floyd, and I won't let that happen. Just spoke to Governor Tim Walz and told him that the Military is with him all the way. Any difficulty and we will assume control but, when the looting starts, the shooting starts. Thank you!"
"When the looting starts, the shooting starts," was a reference quoting the former Miami police chief Walter Headley, who in December 1967 promised violent reprisals to protests over stop-and-frisk tactics. Trump, as we know, has a long history of standing by neo nazis and the far right, famously calling the Charlottesville protestors "very fine people". The "Unite the Right" rally in 2017 that sparked the violence in Charlottesville featured several leading names in the white-nationalist alt-right movement, and also attracted people displaying Nazi symbols. As they walked down the street, the white-nationalist protesters chanted "blood and soil."  One of the men seen marching with the fascist group American Vanguard, James A. Fields, was charged with deliberately ramming a car into a crowd of counter-protesters, killing 32-year-old counter-protester Heather Heyer.
This is a historic moment in America's decent and the events unfolding in Minneapolis are the culmination of decades of police violence and institutional racism.
Today, as I write, the police are arresting reporters live on television. America is descending into fascism.
This is unbelievable. Minneapolis police just arrested black CNN reporter Omar Jimenez live on air even after he identified himself. I've never seen anything like this.#GeorgeFloyd #MinneapolisRiot #omarjimenez pic.twitter.com/gSx1Kuxznm

— Asjad Nazir (@asjadnazir) May 29, 2020
As Derecka Purnell points out, the calls to abolish, not reform the police stem from the calls to abolish the Immigrations and Customs Enforcement (ICE) after years of horrific revelations about the abuse of children in "detentions centres" in the US.
Purnell writes:
"One major difference is the mainstream narrative around dreamers: immigrants hoping for a better life and fleeing persecution and violence in their homeland. To be clear, the fight for immigrant justice is crucial and inseparable from the fight against racial police violence. Immigrants, especially undocumented black immigrants, are vulnerable to police violence and face the risk of prison, deportation and death. Yet black Americans, like indigenous and First Nations people, represent particular reminders that white settlers looted land, committed genocide and enslaved people to build a democracy. As a result, black and indigenous bodies remain a public nuisance to be disappeared, exploited, imprisoned and killed by white people and police alike. They want us to live in constant fear of those possibilities for a reason. Thus, black resistance matters, against police and white supremacy alike."
But as America – a country infested with radicalised and emboldened white supremacists – teeters on the brink of a deeper crisis there is also something that Naomi Klein has called "a coherent pandemic shock doctrine beginning to emerge."
So while Twitter warning Trump seems like a moment of pure democracy: everyone is equal before the law; it also carries with it its own threat. The tech giants are the core of Shoshana Zuboff's surveillance capitalism and need reformed and regulated just like any other media as the question arises Quis custodiet ipsos custodes? This as true of the police as it is of Twitter and Facebook.