Ticking boxes won't change cultures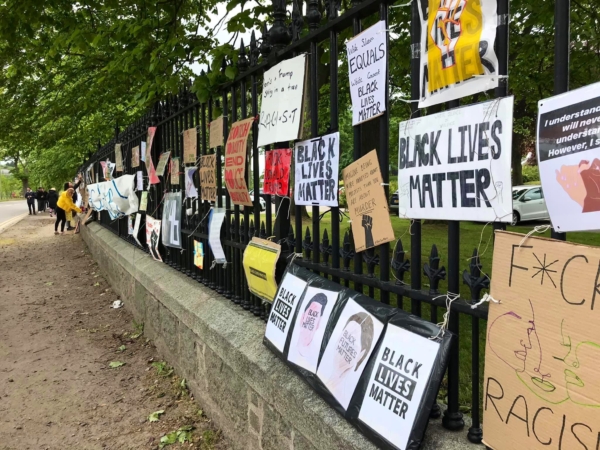 Talat Yaqoob (Ideas for Equality) on the need to move beyond rhetoric and for actual change against inequality and racism.
Performative solidarity is all over social media right now. Companies, institutions and public bodies who have a poor record (or no record) on equality and diversity have been posting statements of support for the Black Lives Matter movement Some of this will be a genuine want to show solidarity, much of this will be led by feelings of obligation, but regardless, largely, these statements have been filled with empty rhetoric; words of empathy, reiteration of the bare bones equalities statement written somewhere in a strategy or on a website. I would be more likely to take notice of, and accept, statements of support which included some self-reflection, which expressed what the organisation was doing wrong, what it needed to improve and how it planned to do something about inequality and discrimination.
We exist in a society where racism is institutionalised. Organisations are microcosms of society, they don't exist in isolation from the inequalities that are deeply embedded around us. That means organisations will replicate these inequalities unless serious and proactive effort is taken to counter them.
This is not the time to hastily book some training sessions to appear proactive. This is the time to think more deeply and take steps towards system change.
Across different roles in my career, I have been responsible for training delivery across a range of issues around equality and diversity, and one utterly frustrating constant has been the lack of investment in evidence based culture change work and real interventions that create systemic change. There continues a stubborn and unhelpful notion that a half hour talk on the Equality Act is going to change any attitudes or behaviours to create a more equal society or workplace. I have repeatedly been asked to delivery training in a lunch session to "help create equality"…how can anyone be taking seriously, or even understand the depths of inequality and discrimination faced by groups across society, if they think any change can happen through a half hour slideshow?
For change to happen, power needs to be redistributed (no, it's not just something to talk about in terms of traditional politics; the politics of this comes into play in our workplaces). That does not happen overnight, that does not happen in a training session, because it will not be easily accepted by those who have always had power. Change requires lived experience expertise, real investment, time commitment and a strategy that has not been created by only those already at the top. A multilevel, long-term and whole organisation approach is needed which has at its core, genuine co-production and accountability.
A one hour induction or an online presentation to tick box that you've understood equality is not enough, it's not anything. Too often I have seen this happen, and rather than have any positive impact, these types of tick box exercises create apathy and disengagement. They give people a get-out clause to say "I did the training, so I can't be biased".
Organisations need to work for it; at a societal, organisational and individual level. Training can make a difference, but only if it is done right and done along with other, bolder steps that are not easy, but are necessary. The system isn't working, so it needs to change from root to branch – what does that actually mean for your organisation (no matter which sector its in)? What needs to be scrapped? What assumptions are embedded that need challenged? Who made the rules and who was excluded?
In the work that I do around equality and attitude change, I believe these things matter most:
Lived experience needs to have parity without being taken for granted – development of plans, strategies or training to create more inclusive workplaces should be developed with the expertise of those with lived experience of institutionalised inequality. It should be co-produced, but crucially this input should not be provided free or as an addition to someone's role (e.g. the woman of colour in the office who is the project manager, but now also has "equalities co-ordinator" added to her role in a volunteer capacity). This expertise needs to be valued from the start of the process by the organisation, both in status and in pay.
There should be discomfort in the learning and changing – materials and discussions need to be challenging, needs to make someone ask questions about the society around them, the status quo and their own complicity.
Interventions needs to be targeted at the level of the audience; jargon free and accessible.
Accountability and responsibility has to be at the centre – There needs to be follow up to interventions; individuals/organisations need to take responsibility to do more once they leave the room, targets needs to be published and those inside the organisation with lived experience must be around the decision making table on this, able to hold the organisation to account and review whether the workplace has actually improved.
Training needs to have a practical element – When we talk about societal inequality, we are talking about something that is in everything and is everywhere. Much of the equality training on offer can leave people knowing more but doing nothing. Interventions needs to focus on change. It should be clear why the organisation is working on equality, what it hopes it will change and what everyone's role is in creating that change.
These are just a few reflections which have been on my mind as I have scrolled through the social media feeds of organisations over the last few days. But I don't want to see the performance of equality, I want to see real action on dismantling the status quo that sustains the inequality that is actively hurting so many in our society.