Asylum seekers in hotels in Glasgow denied health care by Mears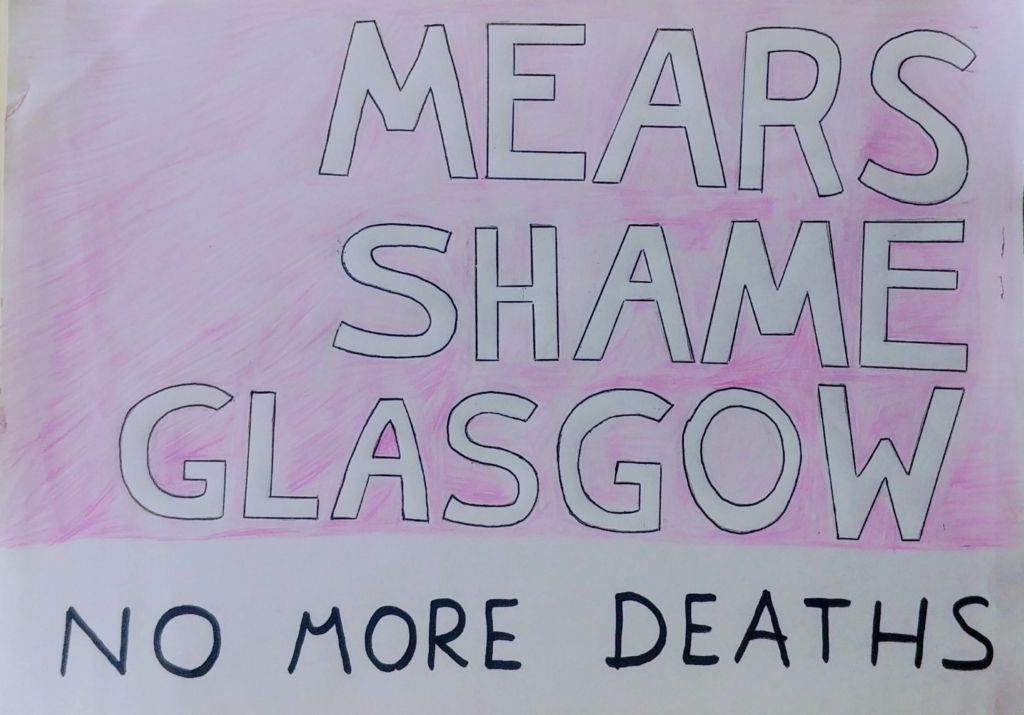 On the 5th May 2020, Adnan Olbeh, a refugee who had fled the Syrian Civil War, died in McLays Guest House, in Glasgow. He was one of over 400 asylum seekers summarily forced out of their homes by Mears, an asylum accommodation contractor working on behalf of the Home Office.
This has been done under the auspices of a safeguarding measure to deal with the outbreak of Covid 19, with those affected being given notice of a couple of hours or less. They have been transported in crowded vans and cars, in which social distancing is an impossibility and protective equipment is not provided. From there they have been dispersed between six hotels across Glasgow. Here, close proximity to others has created an unsafe environment. In some cases, those affected have had to share facilities such as bathrooms – something that Mears have repeatedly denied despite numerous reports to the contrary by hotel residents.  Furthermore, due to the "full board" service they have been receiving, the Home Office has stopped providing them with their meagre financial support.
After the tragic loss of life that occurred in McLays, Guest House, a friend of Adnan's spoke to the press: despite the fact that Adnan had alerted Mears his deteriorating mental health and pleading for help,  he was largely ignored by Mears. Sadly, this appears to be emblematic of Mears' lax and negligent approach to the welfare of those in its care. This is evident, not only in the failure of their "full board" system to provide basic medical products (including burn cream and painkillers), but also in how they treat those facing acute health crises.
One such incident concerns N (who wished to remain anonymous), who has been staying in the Ibis Budget Quay in Glasgow since early April. Last Saturday night (13th June), he contacted the No Evictions Network, stating that he suspected he may have a broken foot. At the time of the accident, there were no Mears staff in the hotel. After seeking help from hotel staff, he was simply told 'you will be seen by a nurse on Monday'. Due to the great pain he was in, and faced with the prospect of waiting two days for medical attention, he twice made a simple request for painkillers. In response, he was told 'we are not allowed to provide any, you will need to wait until Monday'.
N did not sleep that night because of the severe pain he was in. Therefore, he spoke to hotel reception staff the following morning, insisting that he needed to go to the hospital. A short while after, two Mears staff entered the hotel. Despite the state he was in, they showed little concern. Rather, N was abruptly told to 'just put the leg up, a nurse will see you tomorrow'. An activist from the No Evictions Network, who was present with N, attests the fact that Mears staff stated, 'coronavirus is the priority', and that they refused to take him to hospital. She also reports that they downplayed his injuries, stating that 'people are dying, and this is not an emergency'. As a result No Evictions Network had to arrange and pay for a taxi, without which N would not have been able to see a doctor. The network also needed to buy the painkillers for him as, without financial support, and failure of Mears to provide basic items, he had no means to acquire them.
This was not an isolated incident: another asylum seeker, staying in the Park Inn Glasgow, informed the No Evictions Network that last Friday (12th June), a 67-year-old man reported a medical emergency to Mears. Again, this was simply ignored. The asylum seeker stated, 'He had a strong pain in his back and around his heart and he was having difficulty breathing'. According to this report, when the man asked Mears staff for medical assistance, they replied, 'it is late, all the doctors are closed, and their working hours are finished'. As with N, Mears told him that 'they would arrange a visit from a nurse for Monday'. J (who also wishes to remain anonymous) told us 'I have taken courses on first aid and emergency and if he is over 50, I know it can be a cardiac problem, and that it has to be considered as an emergency situation'.  J indeed provided assistance to this person, checking if he had any previous chronic diseases and taking care of him over the weekend. As of  Tuesday at 1 pm, this person is still to receive any medical attention.
The No Evictions Network has repeatedly demanded accountability from Mears, but each time they have failed to meaningfully engage with any of the questions or claims put to them . Although everyone has a basic human right to medical assistance in Scotland, these are clear evidence of this Home Office contractor denying basic healthcare to asylum seekers. Instead, Mears staff have provided misleading advice to those asylum seekers requiring medical assistance, using coronavirus as an excuse not to provide help.   This flies in the face of Scottish Government and the NHS guidance, which clearly states that those with urgent non-coronavirus-related issues should seek medical attention.
Groups working with asylum seekers in Glasgow (MORE -Migrants Organising for Rights and Empowerment-, The Unity Centre, the Asylum Seekers Housing Project, the No Evictions Network and others) denounce the denial of medical assistance by Mears to people in the hotels has been a persistent issue. One person in Park Inn, reported that 'I couldn't access a GP. There are only Mears doctors. I asked to see a doctor because I was in severe depression and this Mears doctor came two weeks after'. A volunteer from the Unity Centre stated that, in the same hotel, a man with a cardiac condition began to experience anxiety attacks. Despite this, he was only attended to 48 hours later, over the phone, and only after assertively  demanding urgent assistance. Moreover, a person being housed in the  Mercure Hotel Glasgow, affirms that the painkillers he requested for a headache , 'arrived one month and a half late'. Campaigning groups and support networks have raised these issues to Carla Donald, the Mears Welfare Officer, but have been ignored.
The denial of medical attention is one of  many issues  that the asylum seekers housed in the hotels have raised. It is testament to the seriousness of this situation, that  since the 3rd June, a group of asylum seekers in the McClays Guest House, the Ibis Budget Hotel and the Mercure Hotel have begun organising. As they told Bella Caledonia last month, they have three, simple demands. First, to be immediately moved back into their flats, second the reinstatement of their financial  support, and third, the improvement of the hotel's food. As part of the protest they are refusing to eat the inadequate food they are being provided with. Last weekend, with support from the No Evictions Network, they organised an online day of action. This obtained huge support from individuals and organizations across Glasgow. As Mears and the Home Office are continuing to ignore the demands, a protest is planned in solidarity with these struggles for Wednesday 17th June, respecting social distancing guidelines, with the objective of raising awareness and obtaining a response from Mears.
*This article has been written with the help and collaboration of people directly affected and organising against hotel detention who want to remain anonymous.