Myths of False Equivalence
After days in which the centre of Glasgow, supposed to be a public square open for all, and the historic site of protest and peaceful assembly, has instead been captured by a group of a few hundred men intent on violence and intimidation, David Hamilton, Chairman of the Scottish Police Federation Scotland today issued a statement: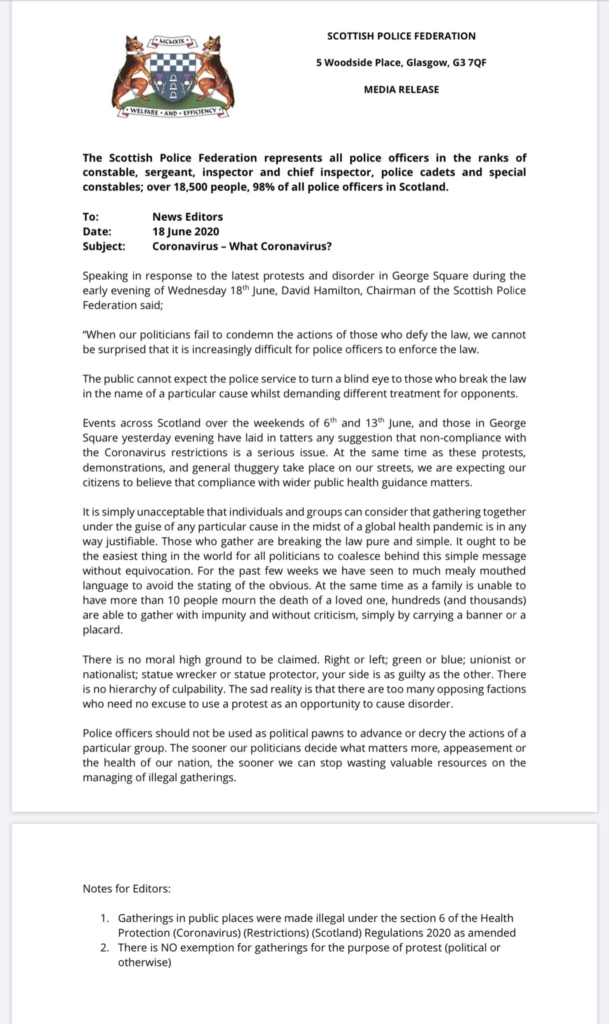 It's an extraordinary statement which seeks to divert the public gaze from the police forces own operational failure, over days, of failing to prevent these people entering the square, failing to arrest or control them and then allowing them to continue to intimidate and threaten ordinary people and peaceful protestors. This failure in itself was seen as a political act. Now to compound matters the police representative issues a statements that reeks of Trumpian false equivalence.
Instead of accepting responsibility for his officers action (or inaction) David Hamilton attempts to lay blame with the Scottish Government, for, presumably, not denouncing the black lives matter demonstrations. Worse, he then claims there is no difference between "right or left; green or blue; unionist or nationalist; statue wrecker or statue protector, your side is as guilty as the other".
For a start he is claiming that there is no difference between people making a peaceful assembly in defence of their own human rights for housing, and people who came with the intent to physically attack them. That is a disgraceful statement for a police officer whose job is to protect people from violent intimidation. We should also be very clear that is a political statement and a sackable offence. Hamilton's statement draws on myths that have been perpetuated by appalling media coverage for days, that the people in George Square were "statue defenders". For this BBC Scotland's The Nine, Radio Clyde, and the Herald were all at fault, failing completely to articulate plainly what was going on.
The First Minister's condemnation of the attacks as coming from "a gang of racist thugs who should face the full force of the law" was welcome, if overdue. But the problem is that they did not and will likely not either.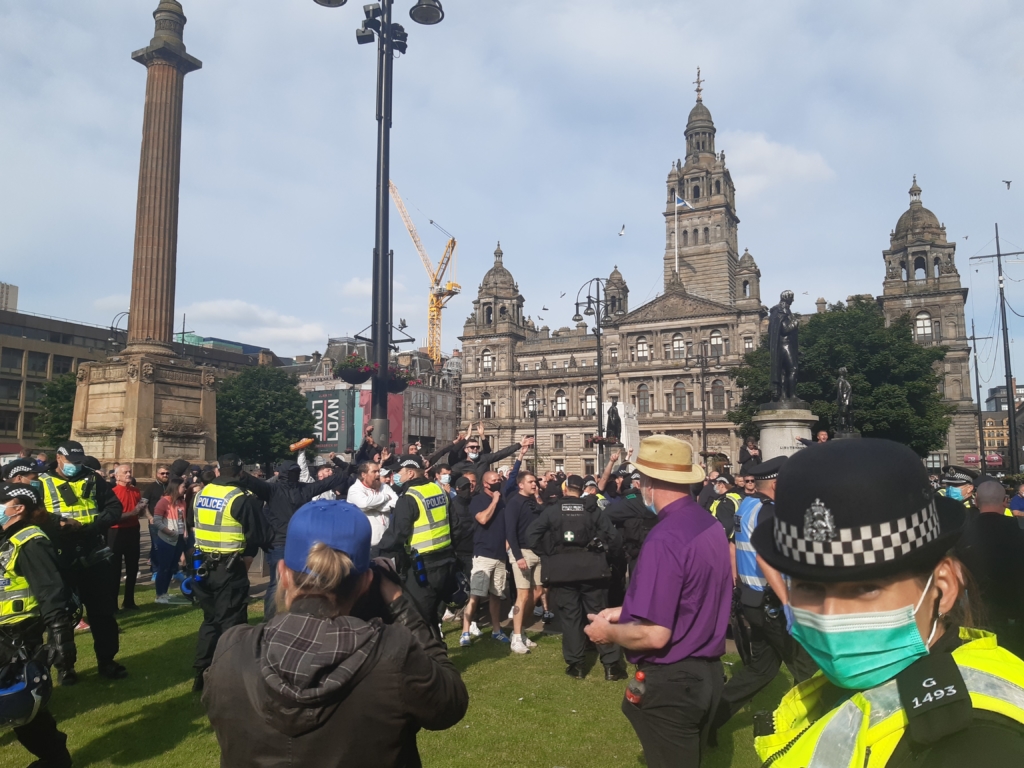 Hamilton's statement is problematic for other reasons. The police in this country are under direct scrutiny for their own racism and brutality.  His statement that "there is no difference between "statue wrecker or statue protector" is a political one. In this he seems entirely oblivious to the movement and awakening that is sweeping the world and which stems from police murder. He is, and they are, not some independent body adjudicating how society operates, they are at the heart of the debate and at the heart of the problem. This is not to say that the police in Glasgow are as bad as the  police in Minneapolis, but they need to be conscious where they stand in the public's mind. His attempt to equate "unionist or nationalist" into one unhappy bundle is completely unacceptable. The violence perpetuated now (and before) has come from one side only, and the men in George Square are the from the National Defense League, they are British Nationalists. Hamilton must know this, even if his colleagues don't inexplicably have access to these groups communications. Finally the statement saying there is no difference between "green or blue" is an odd one, given that the protestors came uniformly from one of those colour codes. That may be an awkward reality for some but it is a reality.
The violence has been condemned by Amnesty International. Amnesty called for all political leaders in Scotland to condemn far-right violence and racism.
Naomi McAuliffe, Scotland Programme Director for Amnesty International said:
"It is hugely concerning to see a peaceful protest highlighting the grave problems facing asylum seekers in Scotland, attacked by violent, far-right thugs. There is a legitimate problem faced by asylum seekers during this Coronavirus pandemic and that message mustn't be drowned out.
"We were pleased to see that Police Scotland were protecting peaceful protesters. It is now important to see condemnation of racism and far-right political violence from leaders across the political spectrum and Scottish society."
The STUC have said: 'The trade union movement in Scotland opposes fascism and racism in all of its forms. We stand in solidarity with our refugee and asylum seeking friends, family and community members."
The activist and RIC co-founder Jonathon Shafi said: "If you are Black, Asian, Catholic, an asylum seeker, anti-racist – the city centre of Glasgow is not safe. That cannot be allowed to stand. We need to see a full spectrum civic response. And we need to take back our streets from a group of people who do not represent Glaswegians."
What we have here is democracy – the right to peaceful assembly – being denied not just by the violence of loyalist gangs – but now supported by the apologism and ambivalence of the police. For any environmental activist or peace campaigner (or ordinary football fan) who has been kettled or attacked by the police it is not difficult to imagine that those who came to George Square could have been contained. They do not have overwhelming numbers.  So we need to have some answers to why their operation was so ineffective. The public need to have some reassurance that the police are an independent body.
The deeper problem is that sectarianism and racism has been allowed to fester. Glasgow is a city that has become inured to loyalist violence. In a city where a priest is spat at, where hundreds of Orange Walks every year (now comically virtual) and where we have become deaf to the sectarian and racist songs blasted from media channels and from football grounds until it has become the subliminal surround sound of Scotland. It is a dog-whistle that operates at a frequency no-one appears to hear.
This is a deep and festering wound in Scotland's culture that has lay untreated for to long. As community activist Luke Devlin has written:
"A klan of far-right superlager herrenvolk have been holding George Square for four days now. There is little effective opposition to it and very little substantial media analysis or coverage. This klan emerges from a particular subculture associated with Ulster loyalism, British nationalism and a subset of Rangers football hooliganism. It is catalysed by a toxic West of Scotland culture of alcohol abuse (facilitated by a network of sectarian pubs and lodges for this purpose), low educational attainment, celebratory ignorance and a crisis of meaning in Scottish masculinity, especially in communities hardest hit by globalisation, de-industrialisation and multiple deprivation. The ability to take a public space with impunity and assert dominance is an attempt to form community and identity by individuals unable or unwilling to do so in any other way. Any meaningful response will need to reckon with all of this."
If there is anything positive about this it is this. If Hamilton's statement is indicative then it has become crystal clear that the police are not going to protect peaceful assembly. If this is the case then we will need to unite and defend peaceful protest. This will need to mean a coming together of anti-fascists, anti-racists, minority groups, asylum seekers, black lives matters activists and just decent  ordinary people to build a movement strong enough to defend itself.
In the meantime the mainstream media should take a long hard look at their output which framed the entire process as "a clash between two groups" and sets the context for the police statement. Finally it is inconceivable that the Chairman of the Scottish Police Federation Scotland can remain in post after issuing such a statement, and it is highly unlikely that the police can regain people's confidence if he does.