Reimagining our Cultural Landscape as Reimagining our Future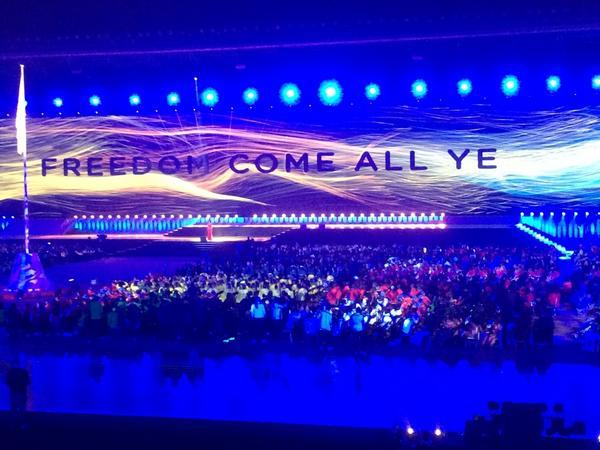 As part of our Cultural Landscape and Power series Briana Pegado asks: with the challenges we face from income inequality, white supremacy, the epidemic of violence against women and girls, and environmental crisis, can we use culture, creativity, and our imaginations to vision a new future?
Reimagining our cultural landscape in Scotland means re-imagining our relationship to culture. First let's start with our relationship to culture. Culture as a term has many meanings and for those of us in the cultural sector, creative sector, and the creative industries more widely these terms can prove to have incredibly loaded meanings. For the person reading this these words might be entirely interchangeable. For the sake of this piece, I would like to define culture as an creative activity that spans institutions, individuals, businesses, and mediums of a creative disposition. I think too often we see culture as something we travel to, consume, or engage with rather than the truth of what culture is – the very means with which we live and experience being human. How have we ever been able to communicate our experiences with words, ideas, motions, or tangible materials to another human being? Creativity is embedded in everything we touch – to the bed we get out of in the morning and bed sheets designed by a designer, the public transportation we use (less so recently) to get from one place to another, and even the language we use to communicate with one another. As human beings, we inherently create each day simply by waking up and we are inherently creative. Now the artistic skill, study, practice, and talent that is involved in careers that might be more traditionally related to culture shall not be undermined by my earlier statement, but I think if we are to re-imagine our society and everything in it we need to acknowledge the role that culture plays in it – it is fundamental.
With the challenges we face as a nation and as a world system from income inequality, white supremacy, the epidemic of violence against women and girls, environmental crisis, and the breakdown of many political systems as we know it – can we use culture, creativity, and our imaginations to vision a new future? Can we vision and design a society that is equitable, sustainable, and embedded with data or information that can help us make more informed decisions? Even more radically, can we take this moment to grieve the loss of life and sacrifices made to do better? Can we have the courage to use the tools at our disposal to radically redesign and redefine our society, so that we can all live healthily, happily, and with purpose?
If the answer is yes, here are some practical solutions to get us there. First, we need to get acquainted with data. Not only do we have a cultural deficit in our society with arts and culture being removed from our school curriculum and being replaced with tools decision-makers have deemed more important, employable, and skills based, we also have a data and digital literacy gap. 15% of households in Scotland still do not have access to the internet.[1] We need to address this gap in our country, but more importantly, embed curriculum within our schools that embeds data into learning journeys but does not remove this from the need for creativity, arts, and the creative thinking required for this data to be used in meaningful ways that help our society.
_________________________________________________________________________________________________________________________________________________
Also in this series:
Sara Sheridan 'Where are the Women? Imagining a  Different Landscape'
Talat Taqoob 'Solidarity Requires Facing up to Uncomfortable Truths'
Adam Ramsay 'Dundas, Charles II and Bessie Watson: Options for Edinburgh'
_________________________________________________________________________________________________________________________________________________
Second, we need to radically rethink our curriculum and creativity needs to be at the heart. Critical thinking, context-setting, and truly understanding our nation's past cannot take place to allow us to make informed decisions about our future if we do not reform our education system. The five most popular skills employer cite as being the more important for the future of work include:
#1 Creativity
#2 Emotional Intelligence
#3 Analytical Critical Thinking
#4 Active Learning with a Growth Mindset, and
#5 Judgement and Decision Making
according to Forbes and the World Economic Forum.[2] We have designed the creativity right out of our school system and defunded the incredible people providing our young people with their education.[3]
Third, we need to restructure our society as we know it. Having or cultivating a growth mindset is impossible without basic needs and necessities being met in our society. We know as a country we are facing the highest unemployment rate as a result of COVID19, an economic crisis, higher rates of people working freelance or as self-employed, and a generation of young people facing an uncertain future – not for the first time in history, but with the added threat of a climate catastrophe, which is new.
We know that unsustainable economic growth does not work. We know that unchecked capitalism that promotes consumptions and preys on our self image, mental health, resources, fear of those that do not look like us, and false belief in scarcity leading to unhealthy competition is not working. It never worked. The practical steps to change this are manifold – put pressure on local government and national government to change policies, put pressure on the private sector to change their habits by investing your spending power elsewhere, have conversations about the society we want to live in with family, friends, and loved ones, and start to hold all those in power to account.
What is the cultural sector's role in all of this as theatres close, venues cannot host events to their normal capacity, the cultural sector is in free fall as workers that rely on interaction with audiences through events, exhibitions, selling work, gaining entry to their studios, using physical materials that are no longer available, and having a dialogue with people outside of a screen have to do with all of this? It is the creative people in our society that have always allowed us to reflect, have challenged the status quo, given us a lens with which to vision our future through their work. We need the cultural sector and we need to bail it out more than we are massive corporations that have exploited labour, insecurities, and supply chains. We need to address the #freelancer pay gap. We need pensions for freelance workers. We need parental leave. We need you to value all of the work that comes from culture as much as other essential workers that make our lives liveable because without the dreamers of the future what vision do we have to work towards?
[1] https://www.gov.scot/publications/scotlands-people-annual-report-results-2017-scottish-household-survey/pages/8/
[2] https://www.forbes.com/sites/bernardmarr/2019/04/29/the-10-vital-skills-you-will-need-for-the-fut
[3] https://revisesociology.com/2017/07/30/ken-robinson-changing-education-paradigms/