The Importance of Financing Political Movements
Miles Greenwood on the important role of black-owned capital in political movements.
The murder of George Floyd at the hands of the police sparked an outpouring of grief, anger and dejection that, for many people in the Black community, will feel all too familiar. After all, we've been here before far too many times. We've seen the hashtags before, we've been at the demonstrations, we've felt the pain. For many, there might be a sense of hopelessness despite the widespread awareness and dialogue, and I get this. Very few of the major protests of my lifetime have amounted to much change.
However, for me, this time feels different for many reasons. For one, Black people on both sides of the Atlantic seem to be organising in new ways that will outlive the hashtags, and the attention of the news cameras and front pages. A range of initiatives have been launched and supported; fundraisers are frequently being set up and Black businesses and individual entrepreneurs mobilising to support their community.
Whether we like it or not, money is an important part of political movements; or as Black Panther Party member Jimmy Skater said, "in order to keep the movement going, you've got to have capital." The Black Panther Party understood that their movement needed strong financial backing, which is why they invested in publishing, commerce and property. And theirs is not the only historic precedent.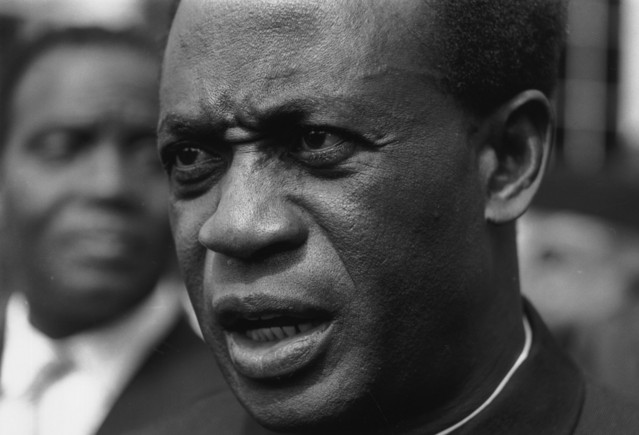 In 1945, delegates from across the African diaspora descended on Manchester for the Fifth Pan-African Congress. The likes of Kwame Nkrumah (pictured above), Jomo Kenyatta and W. E. B. DuBois came together to demand independence for African and Caribbean countries, as well as condemning imperialism, racial discrimination and capitalism. Several attendees went on to play instrumental roles in leading their respective countries to independence. This event, which was so important in contributing towards the subsequent decolonisation of the British Empire, wouldn't have been possible without the capital of Ras Makonnen.
Ras Makonnen was an activist, Pan-Africanist, political thinker, and he was also an entrepreneur. He owned several properties and restaurants around Manchester, and with the income of his businesses, he was able to finance the Fifth Pan-African congress. We often take for granted that such landmark events require money to organise. Imagining instead that they are a product of the sweat and determination of activists alone. Makonnen's role, and the people who take on similar responsibilities in financing political struggles, are often forgotten by history. Perhaps its because of an unease we have with private capital playing a role in political and social movements. However, for Ras Makonnen, his private capital wasn't in conflict with his socialism. In fact, he was one of the strongest advocates of 'Pan-African socialism' at the Congress.
Those who are using their businesses, wealth and entrepreneurialism to support the Black Lives Matter movement all over the world, are part of a long tradition of Black-owned businesses and Black entrepreneurs supporting political and social struggles.
Even in Scotland, where only approximately 1% of the population are Black, communities are beginning to organise in ways beyond protests. One of the individuals recently spearheading the anti-racist movement in Scotland is Barrington Reeves. Reeves is the founder and Creative Director of design agency Too Gallus, and he played a prominent role in organising the Black Lives Matter demonstration in Glasgow. The demonstration itself was a great success, with thousands of people turning out to Glasgow Green to peacefully protest and show solidarity.
The anti-racist struggle in Scotland might be aided by more Black-owned capital, but only 3% of small businesses in Scotland are owned or led by ethnic minorities. Reeves said in an interview with the Herald that 'there's a real lack of funding and lack of support for minority-owned businesses here (in Scotland).' And so, in the wake of the demonstration, Reeves launched a fundraiser to support Scottish Black-owned businesses. The Black Scottish Business Fund has raised almost £15k, which will go towards providing grants and offering mentoring to businesses alongside other forms of support. The fund will undoubtedly empower Scotland's Black community through the creation of jobs; and even though the aims of the Fund aren't overtly political, it's hard to ignore the potential for Scotland's emerging community of Black-business owners to mobilise and invest in causes that matter to them.
Recent far-right demonstrations and violence in Glasgow have made clear that Scotland's anti-racist struggle is far from over. To address these issues and work towards a country built on justice and equality, we will need a strong social and political movement. Finance is only part of this, but history tells us that creating an environment where Black-owned capital is encouraged to thrive will better equip communities to deal with the inequalities they face.