The Basse Yutz Flagons and BBC Myth-Making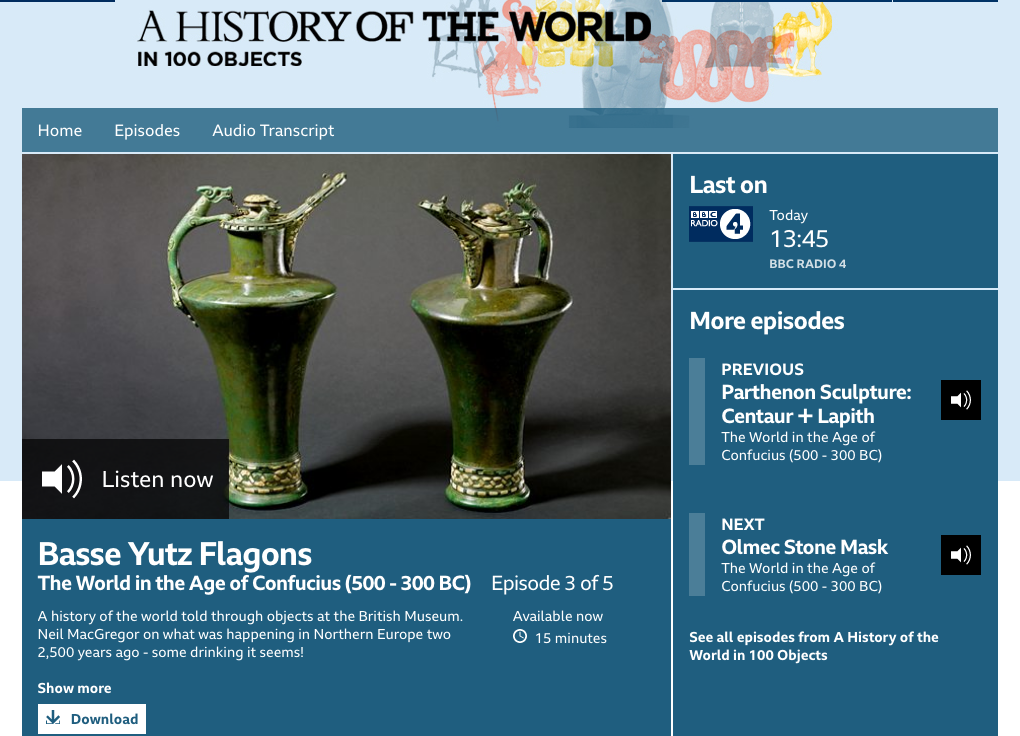 In Neil McGregor's much-admired radio series  A History of the World in 100 Objects he today focused on the early world of the Celts through two bronze drinking flagons, the Basse Yutz Flagons – considered to be the most important and earliest examples of Celtic art.
As his programme reaches a crescendo of analysis he says:

"The Greeks constructed an image of the Celtoi as a barbaric violent people. That ancient typecasting was replaced a couple of hundred years ago with an equally fabricated image of a brooding mystical Celtic identity that was far removed from the grainier practicalities of the Anglo-Saxon industrial world, the romanticised Celtic Twilight of Ossian and Yeats. Since then "being Celtic" has taken further constructed connotations of national identity. Just look at the Celtic clovers and crosses that for many Scots Welsh and Irish are visible statements of their tribal identity, or the fact that visitors are welcomed to modern Edinburgh with greetings in gaelic, a Celtic language never historically spoken there."
"The notion of Celtic identity, although strongly felt and articulated by many, turns out under investigation to be disturbingly elusive, unfixed and changing. The challenge when looking at objects like the Basse Yutz Flagons is how to get past those distorting layers of later myth-making and let the objects speak as clearly as possible about their own place and their own time … but their may nonetheless be some truth in the enduring stereotype that northern Europeans, Celtic or not do know how to drink …"
Listen here (from 12.00 – 13.27): https://www.bbc.co.uk/sounds/play/b00qsvj3
Now Neil McGregor's a great broadcaster and the construct of this programme is beautiful, but this programme is offensive and wrong in so many ways it's extraordinary.
Gaelic has been used in Edinburgh for more than a thousand years when the settlement was incorporated into the Gaelic-speaking kingdom of Alba. Gaelic was the language of political, economic and cultural power in Edinburgh for two centuries or more, and today is spoken by thousands of people. The first gaelic book was published in Edinburgh in 1567 and the first collection of poetry in 1751. The city has been home to writers and scholars like Duncan Ban MacIntyre (1724-1812), Alexander Carmichael (1832-1912),  Sorley MacLean (1911-96) among them.
The literary work of the Celtic Twilight is dismissed and casual myths about Ossian are regurgitated without a thought.
How can a 'national' broadcaster put out content … historical content … that is just so lazily wrong about such basic facts?
The sub-text is: your history and your identity doesn't really exist (but I'll throwaway line about drink).
Can you imagine a scenario of a Scottish broadcaster putting out a programme so badly wrong about its neighbouring country's past?