Generation Yes, Revolutionary Conservatism and Imaginary Empires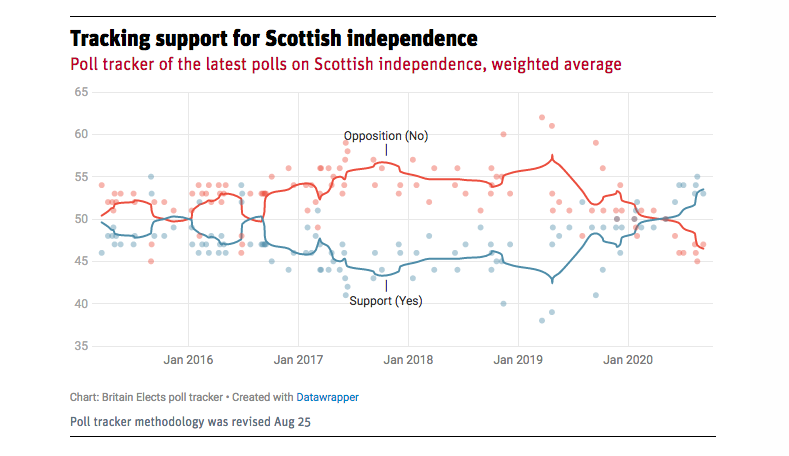 Britain is being destroyed by the people who identify as its protectors and champions. This is both strange and hilarious.

Endgame – the Demographic Timebomb of the Union
Britain is breaking apart faster than anticipated. Its disintegration is not just palpable it's now visible and track-able. The shift is accelerating and now poll after poll confirms a new reality, that Scotland is coalescing around a new consensus of independence, but it is now joined by two new fronts as the Internal Market fissure unfolds the constitutional crisis also comes to a head in Ireland and Wales.
At the same time a huge demographic timebomb is emerging as outlined by the New Statesman: "An analysis of all the latest polls suggests that those aged 16-34 overwhelmingly support independence, with some polls putting the support for Yes as nearly three in every four. By contrast, those aged over 55 split three to four against."
The nature of this as an inter-generational shift and conflict is extraordinary: for young people facing mass unemployment, failure on climate breakdown and Brexit, the sense of inter-generational betrayal is brutally obvious. For an older generation clinging to a folk memory of what Britain was, faded sepia-tinted photographs of yesteryear combine a recollection of collective endeavour through war and institutions now broken by the governments they elected. This is a generation remembering Coronation Chicken but dishing-up Chlorinated Chicken. But this isn't just a generational issue it's now a societal one. Whilst it's true that: "More than two-thirds of young Scots now back independence. The shift in favour of the Scottish Yes side is now the most prolonged in polling history"  – it's also true as Jamie Maxwell outlines for the Washington Post: "Large numbers of Scots seem to have decided that social democracy is no longer possible inside the U.K. and that constitutional change is their only route map to a more progressive economic future." This is now about the nature of democracy not about a narrow nationalism and at that point it has an uncontrollable momentum.
#Scotland: if a referendum on independence were held today, Scots would vote…

Yes: 53.5% (+5.3)
No: 46.5% (-5.3)

Chgs. w/ Sep 2019

via @britainelects poll tracker

Read @BenNHWalker's write-up on what's driving the shift towards support for indy:https://t.co/jRsu9yRYPr pic.twitter.com/hr2gesstJA

— Britain Elects (@britainelects) September 15, 2020
There are some gems amongst the data journalist Ben Walkers analysis.
Douglas Ross has the poorest approval rating of any unionist leader in Scotland since 2008 (at 17%). That is down from Annabelle Goldie's now epic 40% approval rating of April 2011 or Baroness Davidson's 55% of 2016. This is a measure of how credible opposition has collapsed in Scotland; as is Richard Leonard's anonymity and Scottish Labour's inability to even carry out an effective coup. They have been described as a circular firing squad, but it is one in which the guns were all firing blanks.
This leadership failure is leading to the No vote haemorrhaging support, Walker points out: "While much of the new majority for Yes appears to consist of those who didn't vote at all in 2014, the number of switchers from No to Yes should not be discounted. More than one in five of those that voted No in 2014 now tell pollsters they'll be voting Yes. The figure has only grown since the start of the year."
Internal Bleeding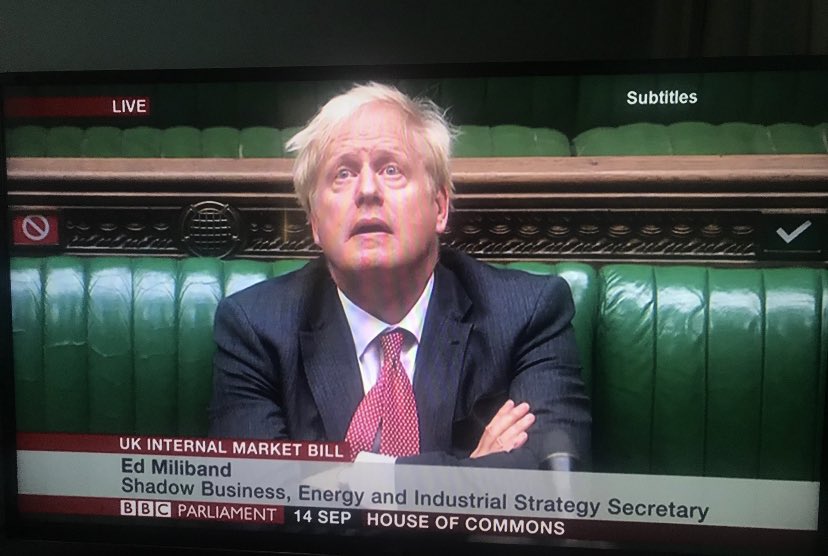 Walker identifies three drivers for the Yes movement's rise. First there is the perception of competence in crisis through the coronavirus. Second is the abject failure of opposition parties at Holyrood. Third is the demographic timebomb as outlined above. But a fourth factor is the Brexit Government's lurch into illegality and farce has brought all parts of the United Kingdom into play.
As meticulously explained by Tom McTague in The Atlantic ('The Great British Humbling'):
"Here we are, then, back to the cretinous stupidity of the Brexit conundrum … The law is this: Because Britain is leaving the European Union's economic zone at the end of the year, an economic border must be erected with the EU—and borders must go somewhere. This reality cannot be escaped."
"Normally the requirement would not be a problem; borders usually go where one sovereign country ends and another begins. But the land where Britain must place this border with the EU, Northern Ireland, is not normal. Because of its particular history and demography, placing physical border controls between Northern Ireland, which is part of the United Kingdom, and the Republic of Ireland, which is a separate country, could, it is claimed, upend the delicate political settlement that exists in this unique corner of the world. Whether this is true or not, the EU has, in any case, decreed that it will not sign any deal with Britain that creates a land border in Ireland. That leaves Britain with the painful option of creating a sea border between Northern Ireland and the rest of the United Kingdom. In other words, Britain has to either institute an internal border or try to avoid one altogether by staying tied to EU rules in perpetuity, even after it has left the bloc."
"The upshot is that Britain is now staring at a diplomatic defeat that would have seemed almost unimaginable just a few years ago. Since the Brexit referendum, the country has somehow contrived to negotiate an economic border within its own territory and the possible loss of all preferential trading rights with its largest market. For a long time, most observers had taken for granted that Britain would end up paying one of these prices for Brexit—but not both. The cherry on top of this diplomatic-failure sundae is that the U.K. will also have to pay billions of euros for the privilege of divorcing the EU."
This reality – while generally understood – cannot be spoken about. To do so would be to reduce the individual nations to their constituent parts and this is intolerable. We must instead speak of British Nationalism and evoke an entity and a construct that clearly no longer exists. It is like living in an abandoned building with collapsing floorboards and ceilings caving-in while being forced to pretend that this is completely normal.
Such is the nature of the current predicament a number of fantasies have to be maintained. The first is that England/Britain has been under the thumb of the terrible EU, an institution that has been holding us back from our manifold destiny. The second is that – once released from this capture 'we ' will be triumphant (once more) – Sunny Uplands beckon twinkling on the horizon. This both projects forward and evokes an imagined past. Within and parallel to these delusions there are internal fantasies. One of which is that the north part of Britain (aka Scotland) is innately and forever impoverished and sustained only by the benevolence of the southern part of Britain (aka England). This set of relations is as the result of a Glorious Union lasting hundreds of years which has to be described in semi-mythical terms. Nobody can explain the reason for these relations but is is just an accepted fact. Scotland is therefore both burden and beneficiary. It's eternal bankruptcy and deficiency is the direct consequence of the Union for which it should be eternally grateful. Finally another internal fantasy is that we have common bonds and cultures that are immutable, and that to suggest otherwise is some kind of treason or 'othering'. Any expression of difference is intolerable.
England as Ireland
There are new levels of delusion. As Unionism cleaves desperately to itself it also destroys itself. It is no coincidence that Ireland is at the heart of this crisis. As Fintan O'Toole writes:
"England is emerging, not from its own empire, but from an imaginary empire of the EU. And (with a certain comic magnificence) the nearest example of this process to hand is Ireland's struggle for independence from the UK. Hence the Brexiteer Sir Bernard Jenkin explaining on BBC's Newsnight last week why it was okay to renege on the withdrawal treaty: "The deal leaving the EU is a one-off exceptional treaty – it's like an independent country leaving an empire."
This bizarre mental construct of England-as-Ireland leads to the adoption, in the minds of English nationalists, of the Michael Collins model – sign the damn treaty and then you can change it afterwards. The withdrawal treaty, like the Anglo-Irish treaty of 1921, is not a terminus but a springboard.
Secondly, the big reason why English nationalism cannot articulate itself is that it cannot admit to its own most obvious consequence: the break-up of the UK. Toryism is supposed to be conservative and unionist, but it has become (in objective effect) radically anti-union. It is pushing through the most extreme possible version of a Brexit that both Scotland and Northern Ireland rejected.
But since this cannot be admitted, the blame for the consequences must be displaced. These people, of course, have a lot of practice at shifting the blame for their own failings on to their favourite scapegoat: the EU. Thus, it is not English nationalism that is wrecking the union. It is those damned foreigners."
Our current moment is a swarm of contradictions: Britain acting-out as a semi-colonial state whilst imagining itself leaving Empire; Revolutionary Conservatism posturing as defenders of stability and tradition; those who accused others of "separatism" actively retreating from the world; Unionists smashing the Union; Visions of Greatness colliding with the reality of economic and social collapse, the Party of Law and Order boasting about breaking the law. None of this is viable any more.