What's Gaelic for Omerta?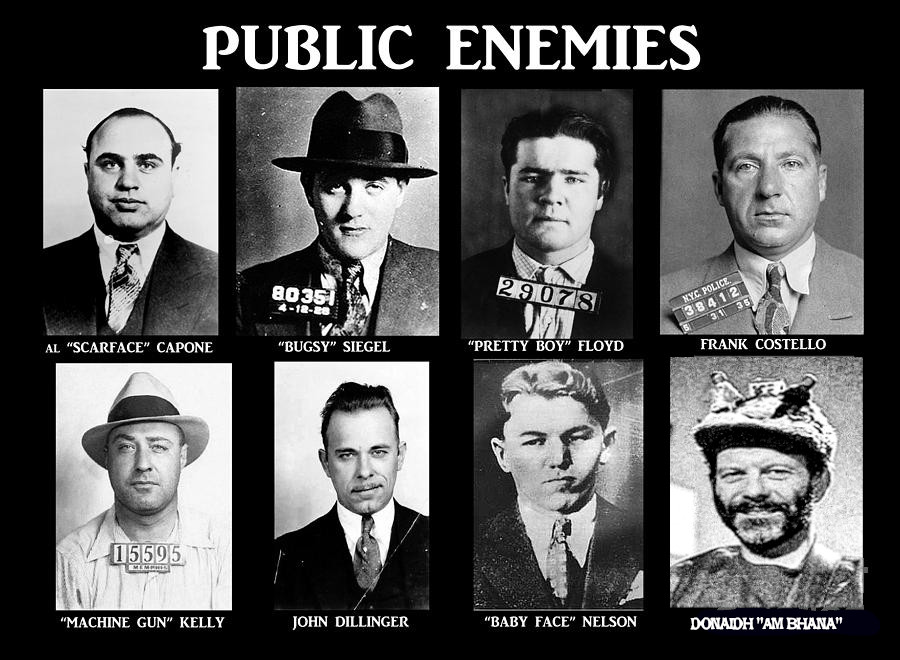 "Scotland has changed for ever" is a mantra that's repeated without reflection too often. But it's true in unexamined ways. Levels of cultural self-belief are bedded in and declining levels of cringe are apparent everywhere. This is a difficult process as it can lead to obsession with 'culture' over harder more pressing issues (sic). At it's worst it can lead to a sort of wha's like us couthy commercialised Neo Shortbread Tin marketing (think Coorie, think teatowels). But at its best it's about the following four revelations about our own culture: you have one; it has merit; it's worthy of study and celebration and criticism like any other; there should be institutions that do this staffed by people who know something about it. These four ideas have actually been alien for a very long time despite the comfortable assumption otherwise.
There's also a growing awareness that Scottish culture has in many respects has been ignored, marginalised, deemed unimportant or mislaid, and that this needs to be overturned. This is true whilst its also true that in some respects we are obsessed by a very superficial relationship to our own culture. These two realities are intimately connected.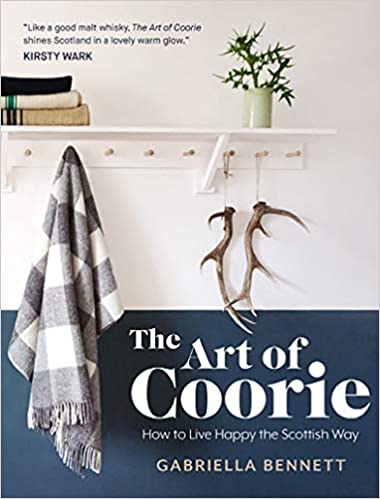 The stushie about the Scottish Anglican Network describing public spending on gaelic as an "utter waste of money" – and then spending a day attacking a much rumoured 'gaelic mafia' are an example of a tired and tedious abuse of gaelic culture. It's not unusual but it's increasingly marginalised and irrelevant. The assumption that is its ubiquitous and mainstream is wrong. People who hate their own culture are now in the minority. This is significant.
The attack came in response from a fairly innocuous tweet by the Scottish Parliament saying;
Just like a lot of people around Scotland, we can speak Gaelic – meaning if you prefer to use Gaelic when talking to us, you can feel confident you'll be understood. #GaelicWeek

Find out more here 👉 https://t.co/Cc5Ir0Almw

— Scottish Parliament (@ScotParl) December 1, 2020
To which the St Brides church replied: "Why are public funds being spent on something that 98.8% of Scots don't understand. Utter waste of money."
The culturally confident assumption from the Anglican's (note other Anglicans are available) was that this sort of outburst would be celebrated online.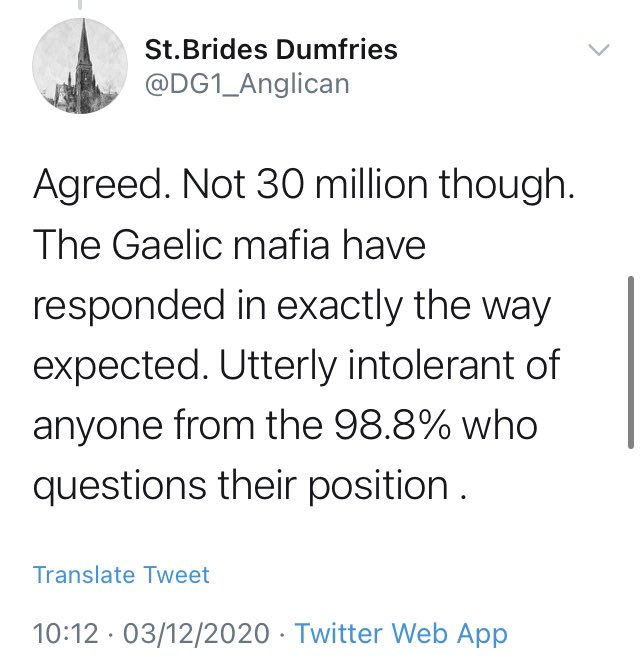 The hegemonic cultural assumption that gaelic should be reviled and ridiculed comes in the same week that 
Gaelic Duolingo course announced a
new improved Gaelic course.
The course has trebled in size. Gaelic Duolingo announced:
The lexeme (language unit) count has jumped from around 1100 to around 3500. This is a much more substantial course.

15,900 fully recorded Gaelic sentences from 17 lovely Gaelic speakers from across Scotland and Nova Scotia / Cape Breton.

Loads of new topics, as suggested by learners: fighting, flirting, Highlands, Lowlands, Dòtaman, the Mòd, landscape, politics, technology and many more.

Comprehensive tips and notes for all skills. About 41,500 words of notes. Basically a book.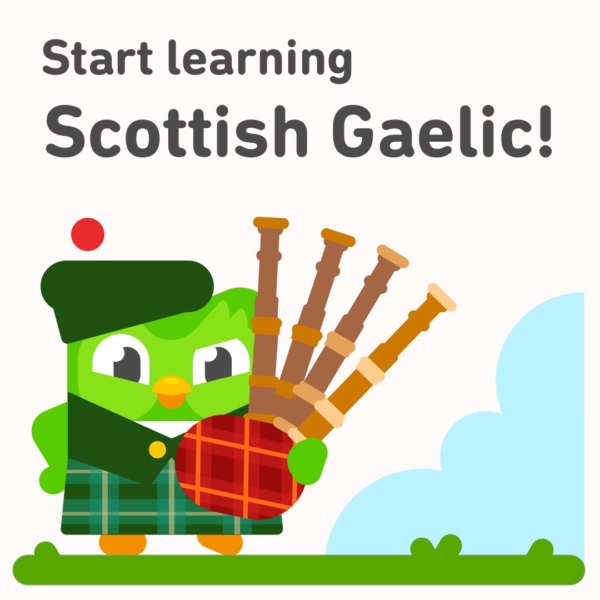 This at the same time as it was announced that
"More than 560,000 people have signed up to a Gaelic language course – almost 10 times the official number of native speakers".
Not only is the sort of attitude put out by the Anglicans no longer tolerated, no longer mainstream, it represents a generational impasse. It is outmoded, it is of the past.
This isn't just about gaelic. If you take the on and offline work of Alistair Heather,
Chris McQueer
or '
Miss PunnyPennie' (
@Lenniesaurus)
there's signs of this being a generational shift.
"Last month, the Open University Scotland launched a free online course – which has already attracted nearly 7,000 unique visitors from the UK, US, Canada and Australia – that teaches the Scots language in the context it is spoken, as well as highlighting its role in Scottish culture and society.

While Gaelic has sustained a more gradual revival, with well-established schools and broadcasting, as well as its current visibility in the time travel blockbuster series Outlander, there is now an increasing recognition of Scots, says Sylvia Warnecke, a senior lecturer in languages at OU Scotland.

She explains: "In the academic world, the recognition of Scots as an important part of our linguistic and cultural landscape has existed for quite a while, but that's not the case in other areas, like education, where Scots has always been considered 'bad English', or in popular culture, where it's used to add humour."

Last year also featured the first Scots language awards, held in Glasgow in September, where the winner of the lifetime achievement award was the writer Sheena Blackhall, who was recently also named as the first Doric makar, or poet laureate."
Of course none of this matters at all if we don't resolve the rural housing crisis, the rural jobs crisis and the rural economy crisis, which are all intimately and tragically connected to the very real gaelic language crisis. We know all this.
There's not much point someone downloading an app in Nova Scotia if you can't get a house in Portree.
While we celebrate Duolingo and a host of innovations, what we need in tandem is community lead planning, meaningful land-reform, regulation of short-term lets and Air BnB, a complete re-think of over-tourism in Scotland and a real strategy to create local economies. Some of that is already in play amongst the movement for
resilience and against depopulation,
but it needs to be ramped up and made a national priority.
"Scotland has changed for ever" describes a static and slightly lazy assumption.
Scotland is changing forever. It's unstuck. Where we go and how we channel that momentum is the interesting bit.
Image Credit:
@DrochBheu