Music for Good: New Scottish compilations highlighting and supporting worthy causes
Although 2020 has been a largely turbulent year for the music industry, there have also been numerous examples of overwhelming kindness, support and goodwill that have drawn attention to the strength of certain communities. From artists' innovative attempts at spreading joy to initiatives designed to help those that need it most, people have been joining forces against what feels like a backdrop of unrelenting chaos.
The news that Bandcamp will be extending their Bandcamp Fridays well into 2021 has been welcomed by many musicians, for whom the platform has raised an additional $145 million worth of music and merch since March. It's been a lifeline with tours cancelled and livelihoods disrupted as a result of the pandemic, but it's also highlighted how important – and easy – it is to support artists, labels and projects directly. The next Bandcamp Friday is 5 February but if you're looking for a worthy cause to spend money on ahead of Christmas, there are five Scottish charity compilations that are well worth checking out now.
Simon Lewin and Tommy Perman's Blackford Hill imprint has released the first in a series of compilations, which in their words, is all about "celebrating friendships old and new". Test Transmission includes 20 brilliant artists such as Dundee-based musician and producer Andrew Wasylyk; artist, composer and performer Hanna Tuulikki; and BAFTA winning songwriter Lomond Campbell, and encompasses electronica, field recordings, modern classical, spoken word and jazz. All money raised from the compilation is donated directly to The Trussell Trust, who support a nationwide network of food banks, while also campaigning for change to end the need for food banks in the UK.
Remembrance Species 2020 is a compilation curated by experimental vocalist and multi-instrumentalist Bell Lungs and Laura Luna Castillo of Mexico's Lunetario Editorial. Artists were invited to contribute music, art and writing that engages with the themes of extinction and the current threat to critically endangered species, the result being an online exhibition and album of music and sound art by people from all over the world. All proceeds from album sales are split between Umbral Axochiatl, an axolotl conservation charity in Xochimilco, Mexico City and the Scottish Seabird Centre in North Berwick.
The Glasgow branch of Love Music Hate Racism (LMHR) released an album earlier this month titled The Beautiful Resistance, which was put together as a tonic against rising division and hate. With music and spoken word from artists like Jill Lorean, Djana Gabrielle, Chris Bainbridge of Man of Moon, Bee Asha Singh and RAZA, plus excerpts from speeches taken from the Glasgow Says No To Racism Protest on World Refugee Day 2020, the album centres around themes of identity, belonging and unity. Bella Caledonia's Iona Lee recently spoke to Chris Bainbridge and other contributors to find out more about the compilation and the important message at its heart.
A hugely varied and comprehensive 3CD set, The Refugee Benefit Compilation 2016​-​2019 features over 50 bands and musicians that have played the refugee benefit gigs at Leith Depot organised by Solidarity with Displaced Humans. The compilation was launched at an online gig hosted by Limbic TV on 12 December and includes names like Dominic Waxing Lyrical, Callum Easter, The Honey Farm, Tam Dean Burn and plenty more. All proceeds are split between Re-Act Refugee Action Scotland, World Care Foundation and MAP (Medical Aid for Palestinians).
Officially released on Friday 18 December, Whole Lotta Roadies is the brainchild of Idlewild's Rod Jones and was created as a way to help touring crew. The collection of unique covers have been recorded by Mogwai, Belle & Sebastian, Twin Atlantic, The Proclaimers, Idlewild, KT Tunstall, Arab Strap, Kathryn Joseph, Fatherson, Emma Pollock, Honeyblood, The Rezillos and The Xcerts, alongside various individuals from the touring crew community.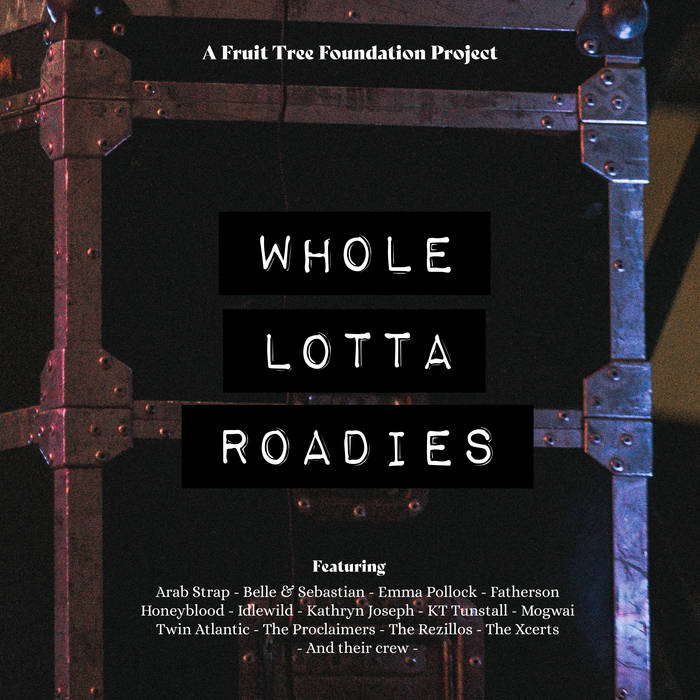 So far, over £25,000 has been raised, with all the money going towards the formation of a hardship fund, and each band involved has also donated a prize for the Whole Lotta Raffle which includes items like Belle & Sebastian's NME Award for Outstanding Contribution to Music. The plan is for a simple application process for the fund to open in early January so that financial assistance can be rolled out as soon as possible.
More here.