Imagined Repression, the Phantom Threats to Free Speech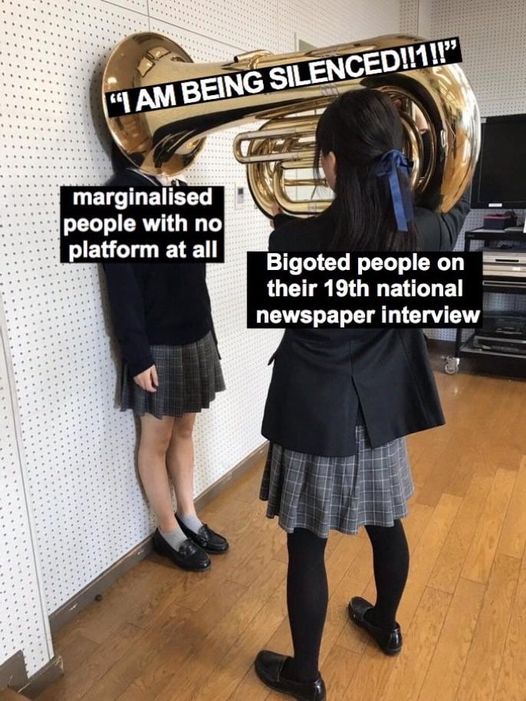 The stranglehold of Brexitland's new right is tightening. As we explored the other day the establishment media is fighting back against independent autonomous incursions and to enforce the new regime's priorities. Now the war takes on two new fronts. Simon Heffer explains in the Telegraph that something called a 'heritage summit' will be "British culture's last stand against woke zealotry" – explaining that among the 25 heritage bodies whose leaders will meet Oliver Dowden, "too many are possessed by a Left-wing spirit that the public reviles".
It's Political Correctness Gone Mad!
The "war on woke" or the "culture wars" are the latest attempt to maintain order, to quash those posing questions to the powerful and the latest iteration of a battle that is about both gender and generation, race and sexuality.
So far so Tory.
We can expect tired and traditional heritage bodies trying desperately to reflect contemporary liberal sensibilities to be chastised into a reactionary framework under the paranoid state of Johnson's regime and much wheezing and foaming at the mouth in the right wing news-sheets.
Far more worrying is the news that the UK government is to introduce legislation that will enable academics, students or visiting speakers who are no-platformed to sue universities for compensation where they feel they have suffered because of free speech infringements.
Announcing the measures, the education secretary Gavin Williamson said:
"Free speech underpins our democratic society and our universities have a long and proud history of being places where students and academics can express themselves freely, challenge views and cultivate an open mind. But I am deeply worried about the chilling effect on campuses of unacceptable silencing and censoring. That is why we must strengthen free speech in higher education, by bolstering the existing legal duties and ensuring strong, robust action is taken if these are breached."
These measures are restricted to English universities.
The proposal is one of a range of legal measures put forward by the education secretary. Other measures include: the Department for Education will appoint a "free-speech champion" for higher education; a new free speech condition will be placed on universities in order to access public funding, and the higher education regulator in England, the Office for Students (OfS), will have the power to impose fines in the case of breaches.
This is weird and chilling and effectively imposes the possibility of the hard-right, racists and homophobes to impose their views directly into campus life against the will of the student body. It's an extraordinary departure based on a wholly misplaced sense of crisis.
This is the culmination of years of narrative-framing by Toby Young's Free Speech Union, Spiked!, James Delingpole and the panoply of libertarian campaigners railing against contemporary political culture. As has been pointed out by Universities UK: "There are already significant legal duties placed on universities to uphold freedom of speech and universities are required to have a code of practice on free speech and to update this regularly."
A 2018 report by the parliamentary human rights committee reported, "We did not find the wholesale censorship of debate in universities which media coverage has suggested". The cross-party group noted that student groups were not obliged to invite particular speakers, or to never cancel previously planned events, and that speakers were free to decide they did not want to share a platform with others. "None of these is an interference on free speech rights."
The University and College Union (UCU) general secretary, Jo Grady, has stated: "It is extraordinary that in the midst of a global pandemic the government appears more interested in fighting phantom threats to free speech than taking action to contain the real and present danger which the virus poses to staff and students."
Instead we have a hysterical and paranoid cabal of people imposing dangerous and misguided legislation that poses a real threat to democracy on campus. Many of the people who complain of 'cancel culture' do so from positions of considerable power and the dark irony is that these advocates of "free speech" will be crushing democracy in English universities. This is about power.
As Mic Wright puts it ('Beaker in the bunker: The paranoid style in British right-wing journalism'):
"The gulf between what Heffer says and what he means is so vast that not even Boris Johnson would propose digging a tunnel under it. It as a variant of the now daily call by right-wing columnists that "free speech be defended", which actually means that they want their speech defended from all criticism and are very relaxed about the silencing of people not from their political tradition."
"Even as he rails about the prescriptiveness and intolerance of others, Heffer exhibits both traits by the bucketful. He is offended by other people's opinions and wants state power to censure them. He wants the version of history that he finds cosy and comfortable to prevail over one that would honestly reckon with Britain's bloody and brutal conduct over centuries."
This is about power, their declining power and the suppression of dissent and critical thinking.