Water Boarding with Margaret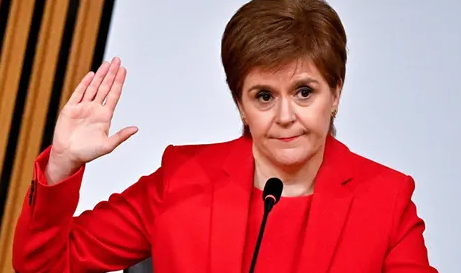 Geoffrey Howe's resignation speech in 1990  – widely held to leading to Margaret Thatcher's downfall – was famously described as being "being savaged by a dead sheep". Margaret Mitchell's contribution to the Holyrood committee led to no such downfall and made Howe look like a rousing orator. At times her stream-of-consciousness seemed to reflect the era we're in, a sort of mesmerising tirade of delirium. There's a few things that need clarified after Nicola Sturgeon's survival after what seemed like eight hours being water-boarded by Mitchell. Watching the Fabiani sessions after a year  of mania seemed an appropriate 'gift' to a nation, low-grade politicians uniting in grubby opportunism grinding on for hours in pursuit of a scalp to mask their own painful political inadequacy. But in a world that seems to operate around simplistic binaries the following are all simultaneously true:
The First Minister leaves the process both greatly strengthened yet also precarious. She remains precarious less because of the accusations that have been slung at her but more because she has been unable to develop a coherent new vision for independence, particularly around currency. The Growth Commission case is incoherent. While she emerges vindicated it also remains true that there were 'catastrophic' errors made in Salmond inquiry. While now emboldened she and her colleagues need to confront the other political problems at hand.


*



None of Alex Salmond's wild conspiracy landed at all. There was no plot. Despite the spume and fury of the odd pick-and-mix of Tories Unionists and Enragé Zoomers it all just petered out into nothingness. No credible evidence was presented and no smoking gun appeared. Despite the ragefest it's all over. I'm not sure where they go from here, they have no credible vehicle to carry them forward and no prospects within their own party or movement. Hard decisions will need to be made by some of them for the coming election and the coming campaign.


*

As Kenny Farquharson points out: "Salmond's key accusation was that civil service harassment policy was extended to apply to former ministers just to ensnare him. A retrospective approach was, he said, inherently unfair, and had been conjured up only to nail him. This fails the credibility test when you recall the context of the #MeToo movement at that time. An important element of the debate was that women should feel empowered to talk about their experiences at the hands of their bosses, even if the incidents had occurred some years in the past. In fact, since then, retrospectivity in harassment cases has been built into legislation covering the behaviour of MSPs, and similar measures are coming into force at Westminster and the Welsh Senedd. Retrospectivity is not a weird idea cooked up for the purpose of pursuing Alex Salmond. On the contrary, it is a rational, commonsense reform that has become the norm."None of this is controversial.


*

As First Minister Nicola Sturgeon's said in her opening statement to the committee: "Finally and briefly – though I hope to say more as we get into questions – I feel I must rebut the absurd suggestion that anyone acted with malice or as part of a plot against Alex Salmond. That claim is not based in any fact. What happened is this and it is simple. A number of women made serious complaints about Alex Salmond's behaviour. The government – despite the mistake it undoubtedly made – tried to do the right thing. As First Minister, I refused to follow the age old pattern of allowing a powerful man to use his status and connections to get what he wants. The police conducted an independent criminal investigation. The Crown Office as it does in prosecutions every single day of the week, considered the evidence and decided that there was a case to answer."
*


Despite the fact that some of the 'fandom' and "#IStandwithNicola" stuff was risible, the fact is that some of this is deeply personal.As the First Minister said in her opening statement to the committee: "

Alex spoke on Friday about what a nightmare the last couple of years have been for him and I don't doubt that.

I have thought often about the impact on him. He was someone I cared about for a long time.

And maybe that's why, on Friday, I found myself searching for any sign – any sign at all – that he recognised how difficult this has been for others too.

First and foremost, for women who believed his behaviour towards them was inappropriate.

But also for those of us who have campaigned with him, worked with him, cared for him and considered him a friend, and who now stand unfairly accused of plotting against him.

That he was acquitted by a jury of criminal conduct is beyond question.

But I know, just from what he told me, that his behaviour was not always appropriate.

And yet, across six hours of testimony, there was not a single word of regret, reflection or even simple acknowledgment of that.

I can only hope that in private, the reality might be different.

"The lack of any humanity or remorse in the entire process is unedifying.


*

This has a disastrous consequences for a whole series of people, first the Scottish Tories and the peculiar branch of Scottish Labour that Jackie Baillie represents who had pinned their entire Saving Face policy on destroying Nicola Sturgeon, and many of whom face P45s after the Holyrood elections. If polls remain steady we can expect a huge pro-indy cross-party majority in May and decimation for the Tories and Liberals.


*

The whole process was used by the entire Unionist bloc to discredit not just the FM or the SNP but all of the political institutions of Scotland. Whilst these needed defended the fact of the calibre of the likes of Margaret Mitchell on show makes you shudder at some of the quality of our MSPs. Only Andy Wightman seemed to be taking the process and his role seriously, the others were behaving in an entirely partisan manner. The institutions of devolution need defended but they also need to be replaced by a parliament and a democracy fit for purpose and enlivened to the challenges of our time.


*

Despite all of this Jonathon Shafi is right in saying: "

There is a level of sycophancy on display that masks the reality of the record of the SNP, the lack of meaningful reform, and the subordination of the interests of workers and their communities to lobbyists. As an indy supporter, it is vital these issues now come to the fore."

It is quite feasible – even essential – to celebrate the defeat of the wildest revisionism, apologism and fantasy that surrounded Salmond's case – AND – to be highly critical of the SNP's inability to develop a strategy and a policy base to bring independence forward. This is not to imagine a Magic Wand or to indulge in wildly romantic and unrealistic 'strategies' that make no sense at all – but it IS to demand that progress be made on key proposals and strategies and to act with urgency and innovation, both of which have been direly lacking.
*

If the case for independence has seen a slowing in the polls in recent weeks it may be in part about the murky and confusing dialogue created by the Salmond case – but it must also be about the inability of the SNP to proceed that case, develop policy and create a vision. Given the overlay of the pandemic and the internal crisis some leeway can be given, but if both of those factors recede then so too does that leeway. Incisive action is now needed in the formation of the manifesto (s) for and the run up to, the Holyrood election. This is the responsibility of not just 'the leadership' but the movement.


*

Moving beyond this circus must be the focus of everyone committed to Scottish independence. But this must be in meaningful not spurious unity and about building a radical vision for change and rupture not corporate capture and vague slogans. The need for strategy and unity in the coming election and the coming referendum will need leadership, but that leadership will need to come from below as it has before.