After Hamilton, a Scottish Spring
The independent report by James Hamilton has absolved the First Minister and she is exonerated on all counts. The parliamentary committee – which reports tomorrow – might have been a counterweight to this but their leaks, their breaking of their own codes of conduct and their nakedly partisan behavior have completely destroyed their own credibility and status, nobody else.
Their report now lacks any credibility at all.
Meanwhile Jackie Baillie is on Channel 4 News denying the Hamilton report and Scottish Tory leader Douglas Ross is still demanding her resignation as though she'd just been found guilty.

These politicians face a very uncomfortable next few weeks as their entire strategy was based on smearing and removing the First Minister. Now they'll have to actually fight a campaign based on their policies. The Tories will have to fight the campaign based on the toxic vision as
laid out by Boris Johnson.
Labour will have to fight the campaign based on their leaders questionable commitment to social equality and Keir Starmers feckless opposition.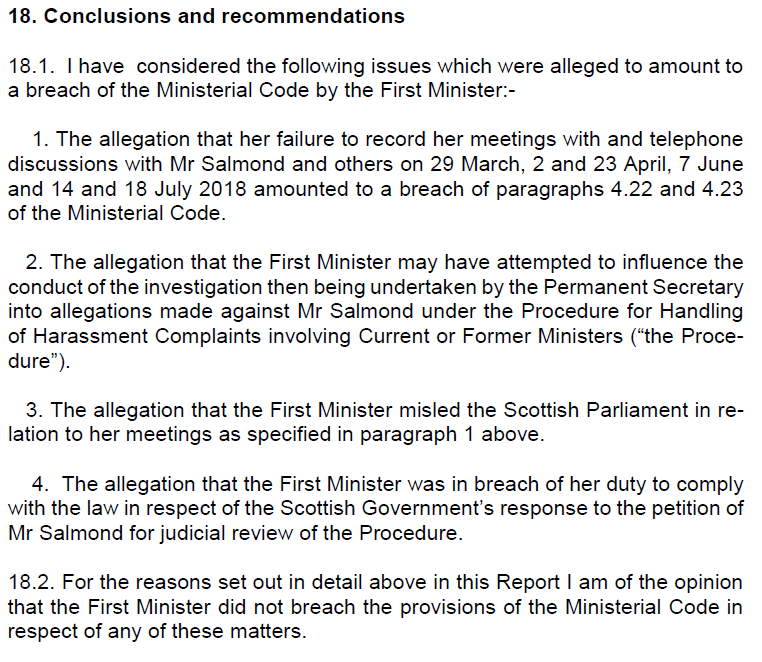 This result leaves the Pitchfork Bloggers and the Scottish Tories furious and the entire witch hunt against Sturgeon ending in nothing very much at all despite so much gnashing of teeth and fury.
Suddenly there is a Draft Referendum Bill, an election in a few weeks and the opportunity to blast open the constitutional question and move forward. Despite all the misery and dejection it's Spring time. There's work to be done.