A Message to Alok Sharma from Glasgow and Beyond: Keep Polluters out of COP26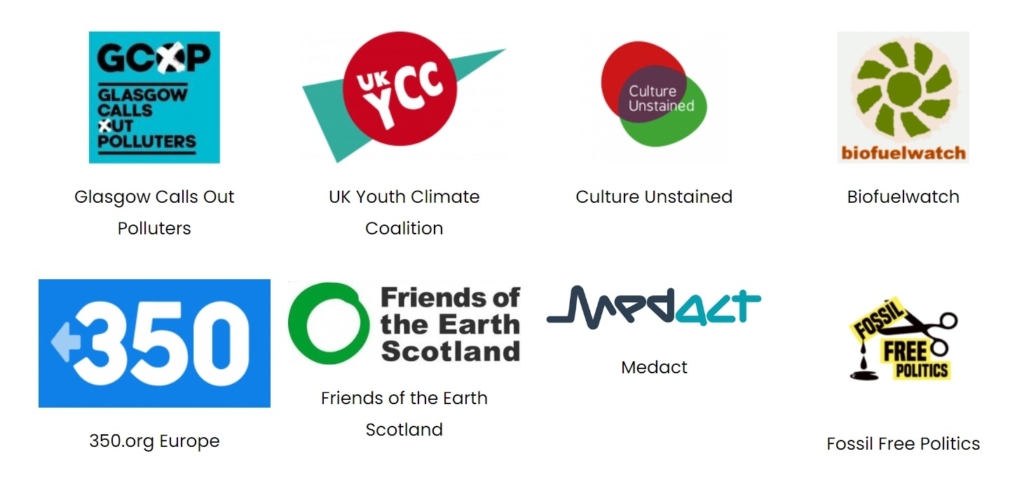 Yesterday the UK govt shocked environmental groups after the publication of the government and industry-backed North Sea Transition Deal, revealed the refusal to rule out the possibility of a new wave of oil and gas exploration licenses and the complete failure to set a target for ending fossil fuel extraction from UK waters amounting to "a colossal failure in climate leadership in the year of COP26".
The battle to make this year – and this process towards COP26 in Glasgow meaningful – is well underway. Today, over 170 grassroots groups from Glasgow and across the globe are demanding that the UK government force a change in the normal proceedings of the UN climate negotiations by removing big polluters' access to the talks.
The groups include Glasgow Calls Out Polluters, Culture Unstained. Friends of the Earth Scotland, Divest Strathclyde, BP or not BP Scotland, Fridays for Future Scotland, Extinction Rebellion Glasgow, Transition Edinburgh, Teach the Future Scotland, Organic Growers of Fairlie, Jubilee Scotland, Scot.E3 (Employment, Energy and Environment), Women of Colour – Scotland, Ecoartscotland, Friends of the Earth Falkirk, Scottish Communities Climate Action Network (SCCAN), 350.org Europe and many many more.
Ahead of the UK's role as hosts of the COP26 United Nations climate change summit in Glasgow in November 2021, an open letter initiated by the campaign group Glasgow Calls Out Polluters has been sent to UK Government Minister and COP26 President, Alok Sharma. The letter, signed by over 170 groups from across the world, lays out five steps the UK Government can take to kick out big corporations who are most responsible for the climate crisis.
The letter demands that these polluting groups are denied access to both COP26 and all UN climate talks going forward under what is known as a Conflict of Interest Policy*. There is precedent for removing parties whose financial interests have a malign effect on global negotiations, with big tobacco companies excluded from World Health Organisation talks. The letter also calls on the UK Government to refuse sponsorship from polluting groups, and they urge the event hosts to reject so-called false solutions that are favoured by corporate actors.
Our predicament remains perilous:
The IPCC Special Report on 1.5°C assessed 9 scenarios that kept .° (all others go over 1.5°C before returning).

In these scenarios, CO₂ emissions decline 70% by 2030, global coal use declines >80%…

Does anyone really think we can avoid crossing 1.5°C? pic.twitter.com/9HoFA8OjZx

— Glen Peters (@Peters_Glen) March 21, 2021
The presence of large fossil fuel based corporations has been a feature of previous UN climate negotiations and there have been demonstrations from civil society on this issue. There has also been criticism of the slow progress of the talks themselves, throwing their ability to deliver climate action into question.
Isla Scott, a representative of Glasgow Calls Out Polluters, said that:
"The UN Climate Talks have for too long protected business as usual at the expense of meaningful action and now people across the world are living with the consequences. This letter sends a clear message that big polluters – whose profits are dependent on inaction – have no place influencing the talks. The UK Government, if they take the climate crisis seriously, should stand up to these vested interests and remove them from the talks."
Following the Coronavirus pandemic, COP26 was delayed from November 2020 to November 2021. The UK Government has sought to position themselves as being at the forefront of climate ambition. However, in recent months they have legislated for a controversial cut on domestic air passenger duty, accepted a proposed coal mine in Cumbria (before putting the decision under review following widespread criticism) and delayed action on the UK Environment Bill.
Signatory to the letter, Eilidh Robb of UK Youth Climate Coalition added that:
"Although we've all become pretty accustomed to delayed events recently, that is no excuse for the UK government to remain asleep at the wheel on climate action. To speed things up we need to stop the preferential treatment of large polluters, by clearing the space to make room for people-centered solutions to climate change."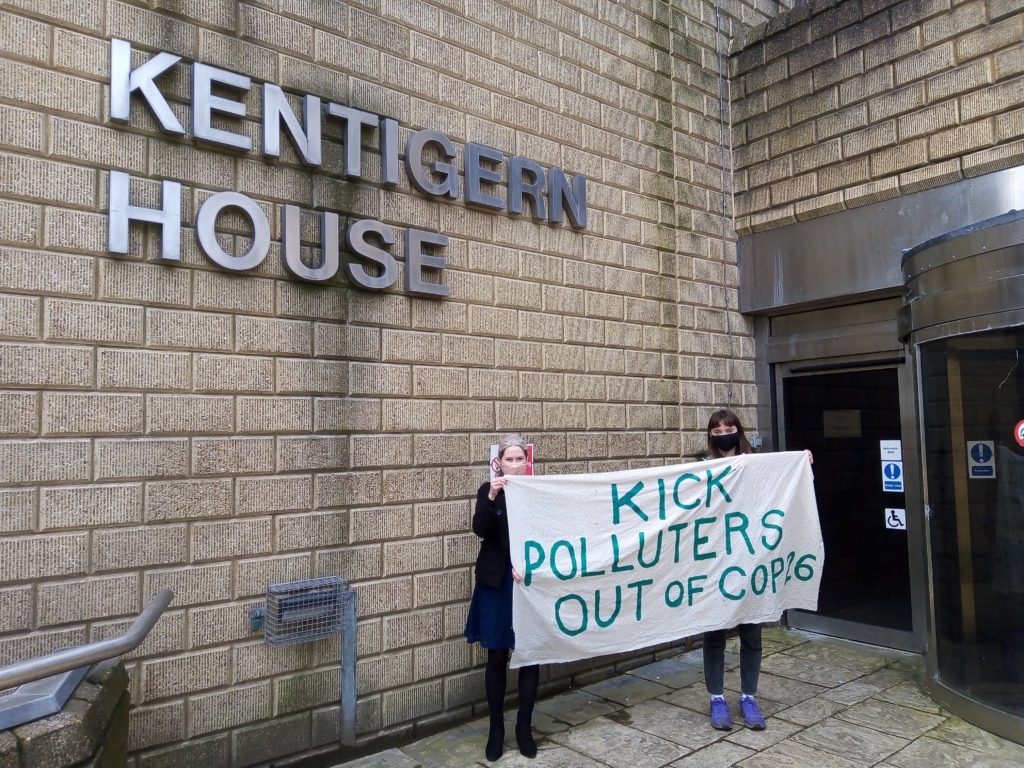 There are still 220 days until COP26 and the preparatory intersessional sessions are yet to take place. This, campaigners believe, gives the UK Government ample time to push a conflict of interest policy.
Here is the Open Letter:
Dear COP26 President,
The climate crisis is driven by climate pollution, but we are not all equally responsible for this pollution: a 2019 study revealed how just 20 companies were responsible for one third of all emissions.
To protect vulnerable communities we urgently need a just transition to a fossil-free world but many polluters, whose profits depend on inaction, won't let this happen. Their presence in the UN climate talks is poisoning the debate. The UK Government must take a firm stance  and kick climate polluters out of the 2021 UN climate talks in Glasgow.
We demand five steps are taken to realise fossil-free and polluter-free UN climate talks:
Don't let polluters in
Don't give UK passes to polluters or their industry representatives, invite them to speak at events, or share the stage with polluters. Encourage others to do likewise.
Don't take polluters' money
Don't take sponsorship money from polluters, inside or out of the formal talks. Challenge other countries and participants to do the same.
Don't promote polluters' lies
Reject the false solutions put forward by climate polluters such as Carbon Capture and Storage (CCS), Bio-Energy Carbon Capture and Storage (BECCS), fossil-powered hydrogen, solar radiation management, natural gas as a "bridge fuel", or the use of wood-fired power plants.
Lock polluters out
Lead moves in the UN to permanently shut climate polluters out of UN processes by adopting a conflict of interest policy that blocks access to accreditations, expert and advisory bodies and UNFCCC posts, and bans sponsorship deals. The World Health Organisation has moved to block tobacco companies; the same principle applies here.
Deliver climate justice
As co-hosts of COP26, silence the voices of polluters and instead prioritise those worst affected. Pushing for fair-shares commitments to cut climate pollution, support adequate funding for loss and damage to communities and ecosystems, and show global leadership with a bold and just transition away from fossil fuels for the UK.
We would like to meet with you at the earliest possible opportunity to discuss how these demands can be met.