A renewed Radical Independence Campaign is necessary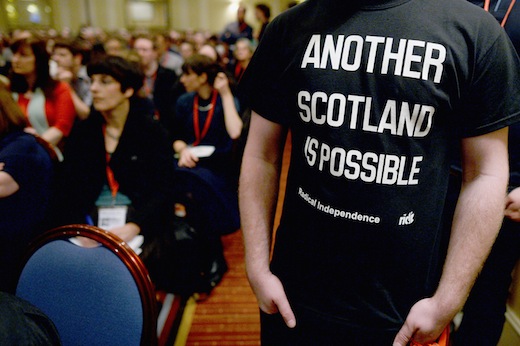 In the years since the 2014 referendum, the political landscape has transformed. We've seen Brexit, the savage defenestration of Jeremy Corbyn, the mass mobilisations of the climate movement, the global rise of the far-right, a pair of full-fat Tory majorities and COVID's many casualties. They illustrate how urgently we continue to need radical change and express the limitations of the political party, however cohesive and disciplined, as a unit of resistance.
The challenge we face has not changed. Britain is still absolutely fucked. Scotland is not any more radical, it is not independent, and the case for independence, in many ways, has taken steps backwards. The case for Britain has fallen further. We remain at a constitutional deadlock; half the nation supports independence, half continuing union.
In that time, the Radical Independence Campaign (RIC) had slowly diminished. Structurally, its pieces and people folded into various electoral siloes and other challenges. From 2015, the RIC campaign's largely unaccountable leadership was notable by disinterest, folding into roles in the RISE electoral project and finding other avenues when it failed to win seats. Local RIC meetings barely survived on tiny attendance figures.
Regressives in Yes
If the Alba Party has taught us anything, it's that there is an audience within the independence movement for regressive politics. They conjure apolitical "supermajority" nonsense, "sex pest" hero-worship, shock-jockey media tactics, hatred of minorities and drape it in nationalist sentiment.
We need a distinct opposing pole, rooted in class politics, to demonstrate why independence is necessary and a clear lightning rod for community resistance and needs.
There's an unfilled need for organised mass left-wing pro-independence politics in Scotland. To secure a referendum, win real community-led democracy, and remake a nation so that its riches benefit everyone equally. Winning these challenges and the strategy therein remain unsolved questions. The answers exist within all of us – not spoon-fed from party lines, pre-agreed doctrine needing a rubber-stamp or febrile electoral mandates.
Rude health
Therefore, I'm genuinely glad that Radical Independence is making a comeback. After a meeting in January shut down the existing national organisation, local groups have endured, and chosen to work towards rebuilding it from the ground up.
Even under COVID, the local Radical Independence groups have been a flurry of activity. Regular meetings, public events on drugs deaths, queer liberation, open discussions on Scottish independence (including Scottish Labour guests), mutual education and an entire republican sister wing has grown tremendously.
Compared to the post-2014 interregnum, local RIC is now in rude health. And it's time to step it up.
Which communities have the most to benefit, the most to gain and the most to win and keep power in an independent Scotland? Those needs should be the roots of a renewed RIC, watered and nourished with solidarity. For hundreds of thousands of deprived Scots, independence is not just desired. Not just wanted. But it is needed.
Democracy's home – from the original meaning of the word, people power – is in the street, the occupied building and the picket line. We've had a year of Zoom lock-ins and then bumped straight into an election. Working-class Scots badly need a grassroots coming together to connect and figure out the next steps together. In networking – the connections of people, places, causes, means, methods and tactics, and how those connections activate into action – any political conference proves its worth.
Remembering RIC
In 2012, the inaugural Radical Independence Conference in the Radisson Blu was my introduction to mass politics in Scotland. It was my first day of school, trying to figure out my place. Who was as new and apprehensive as me? Who were the old lags who've seen it all and willing to nurture and welcome newcomers? You'd see former and current MSPs working the crowd. And others you knew from Twitter. Others you could bum a smoke off, find an excuse to hear their stories, make friends and get to know one another.
The 2013 conference was even more prominent, filling the sweltering conference halls of the Marriot Hotel. And the 2014 post-referendum conference in the SECC, 100 metres from the SNP's evangelical Nicola-as-First-Minister tour, was a defeated but defiant roar from the Clyde.
As actual political rallies, to energise the assembled, these conferences were hard to fault. The Radical Independence Conference organisers from the time should have our thanks for that, without reservation. Most new people from the time have formative memories, stories and speeches from them.
But it was the mass canvasses, the public meetings, the community organising that moved the needle towards independence. It was local groups that pulled that weight. At this level, the local groups have recognised the need for a renewed RIC conference in the face of a hard and sharp rightward, populist turn in Scottish politics.
Rebooting RIC
But the 2021 conference can't be like the prior efforts. Under COVID restrictions, it's hard to reproduce the mixture of defiance, excitement, apprehension, greeting old friends, commiserating, post-conference pub crawls. And regularly bumping into or stopping to chat with the varied people you'll come to call friends and comrades in the broad and deep fight against the British state.
There will be none of the stalls or well-drilled cadres, flogging all manner of left-wing booklets, pamphlets, leaflets, tat, papers, stickers and enough badges to dangle anyone from a car crusher electromagnet.
I have a vision of what a renewed nationwide RIC can be – bootstrapped with a straightforward, stripped-down practical conference, with a mass of breakout rooms to feed into its national character, key battles and priorities.
It would be largely empty of top-table pep talks, bequeathed shopworn hackery and over-masticated analysis writ large. Ideally, it's not going to be a place where political parties or sects can effectively cajole or recruit.
Skills training for all who want it should be there. Everyone can be an effective activist or leader in the community. Accountability is essential – regular checks and balances. We need welcoming environments, detailed minutes, simple balloting, de-escalation tactics and addressing uncomradely or derailing behaviour.
I want a RIC accountable to everyone who calls themselves comrades. It should not run by a secretive, unaccountable group who lose interest, allowing Scotland's national space for pro-independence left activism to wither over the better part of five years.
How You Can Help
To make it run smoothly, even stripped down, that's a lot of work. A reconvened RIC probably won't have the sheer numbers or press panache from previous conferences after a year of doing politics via webcam. But that's okay. Rather than pity the chair, or team who has to pull it all off, I'm going to help them where I can.
There has been a public appeal for input and volunteers. That door will be kept open.
If you want an independent socialist Scotland based on principles of equality, ecology, solidarity, generosity and class justice – you should have a home at the Radical Independence table. It belongs to all of us.
No matter your level of experience or skills, no matter the barriers you face, no matter your political traditions. If you come from a place of cooperation, we can meet that challenge together.
God only knows how a renewed RIC is going to pull it off. But I'm reminded of concise, poetic wisdom from a speculative fiction titan, Ursula K. Le Guin. "You cannot buy the revolution. You cannot make the revolution. You can only be the revolution. It is in your spirit, or it is nowhere."
We might not be able to buy or make the revolution. Still, maybe we can create the space that lets others bring their revolutions, their fullest selves, and together we can all grow from it. And in so doing, seize the prize of a new nation.
With hard work, connected to a family of friends and comrades, we can win a better world. See you soon.
—
Staying in touch
There will be a conference website launched soon at https://ric.scot/. 
Interested in helping out? Drop [email protected] a line.
Or follow the social media: Twitter – @RIC_Scotland, Facebook: @RIC.Scotland