Iman Tajik's 'Bordered Miles'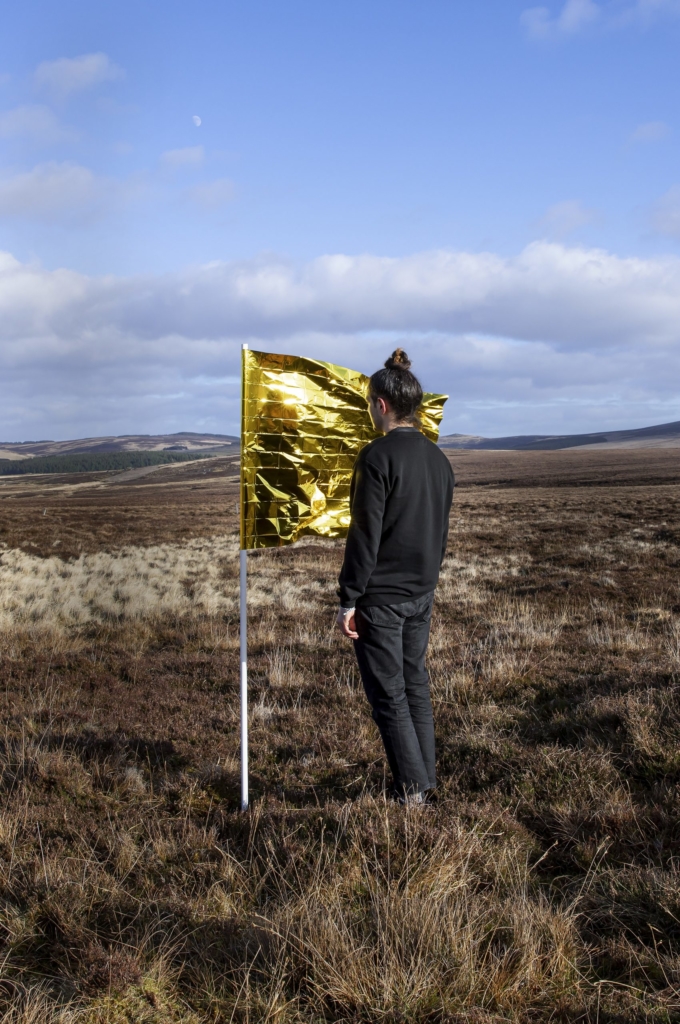 Interview with artist-activist Iman Tajik at the time of his current exhibitions: 'Bordered Miles' (Listen Gallery, Glasgow International Festival); 'The Dreamers' (Stills Centre for Photography, Edinburgh); 'Calais' (Stills Centre for Photography, Edinburgh); and 'This Is Now Not For Me' (Journeys Festival, Online). By Sophie Suliman.
Through his current work, Tajik continues to enquire into ideas of borders, migration, and nationality – informed by his own experience in the UK immigration system. He uses his art to raise awareness of such systems of injustice and advocate for equality and human rights for all.
Bordered Miles is an installation depicting a raised flag, made from a survivor emergency blanket, with a Scottish backdrop. The blanket is the same as those given to people seeking safety upon arrival to European shores. A walk from Glasgow to Dungavel Immigration Removal Centre on Sunday 20th June will also take place as part of this work, during which participants will engage in a series of reflective and performative tasks. Upon arrival, the flag will be raised outside the detention centre where Tajik was sent when he arrived in the UK.
The Dreamers forms part of this work and was developed during a residency with Deveron Projects in Huntly. It is being exhibited with images from Calais, a photography series based on his time in the makeshift site for those seeking asylum.
This is Now Not For Me was developed during the pandemic and demonstrates his recurring interest in borders in the context of lockdown restrictions.
I interviewed Tajik in the context of this work with a particular focus on Bordered Miles and his upcoming walk.
Borders, politics, and power are recurring themes in your work. Why did you make Bordered Miles and what is the significance of the flag? 
I do not want to be prescriptive. I want the flag to open up conversations about nationality and migration. I want people to question the value, role, and roots of nationalism in emergency settings and to reflect on their own responses to these issues. I question nationality because of its association with borders. Borders divide; they are used as a tool for power and control, and can destroy freedom of movement which is a basic human right. Freedom of movement exists but only for some people. It depends on your passport – if you are European or British you can travel easily. If you decide to go somewhere for work, for the weather, for love, you just go. So many freedoms. For other people, it is not the same. 
Why did you choose to facilitate a walk?
Dungavel Immigration Removal Centre exists because of borders and a lack of freedom of movement. When we walk, we travel from point A to B. We cross many invisible borders that have become more visible because of lockdown. City, town, and council borders. We walk all the time and cross these borders but are often unaware of these and our own movement within them. 
How does This Is Now Not For Me link to these ideas and our experience during lockdown?
In this piece of work I explored freedom of movement in the context of lockdown. I felt it was the first time since the Second World War that Europeans had been denied freedom of movement. We were all locked in our houses, our council and national areas. I worked with tape to represent these borders.
In Listen Gallery, you have left hundreds of emergency blankets for people to observe and take home. What was your intention?
I wanted them to take something away with them and to know that anyone could be a refugee – that it could be them one day. People forget. They think refugees are only from the Middle East or Africa. But they do not remember the Second World War. There were so many European refugees around the world at that time. I think new generations have forgotten. People think this is not for them or it will not happen here. Maybe they are wrong. Look at your history. And the future. Scientists say parts of the UK could disappear because of the climate disaster. Forced migration affects everyone. 
You talk about forgetting and remembering. How does this work connect with Scottish history?
The photography and videography within Bordered Miles and The Dreamers are set against a Scottish landscape, referencing the highland clearances in the 18th and 19th centuries; Scotland has a history of conflict and forced migration.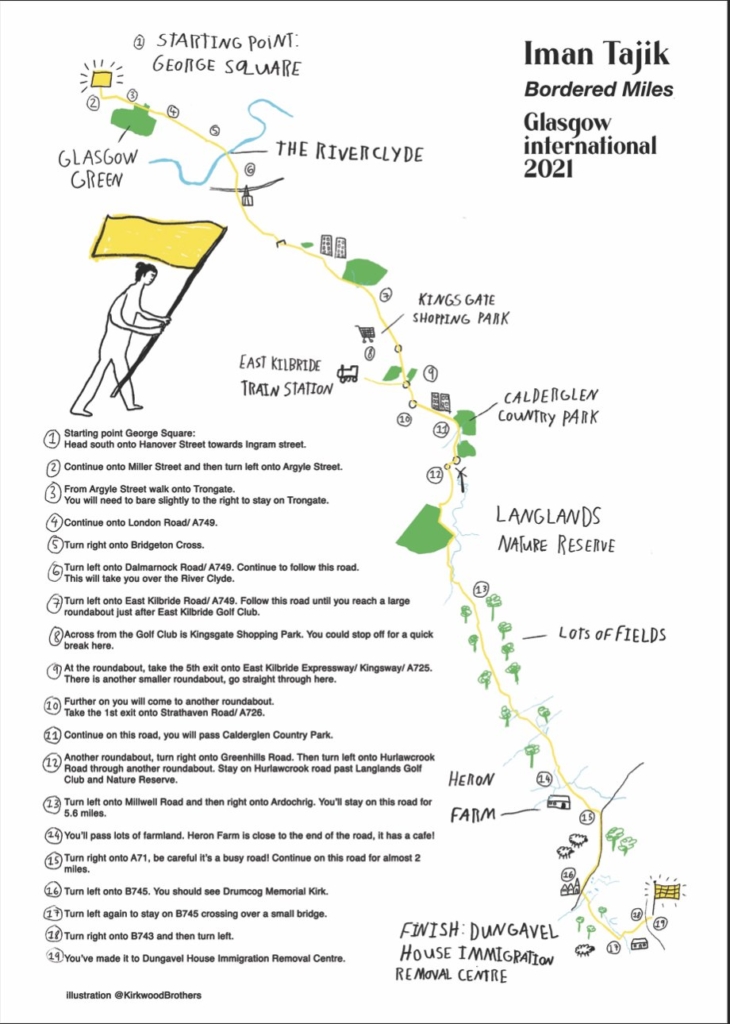 Why did you choose Dungavel as the destination for this walk, and how does it resonate with your own story?
The theme of the Glasgow International Festival is attention. I wanted to draw attention to Dungavel Centre, an immigration removal centre near Glasgow. It is in the middle of nowhere and people do not know it exists, or they lack information. I plan to put more information on the project website I am developing. 
The detention centre is a prison. I was there. In other prisons, you go to court, you are heard by a judge, you have a lawyer, there is a jury. And a decision is made. At these detention centres, the Home Office sends you to this place without telling you how long you will be there. One month, ten months, a year, forever. There is no time limit. Children and adults are forcibly deported. People suffer in this place. Some hurt themselves to prevent deportation. Sometimes when people are sent back to the countries they came from, they end up in prison or killed.
Can you tell me more about your experience of living in the centre?
I was depressed. Constantly worried about what was going on and what would happen. I lived behind huge walls and barbed wire. They locked us in at night. I felt terrible because I had not done anything wrong; crossing a border is not a crime. I experienced so much trauma on my journey, and when I arrived in the UK I was sent to this centre. I was traumatised again. Even if you are only there for an hour you would leave a different person. I was broken.
What do you hope for?
A world without borders. 
You can join Tajik's walk from Glasgow to Dungavel Immigration Removal Centre on Sunday 20th June 2021 by booking a free ticket here: https://glasgowinternational.org/events/iman-tajik-2/. The walk will be live-streamed and a map is available if you would like to undertake the walk at another time.
Bordered Miles is being exhibited in Listen Gallery, Glasgow, until 27th June 2021. Please visit the link above to find out more. The Bordered Miles website is under development and available here: https://borderedmiles.com/About-Us
The Dreamers and Calais are on display until 19th June 2021 in Stills Centre for Photography, Edinburgh. For further information visit their website: https://stills.org/exhibitions/projects-20-iman-tajik/
This Is Now Not For Me can be viewed online: https://www.journeysfestival.com/2020thisisnownotforme
For more information about Tajik and his work visit his website: https://imantajik.com/