Art, Hope & The Climate Emergency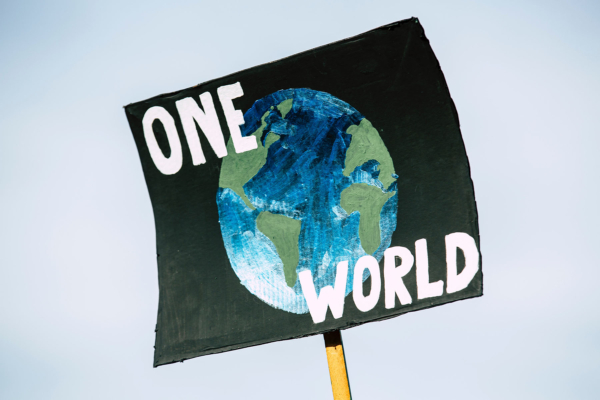 I have to admit that I gave up on watching David Attenborough's programmes, which I had loved, a few years ago. I couldn't bear to look. The wet, honest eyes of so many sad animals had bored deep into my soul and left me desperate on the sofa, immobile with relatively helpless empathy and despair.
Our Planet's cinematic genius has always been to tap into the human predilection for narrative, using anthropomorphism and well-choreographed peril to inspire compassionate awe at the pure chaos and cruelty of nature. But a turtle tied up in Tesco bags is not nature, is not natural, and to truly look at the consequences of our negligence has become, at times, too difficult. To look is to experience immense grief.
'What is the role of the artist?' is a very big, and often boring, question, with countless answers across time and cultures. Once, the artist's primary role was to glorify god. More recently we might regard it as a career of self-expression. But throughout, the artist has been an observer, one who reflects, or responds to, the world around them. Artists and writers have to look, and they provide us with a lens through which to look too.
'What is the role of the artist in the time of climate change?' is another question, and one that had not occurred to me so boldly until I found myself wandering around the Talbot Rice gallery's latest exhibition, The Normal. An inter-disciplinary exhibition, The Normal showed work across a range of mediums, but all were artistic responses to this injured world, expressions of hope, grief, survival and solidarity.
A gallery is a viewing space in which one can not look away, and I exited into the sunny Edinburgh afternoon feeling sombre. I was especially moved by an exhibit called Solution For Normality, by Jarsdell Solutions Ltd, a video piece which saw several screens looping footage of humans set in claustrophobic cityscapes and animals in captivity, all with their wires tangled together in the manner of a rat king. A reminder that 'the innocents' are knotted in the same tangled web as we.
The omission of the word 'new' from The Normal's idiomatic title is telling, because of course, this isn't really a 'new' normal. The pandemic may have been a kind of wake-up call, but we have been hitting snooze on wake-up calls for decades. And cataclysmic visions have been a staple, certainly in Western art, for centuries. The End has always been a looming presence, coming presently. But there was a sort of hysterical optimism to the golden, ghoulish glory of Medieval art and its obsession with End Time prophecies. They knew that there was something else, on the other side of His terrifying judgement, that was better.
These days, most of us have come to terms with the fact that this is all there is and will ever be, and that democratisation of the End Times can lead to nihilistic apathy. My generation has grown up with a coming climate catastrophe as constant, as backdrop, as the normal. I can remember a Legs Akimbo-style theatre troupe coming to my primary school and cheerfully preaching about the importance of reducing, reusing and recycling (I have never been able to get the song 'We're pumping, pumping, pumping, we're pumping out the oil' out of my head) when I was about six years old. Plastic Beach by Gorillaz came out over ten years ago. This terror is routine.
Companies have been selling us on the laissez fair idea that we will save the planet, one day, if we just sort our offerings into separate recycling bins and keep on buying, my whole life. We all have our rituals for keeping the worry at bay, but this is of course, a very individualistic approach and the clock is ticking. Art, too, could be considered a rather individualistic pursuit, but what could art's role be in this moment, in the planet's hour of need?
There has been a noticeable upswing in the amount of eco-critical art coming out of Scotland in the recent past, no doubt due in part to the upcoming COP26 summit in Glasgow. Many works are direct responses to the summit, such as This Is It, a brand new musical collaboration featuring some of Scotland's top hip-hop artists.
The project was commissioned by Let It Grow and organised by Johnny Cypher and Becci Wallace, who says "I think that, just as political action on climate change needs to be radical, so do artists right now. We, especially working-class writers and public figures, need to find ways to engage with our communities, to highlight issues that are important for society through music. There is an opportunity here to address climate change with an eye on the communities that will (and do) suffer the most.'
Another piece – also with a title denoting a sense of finality – is Enough Is Enough, by Karine Polwart, Oi Musica and The Roundhouse Choir – a call to creative arms composed with the express purpose of inviting choirs, street bands and community groups to learn it in the hopes of making a big noise and intensifying public pressure ahead of COP26.
Kathleen Jamie too has kickstarted her post as Makar with a collaborative nature poem, that anyone who lives in Scotland can contribute to. She says that 'It is a collective poem because climate change affects us all, everywhere, all species." All of these projects share an urgency, an understanding that there is no more time for vague platitudes or polite half-promises. The time is now and we need one another more than ever.
(I will briefly mention here also Climate Beacons, a Scotland-wide collaborative project between environmental, heritage and arts organisations that are doing great work in the lead up to COP26, and The Dear Green Bothy, a programme of free public events and activities demonstrating the vital role played by the arts and humanities in understanding and addressing climate change).
It has been said before, by people far wiser than me, but art is, ultimately a kind of hope. To write, to create, to make in a time of unimaginable destruction and decay is to actively participate in hope. Hope is an investment, as well as being a collective, rebellious act against despair and its passivity. To publish a book or to erect a piece of artwork stakes a claim on a future, it is the declaration of belief in a time and place beyond ourselves, a place where there will be people to receive our epigraphs. The oldest examples of human-made art in the world are around 40,000 years old. The Indonesian caves that they can be found in are quickly being eroded, due to climate change.
I'll leave you with this thought from Zoë Bullock, New Playwright's Award recipient, for whom climate change is a central subject matter – "Art can turn huge events into human experiences that we can all relate to. We connect to human stories in a way that we don't connect to statistics. Art is about asking people to feel something other than despair: rage, hope, a desire for action, or even just a catharsis and a knowledge that other people are just as scared as you. And you are not alone."

Help to support independent Scottish journalism by subscribing or donating today.