Rivers of Shit
Shit has been a constant theme of Brexit, like a lurking subtweet, an indefatigable turd poking its inconvenient head back up the u-bend of constitutional politics. Keen readers will recall that Kent was recently re-dubbed the Toilet of England after truck drivers lobbied bottles of piss into peoples front gardens and crapped everywhere. In Johnson's Britain the bar is so low in 2021 that news that a new Environment Bill will be strengthened with an amendment that will see "a duty enshrined in law to ensure water companies secure a progressive reduction in the adverse impacts of discharges from storm overflows" is seen as some great victory.
Yesterday footage was released of untreated sewage being discharged into a Hampshire harbour. It showed a brown cloud spreading through blue-green waters. The video was remarkable enough to get onto the BBC.
WATCH: Untreated sewage was released into Langstone Harbour, Hampshire for 49 hours.

Photographer Chris Pearsal, who captured the footage, tells #BBCBreakfast 'it needs to stop'. https://t.co/Fk7BeZrc2z pic.twitter.com/8lcNHB86qh

— BBC Breakfast (@BBCBreakfast) October 26, 2021
We live in a country with rivers of shit, empty supermarket shelves and food rotting in the fields, the NHS groaning in crisis and a tsunami of mental health problems waiting down the line – and this is what the Tories are calling the 'Age of Optimism'.
None of this was an accident. As Edward Hayward has noted: "Just six days earlier, 268 Tory MPs voted to strip an amendment (Lords Amendment 45) from the Environment Bill. The amendment had been aimed at minimising the discharge of raw sewage into British waters."
The problem is a crumbling sewage network, privatised public utilities and completely inadequate regulation. Hayward again:
"UK water companies paid over £400 million in fines between 2010 and 2021, including a £4 million fine for Thames Water and a record £90 million fine for Southern Water in 2021. The consequence of this catalogue of failure is horrific. Up to 10% of days during the UK's summer bathing season were lost to sewage in 2019. Water firms discharged raw sewage on over 400,000 occasions in 2020. Every single one of England's rivers would fail a cleanliness test as of 2021. NOTE: The problem is that these fines, while superficially large, represent only a tiny fraction of each firm's income, so it will always remain cheaper for them to pay up and keep polluting than take corrective action — unless the law compels them to seek a lasting solution."
As ex-Undertone Feargal Sharkey pointed out, "104 days after been fined £90m for dumping sewage into the environment and less than 12 hours after Gov voted to protect water companies and not our rivers, @SouthernWater were dumping sewage at 60, yes 60, different locations along the south coast of England."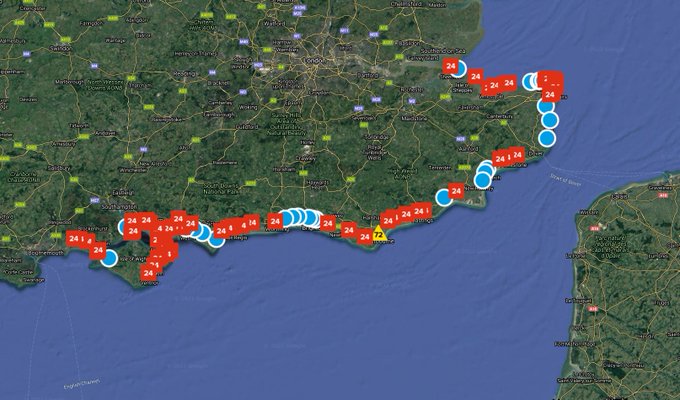 But while the public is told that the fines are huge and the investment is in the millions (it is) – it is nothing next to the vast amounts disgorged to shareholders. As Sandra Laville points out:
"English water companies have handed more than £2bn a year on average to shareholders since they were privatised three decades ago, according to analysis for the Guardian. The payouts in dividends to shareholders of parent companies between 1991 and 2019 amount to £57bn – nearly half the sum they spent on maintaining and improving the country's pipes and treatment plants in that period."
That's a lot of money sluicing about.
It is all – as Sharkey says "hypocrisy on a global scale" – but also points to the systemic nature of the ecological crisis. It is not all about carbon, it speaks to the wider relationship of nature seen as a product to be exploited endlessly and dumped on continuously. But it also seems like an example of "making visible" the nature of the crisis and the depth of the dysfunctionality at the heart of the system.