Beyond the Blah Blah Blah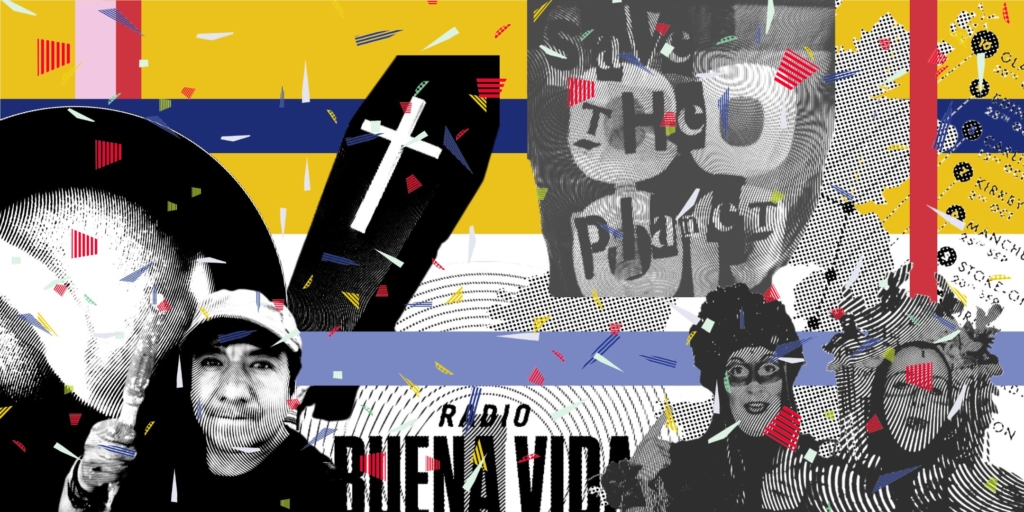 Beyond the 'Blah, blah, blah' of international climate politics in the official zones of COP26 a truly global city of workers, migrants, artists, engineers, teachers, thinkers and makers will come alive over the twelve days of the conference.
Channeling its radical traditions, Glasgow will host a wide range of events and activities that offer substance and sustenance, welcoming all to the city demanding and enacting decisive change.
We encourage readers of Bella Caledonia to support and engage with this diverse alternative programme, which is too vast to include here in its entirety. As tracts of Glasgow are fenced off for motorcades and royal banquets, its people overlooked, hemmed-in and shunted around: here are some places where the roots of a just future can be found beneath the concrete …
In 1994 Pollok Free State was declared in opposition to the building of the M77 through Pollok Country Park. A landmark event that inspired a wave of social movements in the city, COP26 will see the declaration of Pollok Free State's successor, Govan Free State, a space of autonomy and defiance a few blocks away from the conference venues.
Also in Govan, the Centre for Human Ecology will offer a series of talks, screenings and workshops at the Pearce Institute, offering 'education and action for the head, hand and heart.' Like its sister project Govan Free State, expect a strong emphasis on links between communities and cultures and indigenous peoples on the front lines.
Those after less cerebral opportunities to engage with the many indigenous peoples coming to Glasgow next week should visit The Landing Hub. Located on the Broomielaw, this space will offer a range of cultural activities from banner making to live performance, with a fair few parties thrown into the mix too.
Glasgow's threadbare urban fabric has been under the spotlight in advance of COP, for a run down of options to reinvigorate the city, we recommend events and exhibitions from Architects Climate Action Network. They'll also be collaborating with Scotland's own Architecture Fringe to host a stand-up comedy night, Cop or Flop? with Raymond Mearns, which promises to be a light-hearted antidote to the grind of the conference.
Linking up movements at the CCA, the Feminist Exchange Network will offer an event series in partnership with the Colombian artists and activists, featuring workshops, films and performance.
The Enough Collective is issuing a special COP26 issue of their journal 'LESS' on Degrowth and Decolonisation in the Red Zone. LESS is a journal on degrowth, radical sufficiency and decolonisation in Scotland. Print copies will be available across the city, or you can subscribe here.
Back in Govan (which is, after all, the most historically significant parish in Scotland) a one day Just Transition Hub will be established at  Govan and Linthouse Parish Church on 08 November. Part of COP Coalition three day People's Summit, and sponsored by Friends of the Earth Scotland, STUC, TUC and War on Want, this is where struggles for climate and social justice at home and abroad can intersect.