Hyperstition in Scotland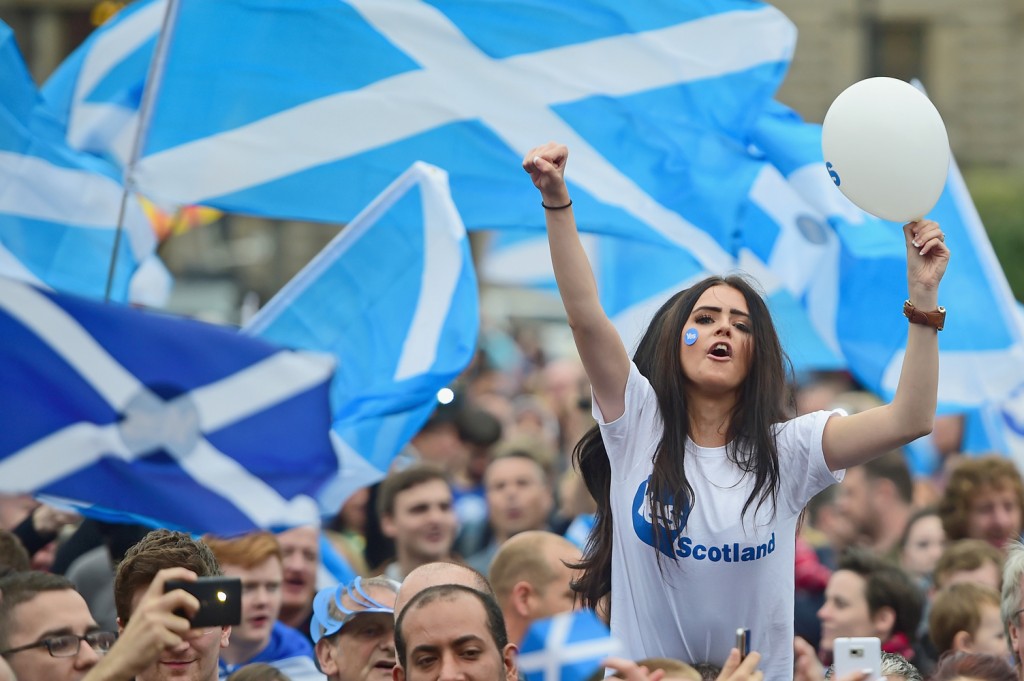 HYPERSTITION IN SCOTLAND: From The Province Of The Cat.
Just before Christmas the wonderful American writer Joan Didion died, aged 87. In her seminal collection of essays, The White Album (1979), she wrote, "We tell ourselves stories in order to live." It was the opening sentence. As 2021 ends and 2022 begins what stories do we Scots tell ourselves about Scotland? What narratives can we believe about ourselves that are not steeped in wishful thinking, sentimentality or even superstition? How can we live in the coming years with the world growing ever more unstable? How can we be optimistic?
It is a difficult task because we live in an age of lies. What matters about a statement now is not whether it is true, but what its effect is. Our wishful thinking (our optimism), sentimentality and superstition can be fused in our multi-format, multi-media, on-line world into a new kind of noun: hyperstition. A hyperstition is a fiction that makes itself real and makes itself true because enough people believe in it. Hyperstition in Scotland comes in many forms. The crucial part of a hyperstition is that it must be believable. Not necessarily by everyone but by enough to create a margin of doubt, however small. It also helps if the hyperstition feeds into the audience's weakness by telling them what they want to hear. It is what the British media do every day. It is how they strip us of our optimism. It is how they feed our cringe.
Hyperstition is probably why the Holyrood Government have not published a proposed constitution for an independent Scotland. They are terrified that the British media will rip holes in it. But without a written constitution how can the Scottish people garner the confidence to move forward into their new future? The UK does not have a written constitution, other than what the government of the day say it is, so therefore nepotism, corruption and the mis-use of power go unchecked. As Dr Elliot Bulmer puts it,
"One of the functions of a constitution is to preserve the distinction between the State and the Government of the day. It ensures that the Government, although it can set policy, can do so only within certain institutional rules. Without a constitution, that distinction is blurred." (The National, 19.12.21)
We have seen throughout the on-going coronavirus pandemic just how blurred these distinctions are. The Tory government have used the fear of Covid to create a Tory State on the sly. They have appointed Tory loyalists to key state positions within the civil service, the police, the judiciary, the media (the BBC), Ofcom, the Electoral Commission, the Boundaries Commission and so on. At the same time they have attacked the Human Rights Act, have restricted the right to protest and increased the powers of the police to stop and search innocent people and to strip people of whom they disapprove of their citizenship. This is not a government but a regime. It relays its messages to the people through hyperstition.
Debt Myths
For example we are told repeatedly that Scotland cannot afford to become an independent country. In the same breath we are told that the Government debt must be repaid. This is the hyperstition that a nation is like a family household with a finite budget. This is not so. A country with its own currency and central bank, which is monetarily sovereignty, spends first and taxes later. How a government spends its money is another thing and this Conservative government continually makes the wrong choices, at the expense of the majority, in order to bolster the interests of their friends, allies and paymasters. So government debt has become the Grey Man of Beinn Mac Duibh, a hyperstition used to scare off all truth seekers. The gilts and bonds which governments call debt are in fact savings accounts which yield interest. A monetarily sovereign government can always pay the interest on these bonds because it is the monopoly issuer of its own currency, so it will never default. To undo the hyperstition for yourself go to Modern Money Scotland and strip away the fear.
Union Myths
We are also told that the trade union movement is hostile to Scottish independence. While it is true that those unions still affiliated to the Labour Party backed Better Together in 2014 the reality now is that Unite have officially cut their political funding of the Labour Party and although they are still affiliated to Labour they now seek to back parties and causes which best serve the interests of their members, such as Scottish democracy. Since 2004 the RMT have consistently backed Scottish independence but most significantly the Communications Workers Union (CWU), which backed the No campaign in 2014, has now come out in support of the democratic right of the Scottish Parliament to hold an independence referendum and also the democratic right of the Scottish people to determine their own future. To get beyond the hyperstition you can keep abreast of further positive union developments with the Trades Unionists For Independence here.
Political parties and trades unions are all part of our community. Our community is our gift to ourselves. Our culture is our communal civilisation and the expression of that activity is to be found in art. One of the functions of art is "to glean the unsaid off the palpable", as the poet Seamus Heaney once put it. If you do not understand the culture of your own country you are like a person standing with their face pressed right up against a wall. Your head is sore and you see nothing. Poets lift us above the wall and allow us to see the peopled strath of the future.
Governments are generally frightened of what poets say. They usually deal with their fear by pretending to ignore what poets say. Or they exile them or kill them. But in this surveillance age nothing is truly ignored. An exiled poet can still access the internet. And killing poets has repeatedly proven to be bad PR. Simply put, the poet has a licence. It is given to them by society and that licence is what the state is wary of because the state did not grant it. The poet has imagination unbound: it is the imagination of the community. The state does not have imagination: it has perimeters and boundaries. They implement control. Poets, however, activate mythology and no government can deal with or tolerate that. Poets warp time and space. They are products of the past who visit us from the future. A government, a state, is rooted in the permanent temporality of its own contradictions.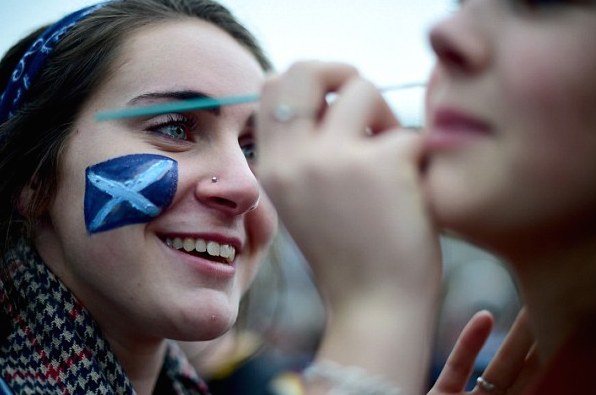 Literature Myths
To counter that overly idealised view there is always the hyperstition that (somehow) literature in Scotland is thriving. You could argue that it is: in as much as a lot of people are writing. Not so many reading. You could argue that it is not thriving: that publishing (poetry, at least) is a guerrilla activity and that there are depressingly few publishers in the country with any resources or distribution networks at all. The reality is that for many writers, when it comes to literature in Scotland, the ceiling is so low you can't stand up or you bang your head – you have to crawl in order to move forwards. When you have the good fortune to publish a book you simultaneously ascend and sink into an intense obscurity. Jejune literary prizes and crime fiction do not a national literature make. Such a potential entity bubbles below the surface of the hyperstition like volcanic mud.
The situation Scotland finds herself in, culturally, politically and constitutionally, makes it incumbent on Scottish poets, as Seamus Heaney sets it out,
"To define and interpret the present by bringing it into significant relationship with the past. This places daunting pressures and responsibilities on anyone who would risk the name of poet." ("Feeling Into Words", 1974)
The hyperstition runs that poetry is indifferent to politics and ineffectual in a world of suffering and injustice. But no poet worth the title has ever accepted such constraints. These indeed are confusing times so the poet must embrace the confusion and forge the necessary language by which to manufacture the freedom of utterance, knowing all the while that what awaits is the loneliness, the inevitable exile and possible death of the truth teller.
What consoles a poet is the belief, premonition or aisling that the contemporary political establishment has not long to survive and that the job of the bard is to help create in advance of this demise a more generous social atmosphere and tradition for Scottish culture. A culture which has to become, as a result, a significant note in the symphony of the broader culture of the world. We have to be both good neighbours and good players.
So it is that Scottish poets must claim Scotland as their own, for as the Czech poet Miroslav Holub put it, "The right name is the first step towards the truth that makes things things, and us us." It is the first step out of the maze of hyperstition. It is Ariadne's red thread. But all of this comes with a warning: Scotland's poets cannot have it both ways. They cannot look back on the experience of the past with either rancour or wistfulness because if they do they betray that experience and will create nothing of lasting value as a result. But neither can they dismiss their history by ignoring it because however much you try it will not go away. You cannot obliterate history. We have to walk out into the open ground of the future with cultural confidence. The Government of Scotland should heed the warning that because they are in power they cannot ignore culture because when they fall from power (as they inevitably will) they will find that they have no culture, only their self-created hyperstition that it was all about economics. That will be their elegy and their epitaph.
By being brave and formally ambitious Scotland's poets will remain faithful to our historical experience. Our speech may be local but our search for truth, our poem, is universal.
One of the ongoing disappointments generated by devolution is that instead of fighting to find a way for the country to exist all the SNP currently can do is manage economic decline from the fact they receive an ever-shrinking handout from the UK. It is also argued that instead of futilely posturing in Westminster they should be attacking the system, with a view to breaking out of it, rather than looking forward to sitting smugly within it with 56 MP's, as has been predicted as a result come the next General Election.
What actual good would that amount of London based parliamentarians do us?
It would be better to leave the Tories and Labour to wallow in their unthought through fantasies and paranoias, their global hyperstition, about Russia and China. We require our democratically elected representatives working for the people, in Edinburgh, putting Scotland's interest first. That is what history demands they do. The present UK administration is sinking into authoritarianism because of gossamer regulation, increasing incompetence and spiralling corruption. There is no moral buoyancy left in Westminster so it is sinking in sleaze and the sooner the Scots politicians ship out the better. The institution cannot be reformed. In the UK Parliament may be sovereign but it is moribund, atrophied and as good as dead. At the head of the Tory State sits the monarchy. Once revered these "wee bit German lairdies" ancient, grotesque, vampirical, venal, beyond redemption and doomed. In Scotland they represent the cancerous landed class whose interests and holdings of wealth must be transferred to the people if our new society is to emerge in any good health at all. The hyperstition about this is that if we alter the way land is owned it will "frighten the horses" of the establishment. The fact is that Scottish democracy terrifies them anyway because numerically they have so little input into it.
Joan Didion, in her essay "Discovery" (New York Review of Books, 1984) writes about the novelist V.S Naipaul hearing a story, whilst in West Africa, about one African who had saved himself from a whipping by converting himself into pure energy. She writes,
"There was for Naipaul something profoundly unsettling in this: what the European might have interpreted—what Naipaul himself might have interpreted—as a mythology of power invented by people who had no power, the illusion of triumph as an accommodation to slavery, persisted here on the west coast of Africa among people who were no longer powerless, people who had moved out of their colonial period into an approximate social miracle and who seemed to be living without noticeable cost in both the tribal and modern worlds. It was impossible to discount the presence of the modern; it was equally impossible to ignore the presence of the magical. What could be seen and heard in Abidjan and Yamoussoukro was, Naipaul seemed finally to suggest, something that could be described but not finally interpreted, not judged, and this was for him a different way of looking, a narrative in itself."
Oh that we Scots could move out from our colonial period, as both colonisers and colonised, into our "social miracle" and convert ourselves into pure energy.
One thing we can surely hope for in 2022 is that it will bring us twelve months closer to new Scottish republic. We have no time left for wishful thinking or for the manipulations of state-sponsored hyperstition which benefits the self-entitled and the uber-rich. If the SNP Government do not understand this, if they do not listen to their poets or implement the desire of the people for self-determination, then they will find that the Scottish electorate will have no time left for them either. That will be a story worth telling.
©George Gunn 2021
Self-determination – Autonomy  – Independence

Help to support independent Scottish journalism by subscribing or donating today.