Dead Man Laughing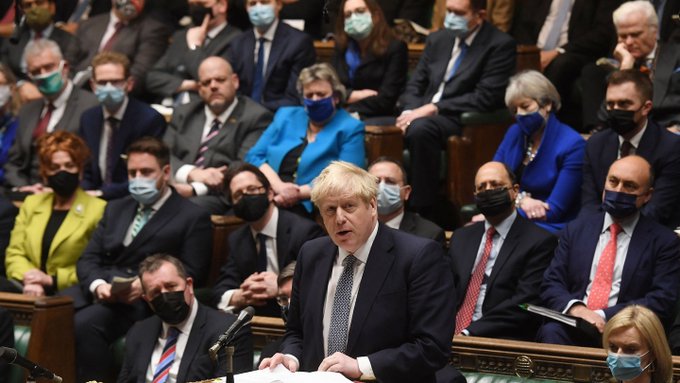 He's got away with it, again, hasn't he? Posturing as being open and honest and contrite the Prime Minister bluffed his way out of his latest crisis with little bother. He put his sad face and thanked everyone as they told him to resign.
Sir Keir Starmer had a go. He was concise and brutal, and trotted out his one-liner 'the party's over'. He landed a few punches. Ian Blackford tried but isn't really very effective.
There are two or three problems with the process of deposing an obviously useless and corrupt leader.
The first is that despite all the sound and fury and chatter the media's kind of useless. They're all part of the same political elite. The 'lobby' is neutered and ineffectual and full of gossip from inside the Westminster bubble – and the alternative media isn't strong enough (yet).
The second is that there's very little in the actual system that is functional to call people to account. The 'Ministerial Code' is completely useless and the lack of any process of impeachment (or equivalent) means that sleaze and illegal behavior just slides away (every ******* time).
The third is that the opposition appeals to a set of standards or principles that don't exist. If you appeal to the Tories sense of what's 'right' or 'decent' you have a category error. These people aren't operating by any sort of moral compass. Starmer asked: "Is he so contemptuous of the British people that he thinks he can just ride this out?" Yes Sir Keir 100% he is, 100%.
So Boris is very very sorry and he's appointed someone he employs to investigate the whole thing.
Finally despite media efforts to talk up Liz Truss (who comes over like a likeable but extremely stupid Labrador) or fluff Rishi Sunak (a man who is so privileged he makes David Cameron look like he's had a tough life) or Michael Gove (there's nothing to say here that can possibly describe how awful he is) – these aren't very good alternatives. Imagine being in a political party that had a leader so appalling on every level as Boris Johnson and you DIDN'T have anyone better to go to as an alternative?
The political power and authority may have oozed out of Johnson on live television today but it doesn't matter. Johnson is undefeatable because there's nothing to defeat. If there's no honour to defend there is no fall from grace. And the focusing on the personality politics of the pantomime blinds us to the deeper crisis unfolding here, the crisis of the British state and its key institutions. This is a Dead Man Laughing not a Dead Man Walking.

Help to support independent Scottish journalism by subscribing or donating today.