Raith Rovers: A 'football related decision'
Raith Rovers decision to sign David Goodwillie has been met with a mixture of incredulity, revulsion and silence from players and supporters. This morning the Courier could only manage a lukewarm "in a move which is guaranteed to prove divisive among the club's support the Fife outfit swooped …". Only eleven paragraphs later explaining "Goodwillie was branded a rapist during a 2017 civil court case and was ordered to pay Denise Clair, who waived her right to to anonymity £100,00."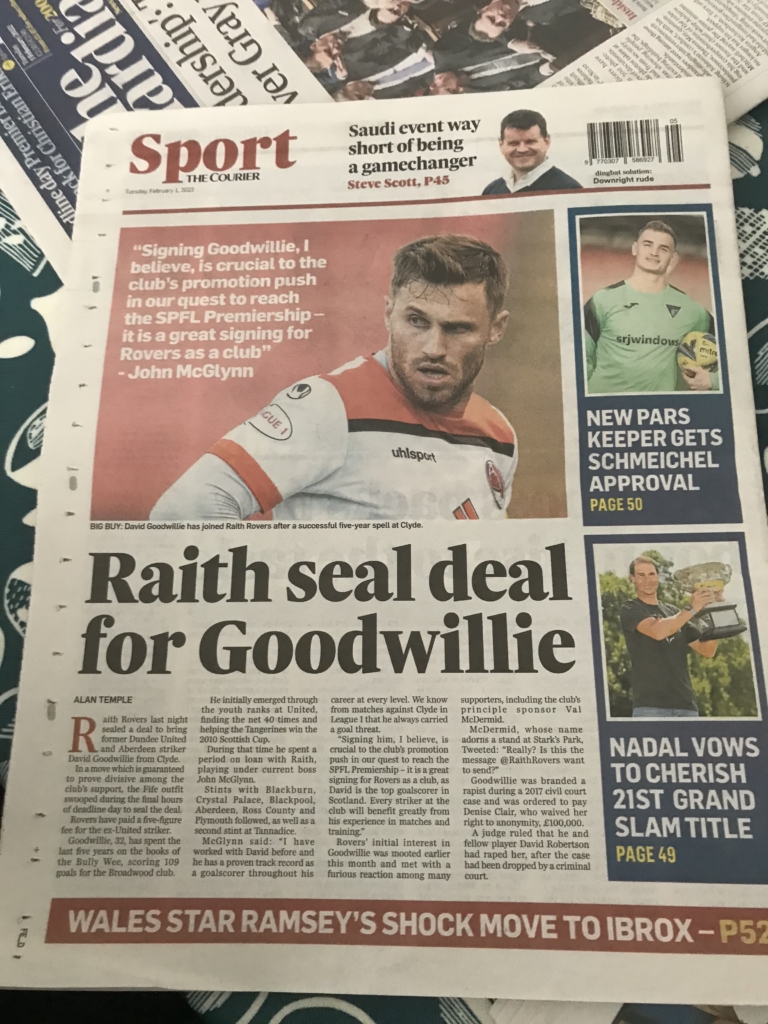 The club has been rocked by a series of resignations and condemnations but tonight issued an incredible statement saying: "As David has previously played for Raith Rovers earlier in his career, we consider him to be part of Raith Rovers Football Club. The management team is familiar with David's career and background and – in particular – his footballing ability. That is our foremost consideration, and we believe that he will strengthen the Raith Rovers playing squad."
"Please be assured that as a community football club we fully acknowledge this signing has divided opinion amongst our loyal fans and commercial stakeholders; We aim to rebuild that trust. While acknowledging the gravity of what happened ten years ago, as a club we fully support and encourage rehabilitation, and many factors influenced our signing. First and foremost, this was a football related decision."
Please be assured.
This is an incredible and frankly disgraceful statement.
The takeaway is "he'll score goals so shut up."
Already the club has seen (female) players, sponsors, top fans and employees walk.
The writer Val McDermid has led the way saying: "I have this morning ended my lifelong support of Raith Rovers over their signing of the rapist David Goodwillie. I have cancelled next season's shirt sponsorship over this disgusting and despicable move. This shatters any claim to be a community or family club."
Marie Penman who had been the club's Employability officer with the Raith Rovers Community Foundation told Bella: "I'm shocked and dismayed by Rovers' decision to sign David Goodwillie, especially as it comes just a day after the horrendous allegations against Mason Greenwood. Football clubs need to think carefully about the message they are sending out by supporting players like these and as a woman, a feminist and the mother of a teenage daughter, I feel disgusted that my team thought this was a good signing. My heart goes out to rape survivors across Scotland. I read the full testimony from the Goodwillie civil case and it's truly shocking – I'm appalled that so many men think that it was just some lad having a laugh."
Other key figures have already resigned. There will be more to follow. The club's position is untenable and grotesque, the slowness of their realisation of this is astonishing.
But in a Scottish football culture that can appoint Malky Mackay – maybe this isn't a surprise? But the gap between civil (and civilised) culture and elements of Scottish football remain a chasm. In a society still full of toxic masculinity this signing and the club's response is shameful.
You can support Martin Glass's 'Raith Fans Against Goodwillie' fundraiser for Rape Crisis Scotland here:
Martin Glass is fundraising for Rape Crisis Scotland Helpline (justgiving.com)